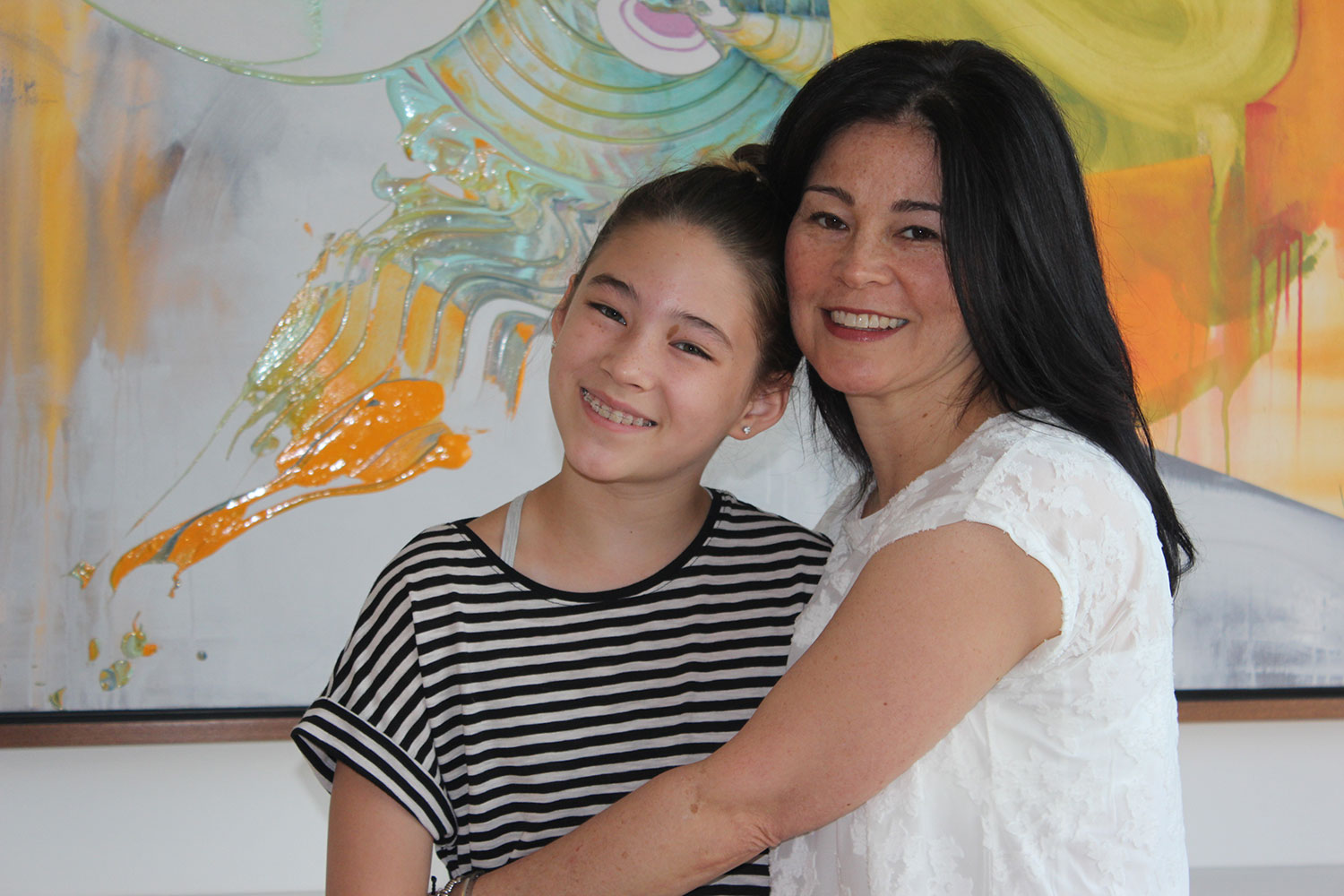 Simone Carr-Smith's daughter Sophie, 10, is in French immersion at King George School, which is located only a short walk away from the family's new Mount Pleasant home. Andrea Cox / For CREB®Now
Aug. 23, 2017 | Andrea Cox
A three-generation home
Design, comfort and location come together in Simone Carr-Smith's Mount Pleasant duplex
Simone Carr-Smith and her husband, Colin Smith, had a large list of must-haves when it came to finding a new home. The couple had been living in Winston Heights, but with their daughter, two dogs, and Carr-Smith's mom and aunt living with them, the home had become too small for their needs. They wanted a fresh floor plan – one that could comfortably accommodate three generations – and a convenient location in the northwest, close to the inner-city and to high-ranked schools. It also had to appeal to the couple's diverse aesthetic sensibilities, blending both modern and traditional elements. So, when Carr-Smith's cousin, Saville Homes founder Sheldon Appave, mentioned that he was building a duplex in Mount Pleasant, the couple jumped at the chance to partner with him and build their dream home from a blank canvas.
CREB®Now:
How important was it to be in a community with a great school?
Simone Carr-Smith:
My 10-year-old daughter, Sophie, is in French immersion at King George School and we really wanted to stay close to her school so that she could continue to attend the program. It worked out really well, because our new house in Mount Pleasant is even closer to the school than our home was in Winston Heights. Sophie has made a ton of friends in the neighbourhood. Her best friend is down the street – they walk to school together. Moving here has changed her life.
CREB®Now:
You brought on Jeannie Sturdy of Sturdy Design Co. and Tom Chute of Marre Design Group Ltd. to help you with the design. In your opinion, how important is it to bring on a designer?
Simone Carr-Smith:
For us, it was really important. We wanted to create a multi-generational home, so we required a custom design. We have two dogs, my daughter, my mom, my aunt and the neighbourhood kids are always over – there are always three to four kids coming and going. It's pretty hectic.
Sophie has made a ton of friends in the neighbourhood. Her best friend is down the street – they walk to school together. Moving here has changed her life.
Our home is 2,800 square feet with four bedrooms. Our master bedroom is on one side of the home and then there is another wing on the other side, separated by a laundry room and a bathroom. That's where Sophie and my aunt have their room. My mom has her living space on the lower level.
And Jeannie really helped with the interior spaces, picking colours, textures and styles that worked for both Colin and me. Sometimes she nudged us out of our comfort zone with choices that we wouldn't have picked ourselves, but we love them – like the tile in the back entranceway. It's super funky.
CREB®Now:
What do you love the most about your new home and your new neighbourhood?
Simone Carr-Smith:
We are all foodies, so we essentially live in the kitchen. My mom does all the cooking – she is the glue. She cooks everything from Asian to Thai and Italian, and Colin barbecues in the summer. But I think that really my favourite thing about this home is the location. You can walk everywhere and it's right by the park – it's just beautiful. We are surrounded by trees and at night, when the wind blows, you can hear the leaves rustling – it is just so calming.
From the second floor, the views are beautiful – we can see the Calgary Tower in the winter, when the trees are bare. Plus, the light in this home is spectacular. We have light all the time, at every hour of the day. It's really incredible in the morning – it's so soft. The architect did a great job.
Tagged: Buyer Profile | Calgary Tower | Colin Smith | Duplex | House & Home | Jeannie Sturdy | King George School | Marre Design Group Ltd. | Mount Pleasant | Sheldon Appave | Simone Carr-Smith | Sturdy Design Co. | Tom Chute | Winston Heights
---
---
Connect With Us