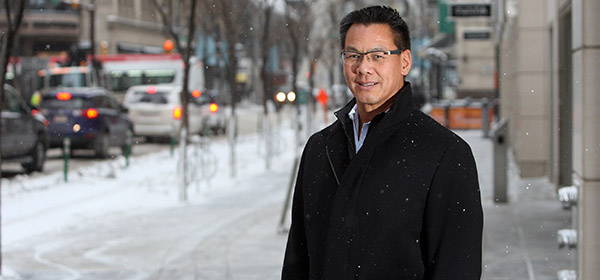 CBRE managing director Greg Kwong said Calgary's commercial market is likely to see vacancy rates peak in 2017. Photo by Wil Andruschak/for CREB®Now
Dec. 23, 2016 | Cody Stuart
Core issues
Downtown office commercial market to see higher vacancy rates in 2017
Despite setting a third-quarter record with a reported $11.2 billion in sales, Calgary's commercial real estate sector will likely see vacancy rates continue to soar this year and next, predicts real estate firm CBRE Ltd.
CBRE Calgary-based managing director Greg Kwong said the downtown market will feel it the hardest, with vacancy rates that are expected to close in on 30 per cent.
"We just finished our fourth quarter numbers and it's a 25 per cent vacancy in the downtown core," he said. "Probably this time next year, assuming oil stays below $55 (US), it should essentially go to 28 per cent."
Kwong noted the last time the city saw the same sort of exodus from downtown offices was the 1980s when the vacancy rate topped out at 22 per cent.
In addition to weak demand, Calgary's commercial real estate sector will suffer from oversupply in 2017 – particularly in the core.
Brookfield Place, currently under construction along Sixth Avenue S.W., will be the city's tallest office tower when completed in late 2017. It will add 1.4 million square feet of office space to the market.
Meanwhile, the 60-storey Telus Sky skyscraper along Seventh Avenue S.W. will contain another 430,000 square feet along with space set aside for condominiums. Originally slated to open in 2017, the skyscraper is now expected to open sometime the following year.
In total, there are more than three million square feet of office space under construction in downtown Calgary.
While the record sales numbers coming out of Calgary's overall commercial sector in the third quarter provide some optimism, as does the recent rebound in oil prices, Kwong said it will take a far more prolonged recovery to absorb the sort of space currently up for grabs.
"The oil patch ... is saying that (there will be) no really substantial hiring happens until about $60 US a barrel," he said.
"(Right now), you are starting to see some people hiring two- or three-month contract work, and short-term engineering staff coming in for project work. You will see a little bit of that hopefully if oil stays in the $50 to $55 range, but oil really has to be $60 or higher."
Tagged: Brookfield Place | Calgary Office Market | Calgary Real Estate | Calgary Real Estate News | CBRE | Commercial | Commercial | Downtown | Downtown Calgary Office Space | downturn | Economy | greg kwong | office vacancy rates | recession | skyline | Telus Sky | YYCRE
---
---
Connect With Us