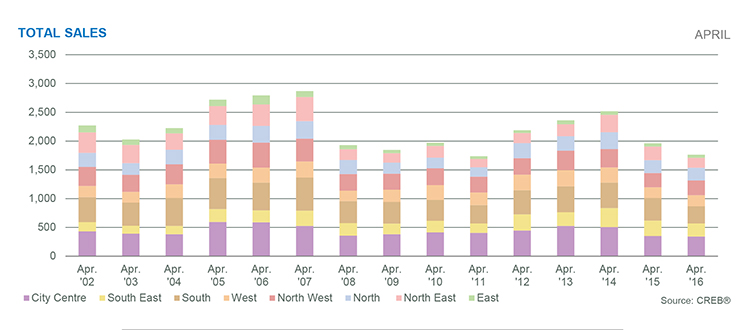 May 06, 2016 | Cody Stuart
5 things about Calgary's housing market
By the numbers
Calgary's housing market has remained relatively unchanged this spring. With reoccurring year-over-year sales declines and benchmark price reductions receiving most of the attention,
CREB®Now
takes a closer look at some of the overlooked numbers to come out of the city's real estate market.
46
According to CREB®'s latest housing numbers, the average time a listing spent on the market before finding a new owner stood at 46 days in April. That's up from 43 days in March and 40 days in April 2015. With 3,127 homes in Calgary's inventory, the city currently has 2.76 months of supply, with a sales-to-new-listings ratio of 62 per cent.
$200,000 - $299,999
Total year-to-date sales in Calgary dropped from 5,824 during the first four months of 2015 to 5,247 during the same span this year. The largest portion of that decrease (23.9 per cent) came from the $200,000-$299,999 sector of the market. Accounting for 768 year-to-date sales in 2016, the same period in 2015 saw 906 homes find new owners.
152
While most sectors of Calgary's housing market have seen sales decline in 2015, one area that is seeing some growth is the $1-million plus detached home sector. After seeing 136 sales through the first four months of 2015, there have been 152 sales of homes priced at $1 million or more during the same period this year – an increase of 11.8 per cent.
825
Through the first four months of 2016, 825 apartment condo sales took place in Calgary. Falling from 1,022 sales during the same period of 2015, the 19.3 per cent decline in apartment sales accounts for nearly a quarter (23.9 per cent) of the 9.9 per cent drop in total sales in the city – despite the fact the sector only amounts to 15.7 per cent of the total sales.
$444,150
Calgary's benchmark price through the first four months has dropped by 3.39 per cent to $444,150 compared to the previous year. However, monthly unadjusted benchmark apartment prices have demonstrated considerable variances with houses in the semi, row and detached sectors, declining by a respective 5.9, 4.6 and 4.1 per cent.
Tagged: Apartment | attached | benchmark price | Calgary Real Estate | Calgary Real Estate News | detached | housing | listings | sales | Uncategorized | YYCRE
---
---
Connect With Us