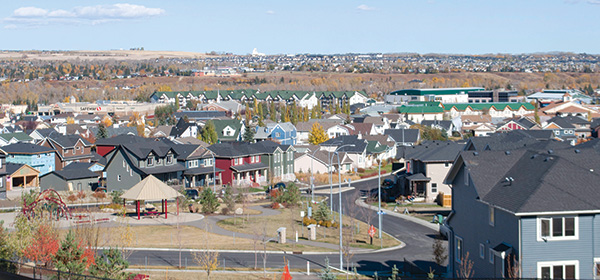 March 05, 2016 | Jamie Zachary
5 things about February housing stats
Calgary's real estate market, by the numbers
Calgary's resale residential housing market in February was virtually unchanged from previous months, highlighted by sales declines, inventory gains and, ultimately, price softness.
CREB®Now
breaks down some of the key statistics to come out of CREB®'s monthly housing summary.
$445,000
The benchmark price for a home in Calgary last month was $445,000, a 0.6 per cent decline over January and 3.5 per cent lower than levels recorded last year.
By sector, the detached benchmark price of $504,400 represented a one per cent drop from last month and 3.2 per cent decline from the same time last year. In the attached category, the benchmark price of $338,900 was off 1.9 per cent from last month and 2.8 per cent from February 2015. Lastly, the apartment sector saw its benchmark price fall by 0.6 per cent from last month, and 5.3 per cent from last year, to $283,600.
1,127
Home sales in the city continued to drop in February, declining by 6.6 per cent from the same time last year to 1,127 units. The detached and attached sectors posted similar numbers, falling by 6.6 and 6.8 per cent respectively, while the apartment sector saw a 22 per cent decline.
2,906
New listings in February totaled 2,906 units, a one per cent decline from the same time last year. When combined with soft sales, active inventory increased by 2.7 per cent to 2,906 units, while months of supply jumped by 10 per cent to 5.04. Months of supply represents the amount of time it would take to sell the current inventory on the market.
6.8
The attached sector actually posted an increase in sales activity last month, increasing by 6.8 per cent to 268 units. CREB® attributed the increase to an extra day in February. It also noted overall activity in the sector remained higher than February lows in 2009.
1.1
Sales in the areas around Calgary also increased by 1.1 per cent to 274 units last month compared to 271 units sold during the same period in 2015. New listings, meanwhile, decreased by 2.54 per cent to 729 units, yet not enough to offset an 8.4 per cent increase in active inventory. As a result, the benchmark price fell by 2.2 per cent from last month, and 2.8 per cent from last year, to $423,900. The surrounding area includes the Rockyview and Foothills regions, Airdrie and other active areas
around Calgary.
Tagged: benchmark prices | Calgary Real Estate | Calgary Real Estate News | days on market | housing | inventory | listings | Real Estate | Residential | sales | Uncategorized | YYCRE
---
---
Connect With Us