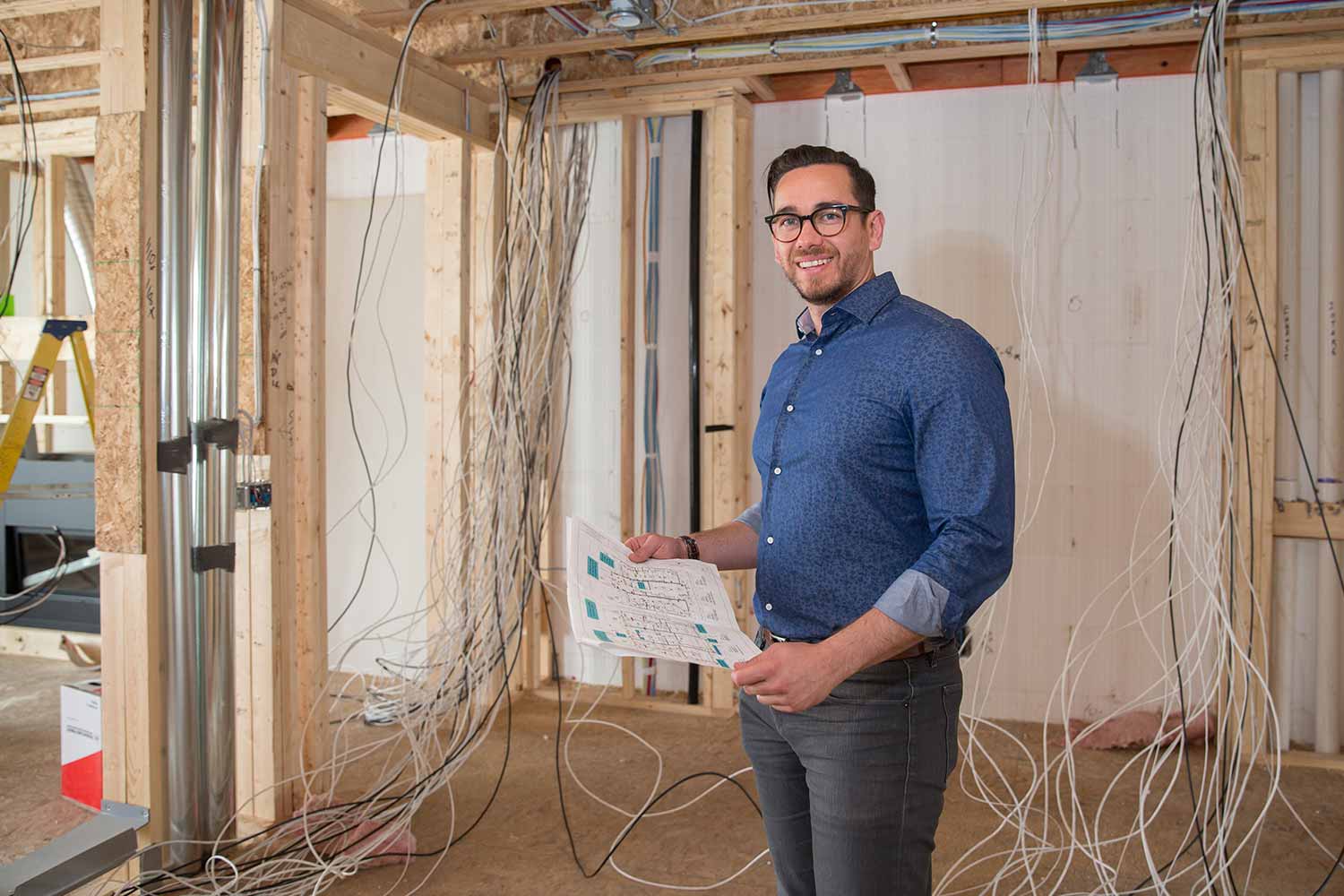 Sunset Homes' president, Pedro Ocana Muller, says smartphone apps can control many home functions. Adrian Shellard / For CREB®Now
May 11, 2017 | Kathleen Renne
Tech age dawning
Sunset Homes embraces the next era of digital design with tech-savvy integration
It's like living with the Jetsons," said Scott Silva, as he characterizes the ever-growing trend in high-tech homes.
"The next level of automation in one's home is about intuition and integration based on lifestyle . . . your home will know what your life looks like," said Silva, director of business development for Sunset Homes.
And he's not alone in this line of thinking. Sunset Homes' president, Pedro Ocana Muller, says smartphone apps will be able to control many things in the home, from locking and unlocking doors and adjusting the thermostat, to turning on appliances.
"Say you're running 10-minutes late, and you know your parents are showing up for dinner. Via your phone, you can unlock the door, turn up the heat and start cooking the roast. All you'll have to do is set the table," Silva laughs.
"Two years ago, this would be cutting-edge technology, but it's going to be mainstream in about six months to a year."
This all works in conjunction with a "geofence" around one's home, which is defined as "a virtual geographic boundary, defined by GPS technology, that enables software to trigger a response when a mobile device enters or leaves a particular area."
Ram Kadali is one of Sunset Homes' clients who's looking to live this Jetsons lifestyle via his new home in Kensington. Once complete, it will have automated lighting, blinds and security system, as well as a centralized home-entertainment system.
Kadali lists "convenience, getting rid of cord clutter and transferring control into my own hands," as reasons he wants a fully automated home.
"The lighting system is going to be on the home Wi-Fi network. If you have Internet access, you can turn the lights on and off, even from halfway around the world," Kadali explained. He is particularly enthusiastic about the state-of-the-art home-security system.
My home-security system, including security cameras, smoke alarms and motion detectors, will be connected to my Wi-Fi. If someone breaks in, for example, it would trigger an alarm on my cellphone.
"My home-security system, including security cameras, smoke alarms and motion detectors, will be connected to my Wi-Fi. If someone breaks in, for example, it would trigger an alarm on my cellphone."
He also notes the necessary technology is becoming easier for the average homeowner to understand and configure. It will allow homeowners to have a DIY mentality and move away from a reliance on services such as alarm-sytem companies.
Kadali says one of the primary advantages of audio and video automation is that it concentrates all the requisite boxes and hardware in one mechanical room, thus removing the ubiquitous clutter of cables behind the television.
"Just one cable goes to my television monitor. When I turn on the television, I'll pick the entertainment source, whether it be Apple TV, Telus TV or whatever. I can also use the monitor as a computer screen," said Kadali. Decreasing costs have allowed homeowners to consider all this automation. He pegs his home automation costs at an extra $10,000 to $20,000.
"Even two years ago, you were looking at $100,000 or more for home automation. Today, it's a fraction of that."
Kadali says his new home will also have fibre optic cables running into it, which will allow him to access state-of-the-art 3D and 4K television. The father of two is also installing a ceiling projector with ceiling speakers so the family can have movie nights at home, watching 3D movies projected on a wall in the house.
Sunset's Silva says the technology that allows for home automation is "getting exponentially better." For example, Muller references an in-home composting system that Sunset can install for around $900. "You put your food leftovers in and the system will turn them into dirt overnight," he said, a far cry from letting organic waste sit outside for years before it composts.
Something else Muller sees on the horizon is a refrigerator system that will keep an inventory of fridge contents and will send a homeowner a virtual list of what needs restocking.
Muller and Silva say even if one lives in an older home, it's still possible to take advantage of these technological advances, as it's possible to retrofit a dwelling in piecemeal fashion.
"Hardware today has electrical interfaces that allow connectivity . . . If you want to automate a plumbing fixture, for example, you don't have to re-wire an entire home," said Silva.
As far as Kadali is concerned, such technologies are the future.
"Home automation is becoming standard, especially in cities."
Tagged: Digital Design | Feature | high-tech homes | Kathleen Renne | Kensington | Ram Kadali | Scott Silva | Sunset Homes
---
---
Connect With Us