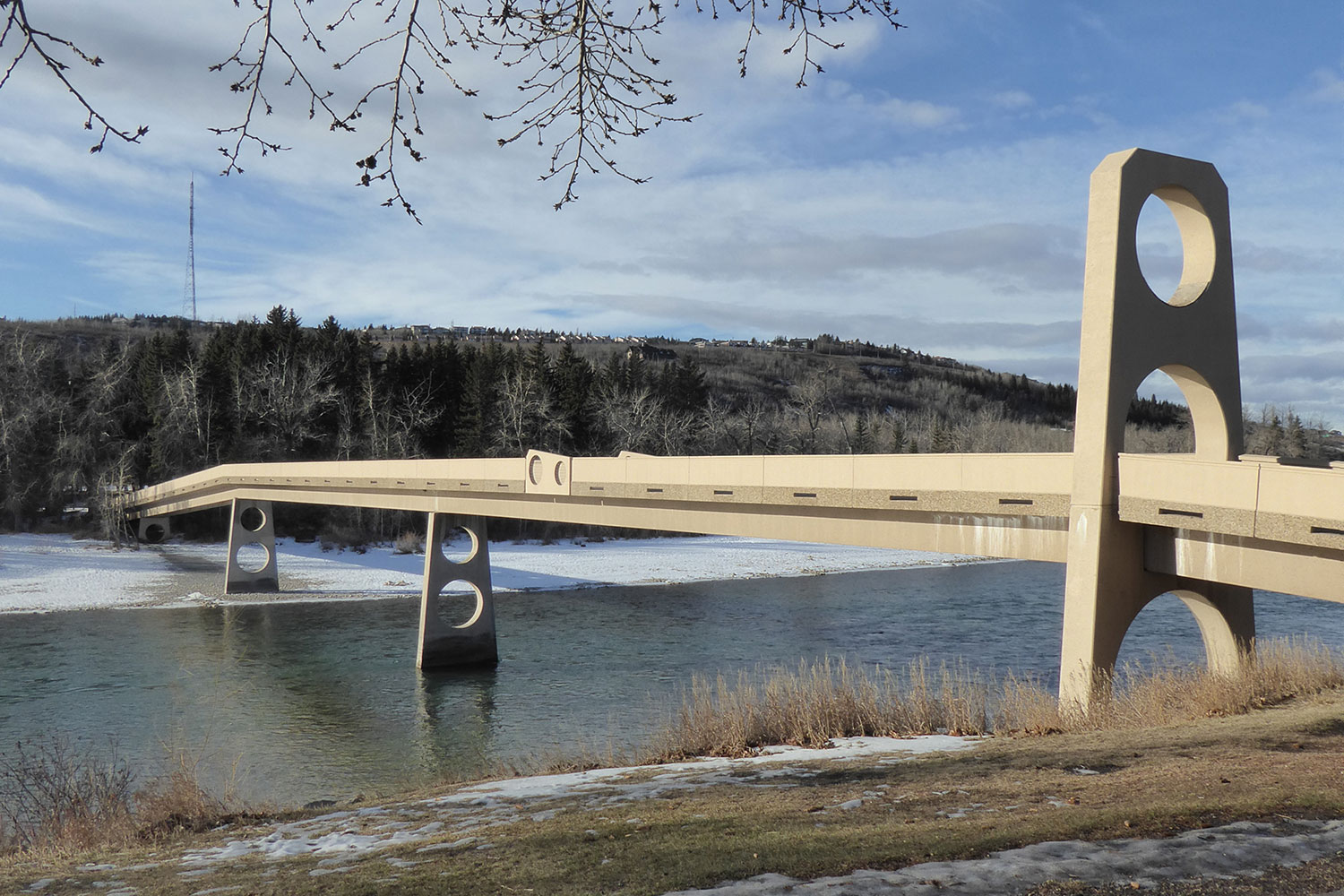 The Harry Boothman Bridge. Photos, Cody Stuart / CREB®Now
March 05, 2018 | Tyler Difley
Bridging the gap
A crash course in Calgary bridges
Most Calgarians probably don't stop to think about the city's bridges every time they cross over them by car, by bike or on foot. However, many of these important structures have interesting backstories or architectural designs that make them special.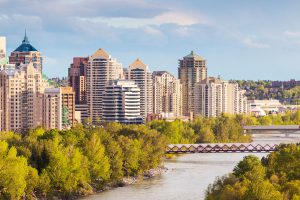 Peace Bridge
This popular pedestrian bridge opened in 2012 and has quickly become one of Calgary's iconic structures. It was designed by Spanish architect Santiago Calatrava and connects the communities of Sunnyside and Eau Claire.
Reconciliation Bridge
Built as the Langevin Bridge in 1910, this bridge carries traffic along Fourth Street S.E. over the Bow River between East Village and Bridgeland. It was originally named after Sir Hector-Louis Langevin, one of Canada's Fathers of Confederation. However, Langevin was also known as one of the architects of Canada's notorious residential school system, and city council voted to change the name to the Reconciliation Bridge in January 2017 in an effort to heal the wounds of area First Nations. The bridge is known for its 5,600 LED lights that glow in a variety of colours to celebrate holidays and other events.
Centre Street Bridge
Calgary's iconic Centre Street Bridge opened in 1916 and is well known for its stone lion sculptures, which were fashioned to resemble the lions in London's Trafalgar Square. The bridge spans the Bow River to connect Calgary's downtown core with the community of Crescent Heights.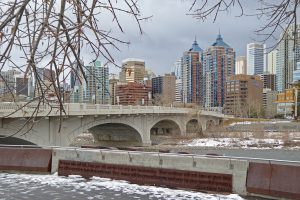 Hillhurst (Louise) Bridge
This bridge, which spans the Bow River to connect the Downtown West End with the Kensington communities of Hillhurst and Sunnyside, replaced the old Louise Bridge in 1922. The original bridge was named after Louise Cushing, the daughter of Henry Cushing, who served as Calgary's mayor from 1900 to 1901.
Ivor Strong Bridge
This bridge along Deerfoot Trail that connects Maple Ridge and Douglasdale is named after John Ivor Strong, an engineer and the City of Calgary's chief commissioner from 1965 to 1971.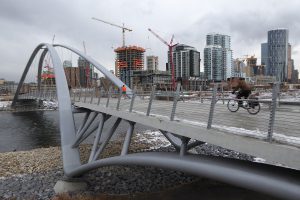 George C. King Bridge
This pedestrian bridge, which opened in 2014 and was formerly known as St. Patrick's Bridge, spans the Bow River near Fort Calgary to connect East Village and Bridgeland with St. Patrick's Island. It is named after George C. King, Calgary's mayor from 1886 to 1887.
Calf Robe Bridge
This bridge, which spans the Bow River along a southern portion of Deerfoot Trail, is notorious for causing accidents, thanks to a bridge deck that can get extremely slippery in wintery conditions, and curves in the road at both ends. It was named after Ben Calf Robe, an elder of the Siksika First Nation, residential school survivor and scout for the North West Mounted Police.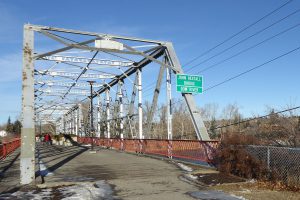 John Hextall Bridge
This bridge was built in 1910 by businessman John Hextall to connect Calgary with his new planned community of Bowness – one of the city's earliest suburbs. The City eventually took over the bridge, which connects the modern-day communities of Bowness and Montgomery, and added a streetcar line. A new bridge was built to replace it in 1986, and it became a popular pedestrian bridge for those entering and exiting Shouldice Park.
Harry Boothman Bridge
This pedestrian bridge spans the Bow River to connect the northwest community of Parkdale with Edworthy Park. It was built in 1976 and named after a Calgary Parks supervisor.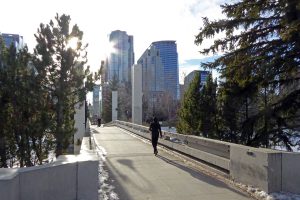 Jaipur Bridge
This pedestrian bridge, which ferries people across the Bow River between Eau Claire and Prince's Island, is named after Calgary's sister city in India.
Calgary Zoo/12th Street S.E. Bridge
The 110-year-old bridge that connected St. George's Island and the community of Inglewood was closed permanently in 2017 after it was deemed to be beyond repair. The old bridge was removed and a replacement bridge built beside it is now open after more than two years of construction. The original camelback bridge was built in 1908 to accommodate horse and buggy alone, so it was narrower than other bridges built around the same time that also included a streetcar track.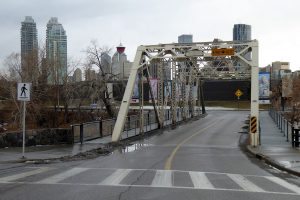 MacDonald Bridge
This historic bridge spans the Elbow River east of downtown, connecting the communities of Victoria Park and Ramsay. The bridge was built in 1911 by the Algoma Steel Bridge Company out of Winnipeg, MB.
Cushing Bridge
This bridge, which spans the Bow River at 17th Avenue S.E. to connect the communities of Inglewood and Forest Lawn, is named after Henry Cushing, who served as Calgary's mayor from 1900 to 1901.
Sue Higgins Bridge
This pedestrian bridge connecting the communities of Acadia and Riverbend is named after longtime Calgary alderman Sue Higgins, who served on city council for 21 years.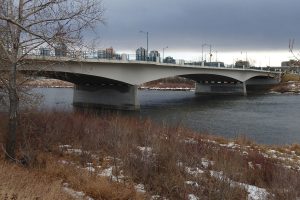 Mewata Bridge
Built in 1954, this bridge spans the Bow River to connect the communities of Hillhurst and Sunalta along 14th Street. The bridge helped to facilitate the growth of suburbs in northwest Calgary during the post-war period, and its name is derived from a Cree word that means "to be happy."
Scollen Bridge
This bridge, which spans the Elbow River to connect the inner-city communities of Mission and Erlton, is named after Father Constantine Scollen. Scollen was an Irish Catholic missionary who lived and worked among the Blackfoot, Cree and Métis peoples on the Prairies for much of his life. He is known for founding the first Catholic mission in what is now Calgary in 1873.
Pattison Bridge
This bridge, which spans the Elbow River on Macleod Trail near the Repsol Sports Centre, is named in honour of Private John George Pattison, who was awarded the Victoria Cross for his heroics at the Battle of Vimy Ridge. He was the only Calgarian to receive Canada's highest military honour during the First World War.
Tagged: Acadia | Algoma Steel Bridge Company | Ben Calf Robe | Bow River | Bowness | Bridgeland | bridges | Calf Robe Bridge | Calgary | Calgary Zoo | Centre Street Bridge | Cree | Crescent Heights | Cushing Bridge | Deerfoot Trail | Douglasdale | Downtown | East Village | Eau Claire | Edworthy Park | Elbow River | Erlton | Fathers of Confederation | Feature | Fort Calgary | George C. King | Harry Boothman | Henry Cushing | hillhurst | history | Ivor Strong | Jaipur Bridge | John Hextall | Kensington | Langevin | Louise Cushing | Macdonald Bridge | Maple Ridge | Mewata Bridge | Mission | Montgomery | North West Mounted Police | Parkdale | Pattison | Peace Bridge | Prince's Island Park | Ramsay | Reconciliation Bridge | Repsol Sports Centre | Riverbend | Scollen | Siksika | St.Patrick's Bridge | Sue Higgins | Sunalta | Sunnyside | Victoria Park
---
---
Connect With Us