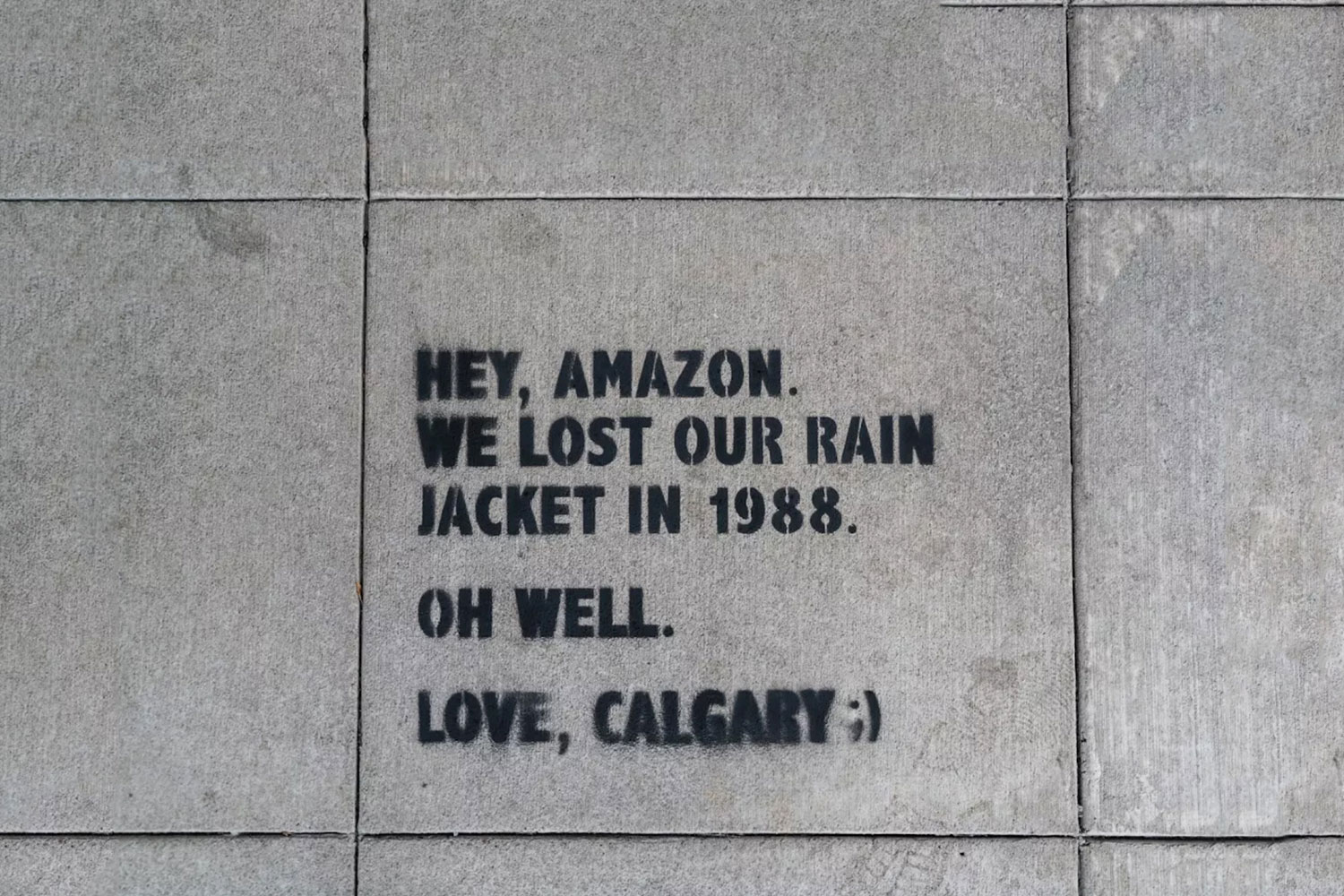 Calgary Economic Development's media campaign included chalk art around Amazon's current Seattle HQ. Courtesy Calgary Economic Development
Dec. 06, 2017 | Barb Livingstone
The Amazon effect
New HQ or not, e-commerce giant's impact is already being felt
Let's call it the "Amazon effect": the cascading economic stimulation that comes from one of the world's largest corporations taking up residence in your market.
It is an effect already being felt in the Calgary region after the announcement that the e-commerce giant will be opening a 600,000-square-foot distribution centre in Balzac – employing 750 full-time workers, and an additional 450 part-time or seasonally, by the end of 2018.
But the economic benefits go beyond the already announced centre (where 95 per cent of employees are expected to come from Calgary) to the international attention Calgary has received thanks to its bid to become the home of Amazon's second corporate headquarters.
In fact, the week Calgary Economic Development (CED) delivered its 200-page pitch and media campaign, which included banners placed around the Seattle firm's headquarters, the organization received 150 million social media impressions, along with coverage in the New York Times, CNN and the Seattle Times.
"It would normally take us 10 to 15 years to get (that many impressions)," said Mary Moran, CED's president and CEO.
Even if Calgary doesn't emerge as the victor over the other 237 competitors vying for Amazon's HQ2 – and the $5 billion in estimated economic impact and influx of 50,000 employees over 10 years it promises to deliver – benefits have already accrued.
CED has extended its pitch to other high-profile companies that could give Calgary's economy a boost, expanding its focus to the whole U.S. Pacific Northwest region. "Now, they've heard of us," said Moran.
ATB Financial chief economist Todd Hirsch says besides Amazon's "trickle up" effect – which would impact the real estate market, as new employees arriving in the city first deplete the rental market, making homeownership more advantageous — the biggest benefit is the change in civic momentum.
Making the HQ2 shortlist (to be announced in early 2018) would be huge, but even if Calgary comes up short, he says the city's whole attitude has positively moved beyond just the energy industry.
"Momentum has doubled because of Amazon," - Dave Kalinchuk, Rocky View County manager of economic development
CED's Amazon pitch, says Hirsch, will resonate with other technology companies, which might be receiving their first introduction to Calgary and the advantages it has to offer.
The Amazon effect is also being felt in Rocky View County, which has already been successful at attracting other large companies with its strategic location near Calgary, strong transportation links and lack of a business tax.
"Momentum has doubled because of Amazon," said Dave Kalinchuk, manager of economic development for Rocky View County.
Many of Amazon's fulfillment centre employees – responsible for packing and shipping online orders – will be young people and recent immigrants, he says, and longer-term economic benefits will be felt in several areas, including first-time homeownership.
"This is a big win for the whole region," said Rocky View County Reeve Greg Boehlke.
Reeve and Kalinchuk both say the desirability of the county among major logistics operations – including a 1.1-million-square-foot Walmart centre, a 1.3-million-square-foot Target centre (now Sobeys), and a $200-million CN Rail logistics park in Conrich — will only increase thanks to Amazon's recent announcement.
"It's the clustering effect," said Kalinchuk, who was also a member of the CED pitch committee.
He says companies want to be near their competitors in what is quickly becoming Western Canada's logistics centre.
Ashley Robinson, senior public relations manager for Amazon in North America, says the company does not have specific economic impact results for Canada (there are six other fulfillment centres in the country). But from 2011-2016, Amazon's investment – 6,000 direct jobs and billions in infrastructure spending – contributed an estimated $900 million and 18,000 indirect jobs to Arizona's economy.
When it comes to choosing a site, she says the most important factor is proximity to customers to ensure speed and quality of service.
"We also look at the workforce and we've found great talent in abundance in Balzac and the greater Calgary metro region," she said.
Moran says one of Calgary's biggest HQ2 bid advantages is its experience absorbing 15,000 people at a time (5,000 immediate employees plus their families, reaching 50,000 employees and up to 150,000 new residents) because, before the recession, that was normal city in-migration.
"We are good at absorbing that labour force growth," said Moran. "We are good at building infrastructure."
She says Amazon traditionally integrates into a downtown core, and with the average age of employees landing in the 25-35 range (with average salaries of US$100,000), "they don't necessarily want suburban living."
While CED offered a range of housing options throughout the city, Moran says Calgary is once again ahead of the game because of its focus on increased densification in the inner-city core, which meets Amazon's traditional emphasis on promoting a live-work environment.
Calgary's pitch also stressed its housing affordability, with single-family homes about US$100,000 less expensive than in Seattle.
Tagged: amazon | Ashley Robinson | ATB Financial | Balzac | Calgary Economic Development | Calgary Real Estate News | CED | Commercial | Dave Kalinchuk | Feature | Greg Boehlke | HQ2 | Mary Moran | Rocky View County | Seattle | Todd Hirsch
---
---
Connect With Us