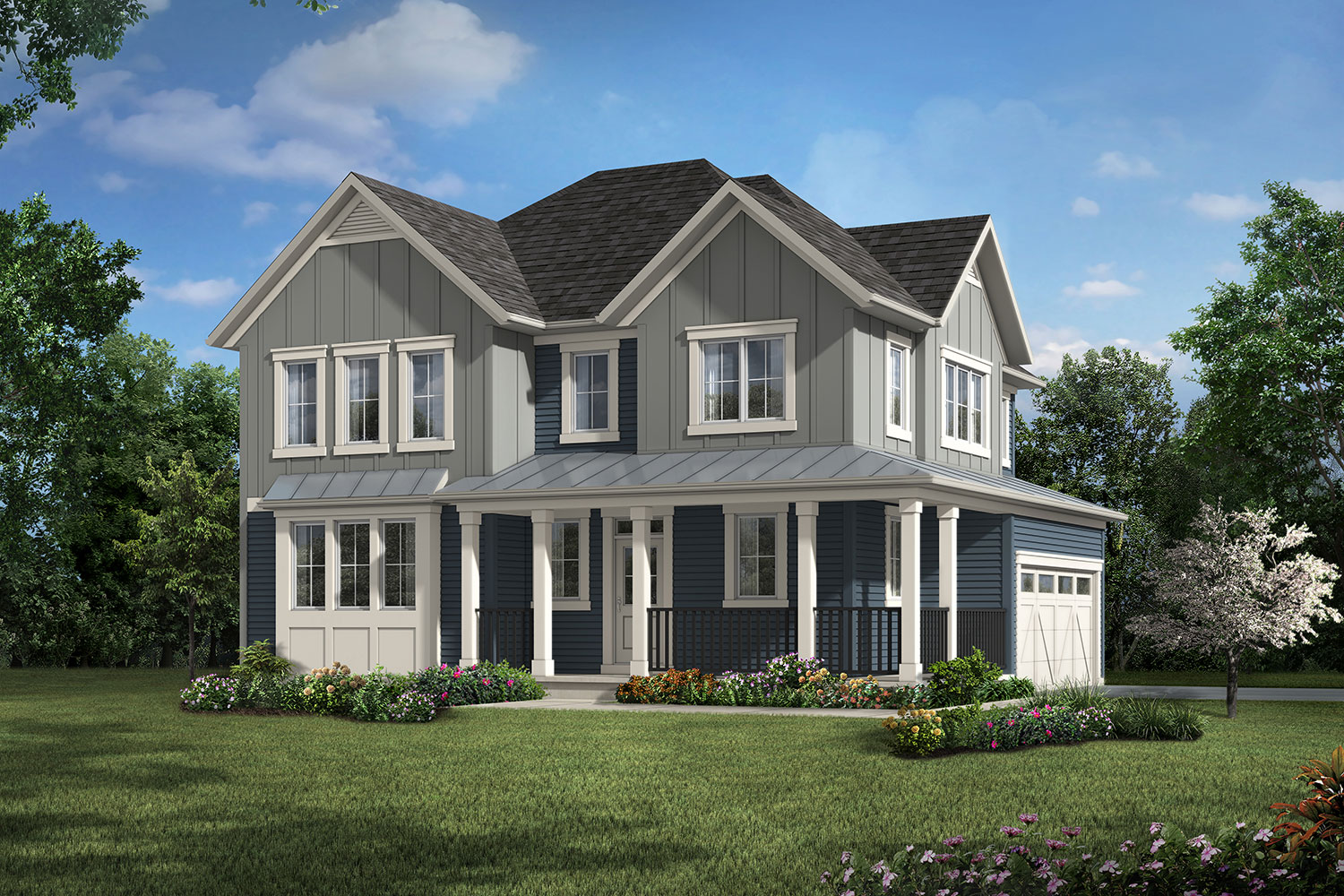 Mattamy's Carrington home designs include single-family homes, urban towhomes, duplexes and other innovations like the recently released WideLot design, which allows for a wider frontage with a shorter lot depth. Courtesy Mattamy Homes
May 24, 2019 | Andrea Cox
Builder's Corner: Carrington showcases Mattamy Homes' attention to detail
Designed for those who enjoy an active lifestyle, the master-planned community of Carrington in Calgary's northwest features an abundance of green space, along with a sleek architectural presence defined by European design.
At final build out, which will take close to 10 years, the community will be home to nearly 3,400 households.
"Our top priorities when designing a community are to include three things – a front door, a 'heart' of the community and diversity of product choice," said Joe Case, director of land development for Mattamy Homes, the developer and sole builder behind the west portion of Carrington.
Mattamy's Carrington sweeps across 159 hectares of land, including almost 30 acres of parks and environmental reserves, as well as another 19 acres of naturalized wetlands. Setting an artistic and peaceful tone for the community, a beautiful art installation greets residents as they enter through the gates.
"Our front door represents the part of the community that establishes a first impression," said Case. "Whether it is an interesting art piece, a vista across a pond or an exceptional streetscape, we want to make sure that residents know that they have arrived."
"We've got a special relationship with our communities because we've worked on every aspect of the development process." - Joe Case, Mattamy Homes
Offering residents a peaceful respite from the pulse of the city, Greenway Park is a lushly landscaped area that features a skate park, playground, half basketball court and direct access to the Rotary/Mattamy Greenway. The Greenway is a 138-kilometre urban green corridor that winds through the entire eastern boundary of Carrington, connecting several new communities.
As the developer and sole builder for all its communities, Mattamy Homes calls itself a fully integrated builder. "That means that we have ownership over the community-building process from the first day we break ground on a new project to the last key that we turn over to a new homeowner," said Case.
"We've got a special relationship with our communities because we've worked on every aspect of the development process."
Carrington's home designs include single-family homes, urban townhomes, duplexes and other innovations like the recently released WideLot design, which allows for a wider frontage with a shorter lot depth. The new design allows for spacious front porches, larger rooms, expansive windows, and set-back, front-drive garages that don't dominate the streetscape.
"Diversity of product choice throughout the community is the fabric that stitches all of the elements together," said Case.
Tagged: Builder's Corner | Builder's Corner | Calgary | Calgary Real Estate | Calgary Real Estate News | carrington | developer | Feature | homebuilder | Mattamy Homes | New Communities | Rotary/Mattamy Greenway
---
---
Connect With Us