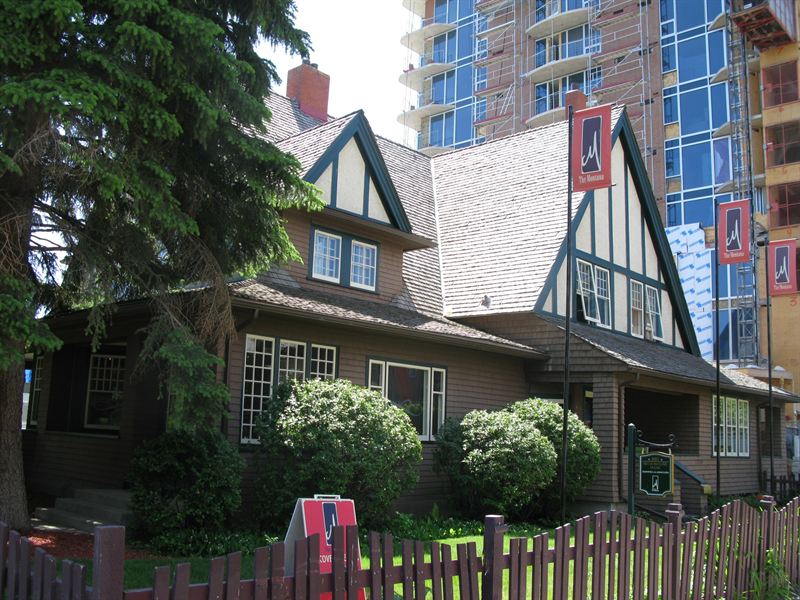 The Nellie McClung House. Courtesy of the City of Calgary
Aug. 20, 2020 | Tyler Difley
Historical Home Spotlight: Nellie McClung House
Year of Construction:
1907
Address:
803 15th Ave S.W.
Community:
Beltline
Architectural Style:
Tudor Revival
As the name suggests, this historic residence holds significant heritage value thanks to its status as the home of Nellie McClung and her husband from 1923-32.
McClung was a successful novelist, prohibition campaigner and suffragist, as well as a prominent member of the "Famous Five," along with fellow women's rights advocates Emily Murphy, Irene Parlby, Louise Crummy McKinney and Henrietta Muir Edwards. McClung also served as a member of Alberta's Legislative Assembly from 1921-26, making her one of the first three women elected to that body.
Located in a residential portion of the inner-city Beltline neighbourhood, the house was built in 1907 for attorney Harry Woodburne Blaylock. It was constructed in the Tudor Revival Style and boasts an Arts and Crafts style interior. It is one of the earliest examples of the Tudor Revival style being used for residential dwellings in the city and the only structure of this style anywhere in the Beltline. When the house was built, the area where it sits was a highly desirable neighbourhood – bordering some of the most prized real estate in the city. Prior to the development of Mount Royal, the section of the modern-day Beltline between 12
th
Avenue and 14
th
Avenue S.W. was Calgary's "original exclusive residential area," according to the City of Calgary.
A replica of the house now sits on the grounds of Heritage Park, where it serves as the
Famous Five Centre of Canadian Women
– an exhibit that "tells the story of influential women in Canadian history."
Tagged: Arts and Crafts | Beltline | Calgary | Calgary Real Estate | Calgary Real Estate News | Downtown | Famous Five | Feature | Heritage | Heritage Homes | Heritage Park | historical homes | history | history | Inner City | Mount Royal | Nellie McClung | Tudor Revival
---
---
Connect With Us