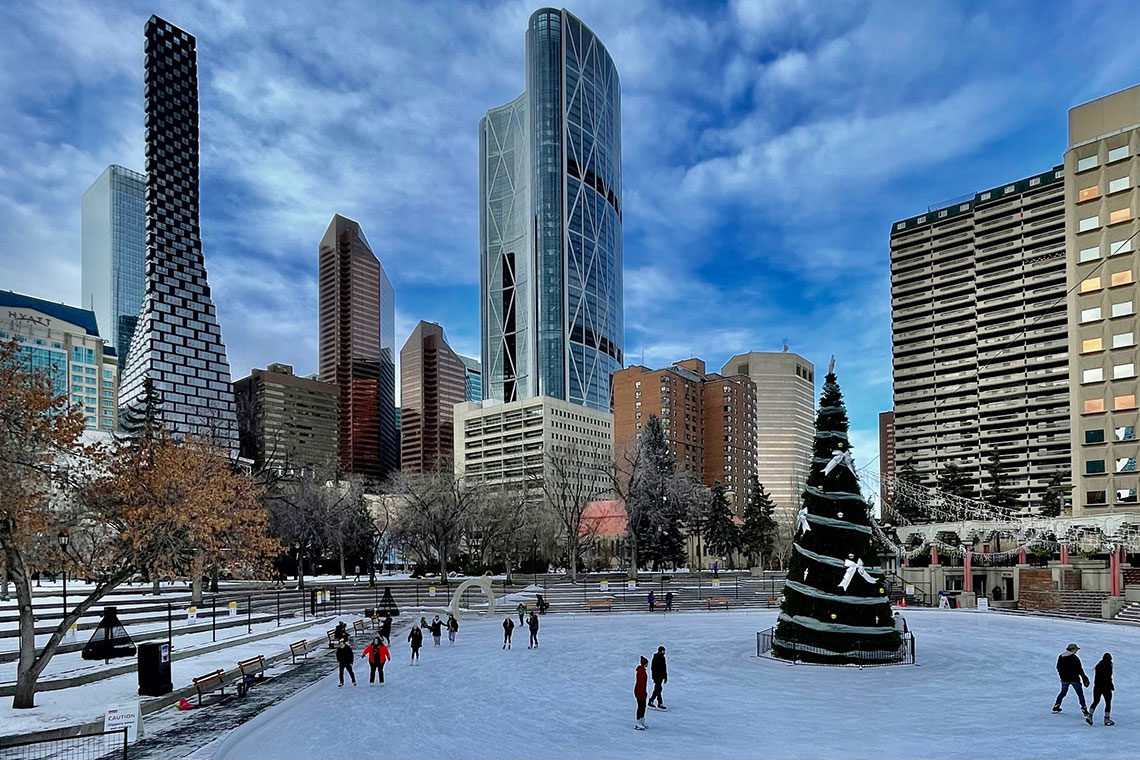 The Olympic Plaza skating rink is a wintery oasis in the heart of downtown. (Cody Stuart / CREB®Now)
Dec. 16, 2021 | Cody Stuart
Calgarians flock to Olympic Plaza for cold-weather fun
With darkness setting in early and COVID-19 still putting many parents in the difficult position of trying to occupy their children in safe ways – often outdoors – the local rink has served as oasis of activity on many cold, dark nights.
The powerful allure of lacing up the skates and going for a spin is on display daily at Olympic Plaza. Originally constructed for the 1988 Winter Olympics, the plaza hosted medal presentation ceremonies, attracting thousands of Calgarians.
More than 30 years later, Olympic Plaza is still attracting Calgarians, who now come to display their own athletic prowess.
As the site of Calgary's only refrigerated outdoor ice surface, the Olympic Plaza rink is one of the very first to open every year. This, plus the rink's central and scenic setting, has made it a hotbed of winter activity, complete with Christmas tree, music, lights, decorations and fire pits.
"Outdoor skating has always been a popular pastime at Olympic Plaza, but never more so than since the pandemic began," said Artur S. Kochanczyk, parks superintendent with the City of Calgary.
"With facilities, arenas and schools being closed in many communities because of COVID-19, outdoor skating rinks were among the few places last year where Calgarians could gather for safe, physically distanced activity."
City staff have only recently started tracking skater numbers, but those working at the downtown rink have seen a definite increase in activity since the pandemic began.
The focus on transforming Olympic Plaza into a winter wonderland is part of a greater strategy to promote all that the season has to offer. Since it's launch in 2019, the City's Winter Strategy has resulted in the addition of fire pits to several Calgary parks, new skating rinks and trails, and even a festival.
Meanwhile, the City has also launched its ambitious Greater Downtown Plan, which aims to revitalize the downtown core – making a thriving Olympic Plaza all the more important.
"As a public park in the heart of Calgary, Olympic Plaza is a gathering place where government, community, education and the arts come together," said Kochanczyk.
"The City's Downtown Strategy recognizes the importance of a vibrant downtown, including great public spaces where people can spend time outdoors, enjoying nature while also being immersed in the hustle and bustle of downtown. Olympic Plaza offers positive mental health benefits and improves quality of life for citizens who visit, live and work in Calgary's downtown core."
Skating at Olympic Plaza is open every day from 6 a.m. until 11 p.m., with extended hours on New Year's Eve (10 a.m. to midnight). For more information on Olympic Plaza and other outdoor skating rinks around Calgary, click here.
Tagged: City of Calgary | Downtown Calgary | Olympic Plaza | winter
---
---
Connect With Us