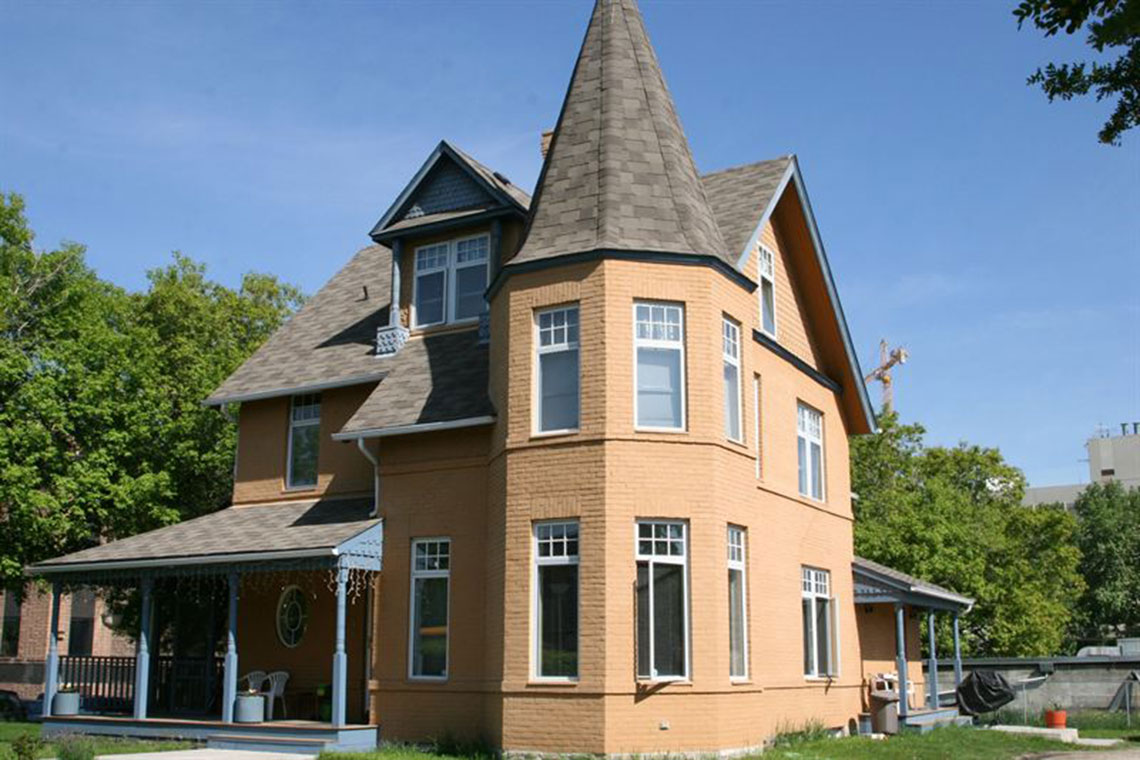 The McHugh House is notable for its distinctive Queen Anne Revival design. (Courtesy of the City of Calgary)
Jan. 06, 2022 | Tyler Difley
Historical Home Spotlight: McHugh House
Year of Construction: 1896
Address: 102 17th Ave. S.W.
Community: Beltline
Architectural Style: Queen Anne Revival
The McHugh House, which is located in the Beltline but originally stood one block south in the Rouleauville community that became modern-day Mission, is significant for both its age and unique design.
Construction began on the home in 1896, proceeding in stages until the work was completed in 1901. The original owners of the home were J. J. McHugh and his wife Frances. McHugh was one of three brothers who ventured west from Ottawa to Calgary to start a ranching venture. J.J., Thomas and Felix McHugh raised Clydesdale horses and Shorthorn cattle near Gleichen, and J.J. and his wife were original members of the Southern Alberta Pioneers and Old Timers' Association. The couple lived in the house on and off until 1924.
The home is notable for its distinctive Queen Anne Revival design – one of the city's few surviving examples of the style in such good condition, given its age. Another notable feature is the house's buff-brick construction, which was rare among Calgary homes from that era.
According to the City of Calgary, "The masterful and unusual design combines elements of Queen Anne style including a steep gable roof; projections from the side and rear forming cross gables; tall vertically proportioned windows; prominent shingle detailed dormer and a polygonal tower topped with a very steep distinct turret."
The McHugh House is one of the oldest remaining homes in the Beltline and Mission areas, and one of few surviving structures from the Francophone community of Rouleauville, which did not become part of the City of Calgary until 1908. Although it was a private residence for several years after its construction, the home went on to be closely associated with several Catholic organizations, including the Basilian Fathers of St. Mary's Boys' High School, the Congregation of the Brothers of Our Lady of Lourdes and the Calgary Catholic Immigration Society. Over the years, it has served as a group home for teenage boys, a halfway house for sex workers, and a shelter for pregnant teens and new mothers.
Today, the house is operated by the Beltline Neighbourhoods Association and known as the McHugh House Community and Arts Hub. It is available to rent as an event space and houses a variety of local community, social and arts organizations.
For more information about the McHugh House and the City of Calgary's Inventory of Historic Resources, click here.
Tagged: Historical Home Spotlight | historical homes | history | City of Calgary | Beltline | Mission
---
---
Connect With Us