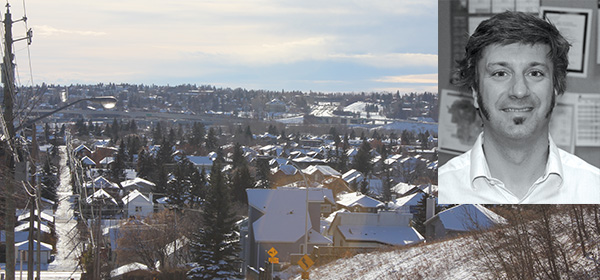 Dec. 17, 2012 | Cody Stuart
Pop The Question: Scott Lockwood
As manager of New Community Planning and Subdivision Services in Calgary, Scott Lockwood is well-versed in Calgary communities both old and new. Lockwood leads a team responsible for planning new communities in a way that supports City Council's vision for Calgary and took some time to explain everything from what his job entails to which Calgary neighbourhood has some great pizza.
CREB®>> As Manager of New Community Planning and Subdivision Services, what does your job entail?
Lockwood>> I lead the team that is responsible for planning Calgary's new communities in a way that supports Council's vision for the city. We work closely with local developers and the public to design the layout of new areas, including where the residential, commercial and other types of development will be located and how they will all be integrated. The goal of our work is to ensure that Calgary's new communities are places where people can and will want to live, work and play.
Once we have a design for a new community, our job is to present that design to City Council and — ifthey like it — help them make it a legally binding blueprint for future development.
CREB®>> What is a complete community?
Lockwood>> Imagine being able to walk from your home to a shopping area, coffee shop, gym and doctor's office. Then imagine also being able to walk or bike to your kid's school and even to your own workplace. Or being able to stay in your neighbourhood on weekends because there is a park, playground and recreation centre all within 10 minutes from where you live. That is a complete community.
Complete communities are places where people can live, work and play, and can do so without necessarily having to get in a car. At The City, we are really moving away from building communities that are almost entirely made up one type of development, which in the past has usually been single-family homes. We want a mix of different forms of residential development so people of all ages and incomes can live in the same area. We also want to mix in a good amount of commercial and recreation space so that people don't have to drive out of their neighbourhood to look after their day-to-day needs.
CREB®>> What are some examples of complete communities in the city?
Lockwood>> A lot of our oldest neighbourhoods have elements of a complete community; like the Beltline area, Inglewood or Bowness. There are also good examples that are newer areas, like Garrison Woods and McKenzie Towne, or emerging new communities like Walden and Sky View Ranch.
CREB®>> What will it take for Calgary to achieve more complete communities?
Lockwood>> City Council has already set the vision and direction for more complete communities through the Municipal Development Plan (MDP). The next step is for us to implement this vision with the development industry as we design Calgary's future communities.
CREB®>> How important is walkability in a community?
Lockwood>> Walkability is key to a complete community. Having a community that is designed so people can get around safely and easily on foot enables residents to walk to the places they need to go on a daily basis and improves the look and feel of a neighbourhood, both of which improve quality of life for residents. We do our best to make sure that the sidewalks and pathways in new communities actually go to the places people would want to walk and that they don't wind all over the place before getting there. Mixing up the commercial and residential development also means people are more likely to have a store or coffee shop close enough to them that they can walk there, which makes a big difference.
CREB®>> If you could change one thing — if anything — about Calgary what would it be?
Lockwood>> Less snow in May and June would be great.
CREB®>> What's the best way to spend a day off in Calgary?
Lockwood>> Taking in some of the great open spaces in Calgary with a trail run in Nose Hill Park or a mountain bike ride in Fish Creek Park, and then taking in the shops and restaurants in the city's great neighbourhoods.
CREB®>> Is there a bestkept secret in Calgary?
Lockwood>> Some of the best pizza in Calgary can be found in Inglewood.
CREB®>> What's your favourite room in the house?
Lockwood>> The kitchen – I really enjoy cooking.
Tagged: Calgary Community | Calgary Real Estate | Calgary Real Estate News | City of Calgary
---
---
Connect With Us