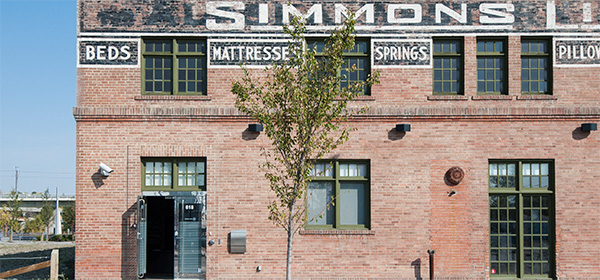 Sept. 28, 2012 | CREBNow
Calgary Opens Doors
The city of Calgary is baring all this weekend as Doors Open YYC reveals the inner workings and behind-the-scenes goings on of 35 city sites.
"The really important thing about Doors Open is it's open to absolutely everybody, there are sites in every quadrant of the city in every neighbourhood and it's free," said Joni Carroll, Doors Open program manager. "We think that this project is all about building community and making each Calgarian feel like an insider like, 'This is your city get out and explore these buildings'. Some of them are publicly owned assets, some of them are Calgary icons, so get inside and get to know your city is what it's all about."
Carroll explained Doors Open was initially started in 1984 in France and spread into the United Kingdom before a group from Toronto attended and brought it to Canada for their millennium celebrations in 2000. These days, the initiative is making it's way west with events in Winnipeg, Edmonton, Richmond B.C and Calgary.
"We really believe that if you know your city, if you get out and get inside some of these buildings, even if you've never been to see some music at Jack Singer Hall or if you've never been to a Flames game this is a chance to actually get into those buildings in a really friendly, welcoming way," said Carroll. "And then you know these important institutions in your city and we really believe it builds civic pride.
"It's also really great for people who are new to Calgary so whether they're just moved from some other part of Canada or if they're new Canadians, it's just a great way to get up that learning curve about Calgary really quickly."
In selecting which sites Calgarians would be privy to seeing more of, the Doors Open board came up with a list of about 250 places before engaging a group which included heritage planners from City Hall, historians from the University of Calgary, and community leaders from northeast Calgary to narrow the list.
With organizers looking to cover all four quadrants of the city, the 35 finalists from that list include the Genesis Centre for Sport and Wellness, Canada's Sports Hall of Fame Hockey Canada, the Pine Creek Wastewater Treatment Plant, The Military Museums, the University of Calgary, the Scotiabank Saddledome, the Simmons Building and Fort Calgary.
"With Fort Calgary, as part of our programming we're looking at both the past and the future," explained Katie Murray, education manager for Fort Calgary and Doors Open board member. "We're going to have some really interesting artifacts out that people don't normally get to see that both relate to the Fort and are just apart of the random collection of stuff that we have that's really quite interesting but not necessarily always related to the North West Mounted Police."
Murray said the Fort will also be providing visitors with an idea of the heritage sites redevelopment project launching in partnership with the (CMLC).
"(We) are really excited to be mirroring the great development that's happening here in East Village and taking pride in our whole neighbourhood as it comes up and develops," she said.
A short walk up the path from the Fort, The Simmons Building is another East Village site included in Doors Open.
"This is one of Calgary's newest residential neighbourhoods so it's sort of fun that two of Calgary's oldest buildings are in one of Calgary's newest neighbourhoods," said Carroll.
The Simmons Building celebrated its 100th anniversary this year and the former temporary office of the CMLC is expected to start a new incarnation as soon as next year.
"There's pretty significant changes when you are in the building," explained Clare Nolan, senior manager of marketing and communication for the CMLC. "It's got all the original floors, all the original fir beams, they were all painted white, now they've all been restored so it's interesting to see the evolution of the building."
Carroll said response for the event so far has been "fantastic". And other than a couple of sites which require pre-registration — and the Pine Creek Wastewater Treatment Plant that requires ages 12 and over — most sites are drop-ins. For a complete list of sites as well as any registration requirements check out
DoorsOpenYYC
Are you headed out to the event this weekend?
Did you go to one of the participating locations? Which one?
Tagged: Calgary Community | Calgary Real Estate | Calgary Real Estate News | City of Calgary | Community
---
---
Connect With Us