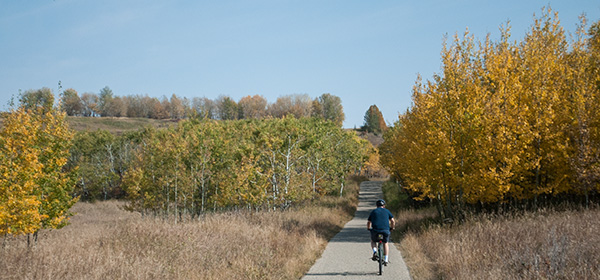 Sept. 28, 2012 | Cody Stuart
Getting to Know Nosehill
Reportedly taking its name from the distinctive (at least if you use a little imagination) nose-like hillsides that surround the area, the Nose Hill Natural Environment Park – as it's officially known – is one of the largest municipal parks in North America. Encompassing 11 square kilometres of native grassland in northwest Calgary, the park was created in 1980 after citizens spoke out against a plan to turn the area into a residential development.
Thanks to their actions, those living in the numerous communities bordering the 1,129 hectare park can now enjoy hiking or biking through the Rough Fescue grassland, while taking in vista's of downtown Calgary, the Bow River valley and the majestic Rocky Mountains.
One of the most significant examples of this grassland ecosystem left on the Canadian prairies, the area is home to a population of large mammals such as deer and coyotes, which can be seen roaming the grasslands and coulees. The park is also home to smaller critters such as porcupines, northern pocket gophers and Richardson's ground squirrels that serve as prey for the northern harriers and Swainson's hawks that can be found in the area.
"It's a beautiful natural space – it really is nature in the middle of a very busy city," said Corinna Baxter, a spokeswoman for the City of Calgary's parks department. "It's quite a large space. It has hiking trails, native grasslands and Trembling aspen... it's really unique just because it's so natural."
While the area around Nose Hill has evolved since it was founded (Ward 4 now ranking as the second most populated in the city with a population of 84,949), the high plains of the park itself have remained virtually unchanged since European settlers began using the area in the late 1800s for farming and ranching. Prior to that, Nose Hill was a significant site for First Nations people. To this day, the park retains evidence of their early presence in the area, containing significant archaeological sites, including stone circles. These were formed by using stones to hold down the edges of tipis and are called "tipi rings".
Today, area residents and visitors can partake in any number of activities in those same surroundings. Dog owners can take Rover for a run in the off-leash area at the top of the hill, and mountain bikers can find plenty of singletrack nestled amongst the park's Multiuse zone. Roughly the size of 424 football fields (no word from the City if that's CFL or NFL fields), riding the 13.8 km loop around the park is a great way to take in the full splendor of the area while getting a good workout.
City of Calgary - Nosehill Park
Tagged: Calgary Community | Calgary Real Estate | Calgary Real Estate News | City of Calgary | Community
---
---
Connect With Us