Nov. 20, 2013 | Cody Stuart
Satisfaction, Guaranteed
The number of Calgarians satisfied with the city they call home is on the rise.
As revealed in the 2013 Citizen Satisfaction Survey, 88 per cent of Calgarians are satisfied with the quality of life in the city, an increase of 10 per cent over the last three years. "It's no secret: we live in a great city, and keeping Calgary at its best is a partnership between citizens and their government," said Mayor Naheed Nenshi. "City employees work hard to put citizens first in all that they do, and it's not surprising that Calgarians value this and are optimistic about the future. Together, we are building an even better Calgary."
Ninety-two per cent of citizens said they were "proud" to be Calgarians and reported increased satisfaction with City of Calgary programs and services.
However, not all Calgarians were pleased with life in the city, as 17 per cent of those surveyed said the quality of life had "worsened", a slight decrease from the 18 per cent of dissatisfied Calgarians seen last year.
Other notable highlights of the survey, which first began in 1997, showed an overwhelming number of Calgarians (95-99 per cent) were pleased with the City's flood response. The full impact of the June floods was also reflected in the survey's findings, with 45 per cent of respondents stating they were in some way affected by the flooding and 80 per cent stating they had participated in flood recovery in some way. More than a third of Calgarians (37 per cent) stated they had volunteered with flood efforts.
Responding to how City Hall spends their hard earned dollars, close to two-thirds (65 per cent) of citizens said they were getting "good value" for their property taxes, slightly above last year's 62 per cent but up significantly from the 51 per cent seen in 2010).
For the fifth consecutive year Calgarians ranked roads and infrastructure as their top concern, with 27 per cent expressing displeasure with getting around in the city. Oddly, roads and infrastructure also ranked as the biggest reason for an improved quality of life in the city.
Growth and planning was cited as the biggest reason for a deteriorated quality of life, with more than half (53 per cent) of those surveyed singling out the issue.
The survey was conducted with a randomly selected sample of 1,002 Calgarians aged 18 years and older who were contacted via telephone between Aug. 21 and Sept. 11.
"This research is one of the ways we listen to citizens," says Mayor Nenshi. "Good data makes for good decisions. The citizen satisfaction survey helps us to create priorities and increase our understanding of what we're doing well and where we need to improve."
Calgarians are invited to participate in the Heartyyc contest by posting on The City's Twitter or Facebook page. By sharing why they love Calgary, they will be entered into a daily draw for prizes from The City and civic partners. Visit
calgary.ca
for more information.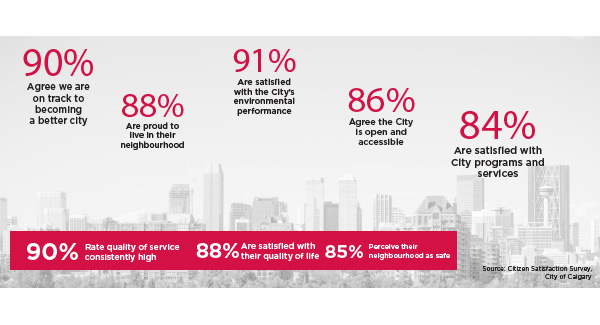 Tagged: Calgary Floods | Calgary Real Estate | Calgary Real Estate News | Calgary Satisfaction Survey | City of Calgary | Mayor Naheed Nenshi
---
---
Connect With Us