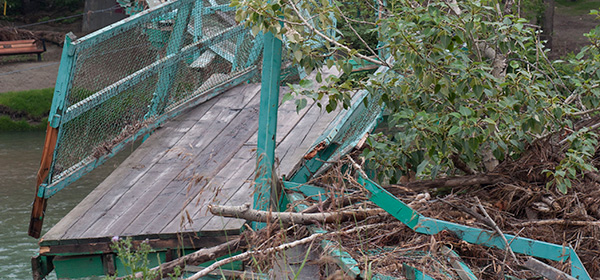 Aug. 14, 2013 | CREBNow
Infrastructure Insight
A City of Calgary media tour of some of the Calgary's more heavily flood-damaged areas revealed there is still months – and millions of dollars – remaining in rebuilds for roadways, bridges and transit.
At the juncture where Heritage Drive passes under Glenmore — an area City officials said floods every year — the roadway was completely washed out by June 20 flood waters requiring the roadway be completely rebuilt. Ryan Jestin, director of Roads with the City said when workers started excavating asphalt to repair the roadway they discovered some 'environmental concerns', primarily an old battery and some other debris.
"We detected some lead content and sulphur content ... so we sent away the soil to be sampled, of course it came back with some higher than normal content that was of concern from an environmental perspective so we had to remediate that and make sure it was properly contained before we rebuilt the road." he said.
Repairs to that particular area, with the addition of the environmental remediation, are expected to cost more than $1.5 million.
As far as pedestrian bridges throughout the city, the tour continued to the mangled remains of the Riverdale Sifton pedestrian bridge on Sifton Blvd. Constructed in the 1940s, the bridge is one of three slated for demolition due to severe damage.
Craig MacFarland, chief structure engineer with City of Calgary Roads said there's a tender out to demolish not only the Riverdale Sifton bridge but a pedestrian bridge at Sandy Beach and one at Rideau Park.
Nine bridges in all were affected and the City will be rebuilding all of them.
"These particular sites on the Elbow will be rebuilt because they're a fairly significant part of the pathway network," MacFarland said. "These will be remediated potentially to something similar to what was there. The city will be looking at opportunities to potentially make some improvements that would be part of the remediation plan. Our plan right now is just to get the three down so it's safe for the river users and the public."
The cost for the remediation and rebuilding of the nine bridges is expected to hit about $10 million. MacFarland said the new bridges could be completed by next fall at the earliest.
The tour concluded at the Erlton LRT station — one of the hardest hit areas of flooding with 100 metres of track washed out and a tunnel flooded, and also one of the quickest to recover.
"We pretty well pulled out all the stops," said Doug Morgan, director of Calgary Transit on the quick recovery. "We had lots of partners, contractors that we called in and we were starting that work the day of the flood, starting to muster resources knowing we were going to have a lot of work to do preparing and getting infrastructure in place."
Morgan said the June floods were only the second time since the tracks construction that the trains were closed during the rush hour.
Media Tour Showcases Infrastructure Damaged By June Floods
Tagged: Calgary Floods | Calgary Real Estate | Calgary Real Estate News | City of Calgary
---
---
Connect With Us