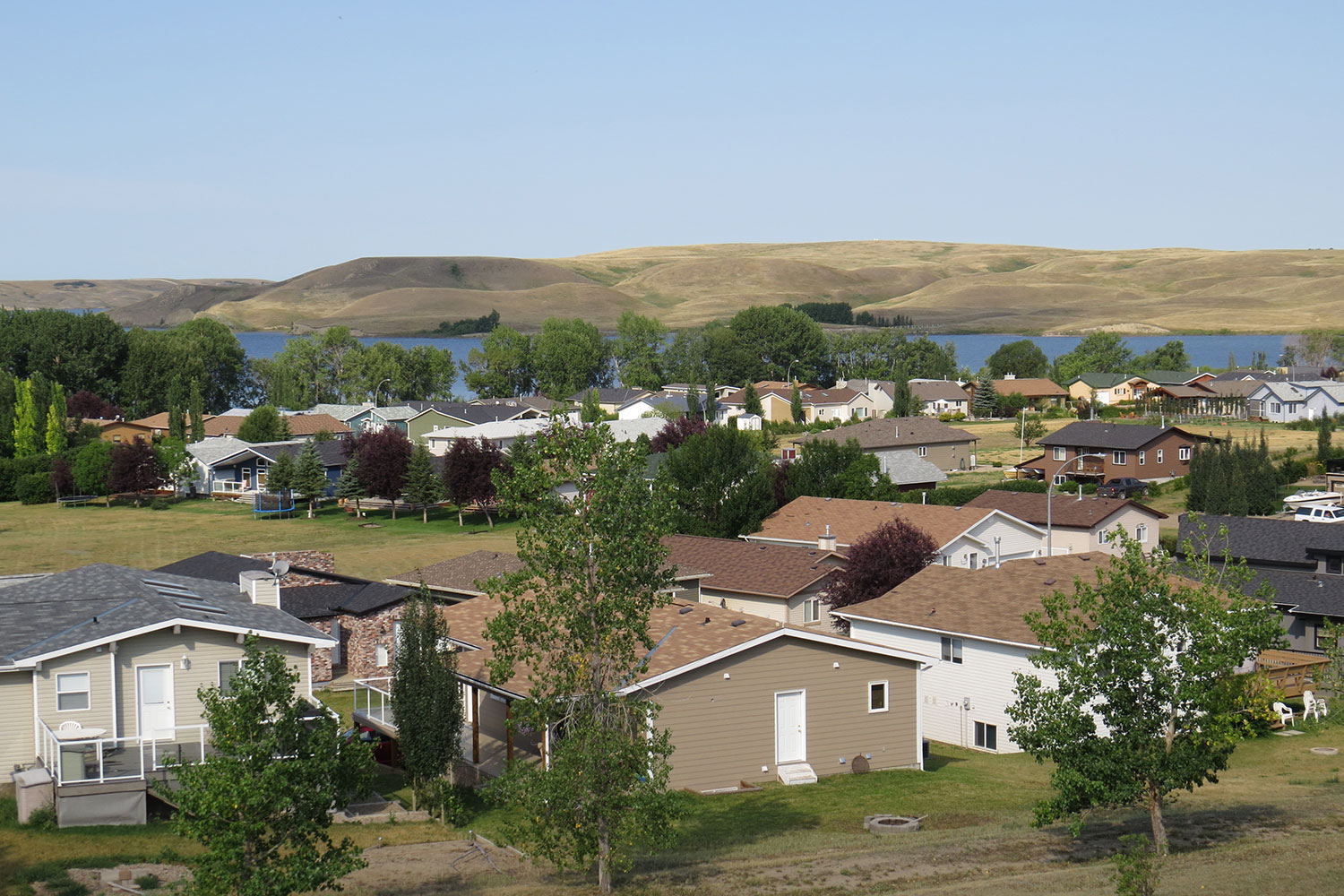 Homes at Little Bow. CREB®Now Archive
June 17, 2020 | Tyler Difley
Eight popular vacation communities within three hours of Calgary
During the summer months, it's always nice to be able to get away from the hustle and bustle of the city for a little R and R – whether for a few weeks or only a weekend – which is why the idea of owning a vacation property is so appealing to many Calgarians.
Thankfully, there are no shortage of options here in the province for vacationers of all stripes.
Bragg Creek
Bragg Creek is a family-focused community whose identity is part western heritage and part great outdoors. Roughly 600 residents call this hamlet 30 kilometres west of Calgary home. Bragg Creek is the gateway to Kananaskis Country and a fantastic home base for anyone who enjoys hiking, biking, camping, golfing, fishing or horseback riding.
Canmore
One of Alberta's more famous locales for weekend getaways, Canmore offers its 13,992 permanent residents and 3,890 non-permanent residents picturesque mountain scenery without the added cost of living in a provincial or national park. Only an hour away from Calgary, and a stone's throw from Kananaskis and Banff, Canmore is perfect for those who love outdoor adventures. Here, opportunities for biking, hiking, skiing, climbing and golfing are never far away.
Dead Man's Flats
Dead Man's Flats is often an afterthought for those who frequently commute between Calgary and the Rockies. However, this up-and-coming hamlet offers access to many of the mountain amenities Calgarians crave. Located only a seven-minute drive from Canmore and 50 minutes from Calgary, Dead Man's Flats is surrounded by opportunities for downhill and cross-country skiing, snowshoeing, biking, and hiking.
Ghost Lake
Located in the foothills of the Rockies only 25 minutes west of Calgary city limits, Ghost Lake is an extremely convenient escape for Calgarians. It's perfect for water sports, including fishing and sailing. The lake is 10 kilometres long and 1.5 kilometres wide, and contains several varieties of trout. Ghost Lake is home to a few resort communities for those looking to purchase a residence there, including the gated Cottage Club. It's also home to a popular campground, open from May to October.
Little Bow
This resort community located along the Travers Reservoir in Vulcan County, about 180 kilometres southeast of Calgary, is great for vacationers and year-round residents. The reservoir provides the perfect backdrop for boating, water skiing, swimming and fishing. There is also a popular campground in nearby Little Bow Provincial Park.
McGregor Lake
McGregor Lake is home to the Lake McGregor Country Estates resort community, which looks down on the south end of the lake. It's located in Vulcan County, about 160 kilometres southeast of Calgary. The community is home to seasonal and year-round residents, all of whom have access to a residents' club, pools, a hot tub and sauna, sport courts, and a private marina with boat storage. The lake itself is 29 kilometres long and fed by the Bow River at its northern end – perfect for swimming, fishing, boating and water skiing.
Sundre
Only a 75-minute drive northwest of Calgary along the Cowboy Trail, Sundre is a great jumping-off point for outdoor activities, including golf, camping, rafting or kayaking on the Red Deer River, hiking, and horseback riding. The foothills and mountain areas west of Sundre are famous for their herds of wild horses.
Sylvan Lake
Sylvan Lake is one of the most in-demand waterfront locations in the province, due to its central location – 160 kilometres north of Calgary – and popular amenities. The beautiful lake and waterfront, with its many restaurants and shops, make Sylvan Lake a popular resort town, attracting over 761,000 visitors in the summer. Residents and visitors can enjoy a variety of water sports, swimming, golfing, curling, kite skiing and more.
Tagged: Bragg Creek | Calgary | Calgary Real Estate | Calgary Real Estate News | Canmore | Dead Man's Flats | Feature | Ghost Lake | Holiday | Little Bow | McGregor Lake | Popular This Year | recreation properties | Rockies | Rocky Mountains | Summer Vacation | Sundre | Surrounding Areas | Sylvan Lake | vacation | Vacation Homes
---
---
Connect With Us