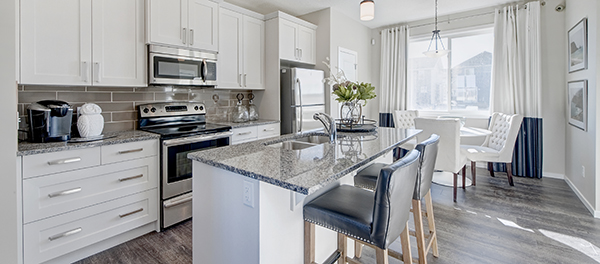 March 18, 2015 | CREBNow
The benefits of buying new
Genesis launches new campaign for REALTORS, buyers
Genesis Builders has launched a new campaign designed to provide REALTORS® and their buyers with more information about the benefits of buying new.
The award-winning land developer recently launched its We Love REALTORS® campaign — through social media blasts and an email newsletter — in its ongoing effort to partner with industry professionals who corporate marketing manager Jesse Coderre sees as partners in giving homebuyers pertinent information about all their purchase choices. And, those choices should include the benefits found in choosing a new home.
"In the end, we believe we are offering a better product to homebuyers," he said. "We are developing a strong partnership with REALTORS® so they can give the best advice available to their clients."
Genesis is currently offering homes in both Calgary and Airdrie.
In Calgary, the company is building in its communities of Sherwood, Sage Meadows and EvansRidge in the northwest and Saddlestone in the northeast.
In Airdrie, the company is building in Pier 11 in Bayside and in Canals Landing. Genesis has developed a benefits checklist to buying a new home, as well as Home Buying 101 tips, at www.genesisland.com. Those tips include the comparison between new and resale.
Coderre points to three benefits of buying a new home:
1. A homebuyer gets exactly what he or she wants, built specifically to his or her tastes and lifestyle.
"You don't have to renovate. People are busy and they want a move-in ready choice that exceeds their expectations," said Coderre, noting a homebuyer is able to choose the specific model he or she wants, and upgrade where necessary to meet design tastes and/or family needs.
"You don't have to spend extra money to get the home to the standard you want."
2. New homes offer the superior quality that comes with sound, new construction, innovative technology and top-line products.
New homes come with energy-efficient products — from building materials, to windows to heating systems — that save the homeowner money while protecting the environment.
3. A new home comes with a New Home Warranty. This means easier financial planning for buyers, who can be confident that any problems will be fixed by the builder under the provisions of the warranty program, administered through a third-party provider.
"This is especially important for first-time homebuyers and families, knowing they have that support,"
said Coderre.
Under the New Home Buyer Protection Act, passed in 2014, every new home built in Alberta is protected under warranty. At a minimum, a new home's warranty covers one year for labour and materials, two years for delivery and distribution systems, five years for building envelope protection and 10 years for major structural components.
Coderre said Genesis' partnership with REALTORS® will serve to further educate them on the details and benefits of warranties on new homes.
Coderre also touts the advantages found in new community design.
"As a fully integrated land developer and builder, Genesis' communities are master designed to accommodate and harmonize with the lifestyles of the demographics buying in the community," he said.
"Architectural controls work to protect the integrity of the community. Great amenities, green space and walking paths aim to accentuate the buyers daily rituals."
As part of the program launch, Genesis wanted to make REALTORS® aware of the company's commission programs.
While many builders will pay REALTORS® full commission or a flat rate on new home sales, Genesis goes one step beyond, paying full commission as soon as the homebuyer signs at the condition waiver stage. Most builders pay when the home closes (when the buyer moves in).
In the end, We Love REALTORS® is about partnerships — and providing the best advice possible to every potential homebuyer, said Coderre. For more information, visit
www.genesisland.com.
Tagged: Genesis | homes | Sponsored | We Love REALTORS
---
---
Connect With Us