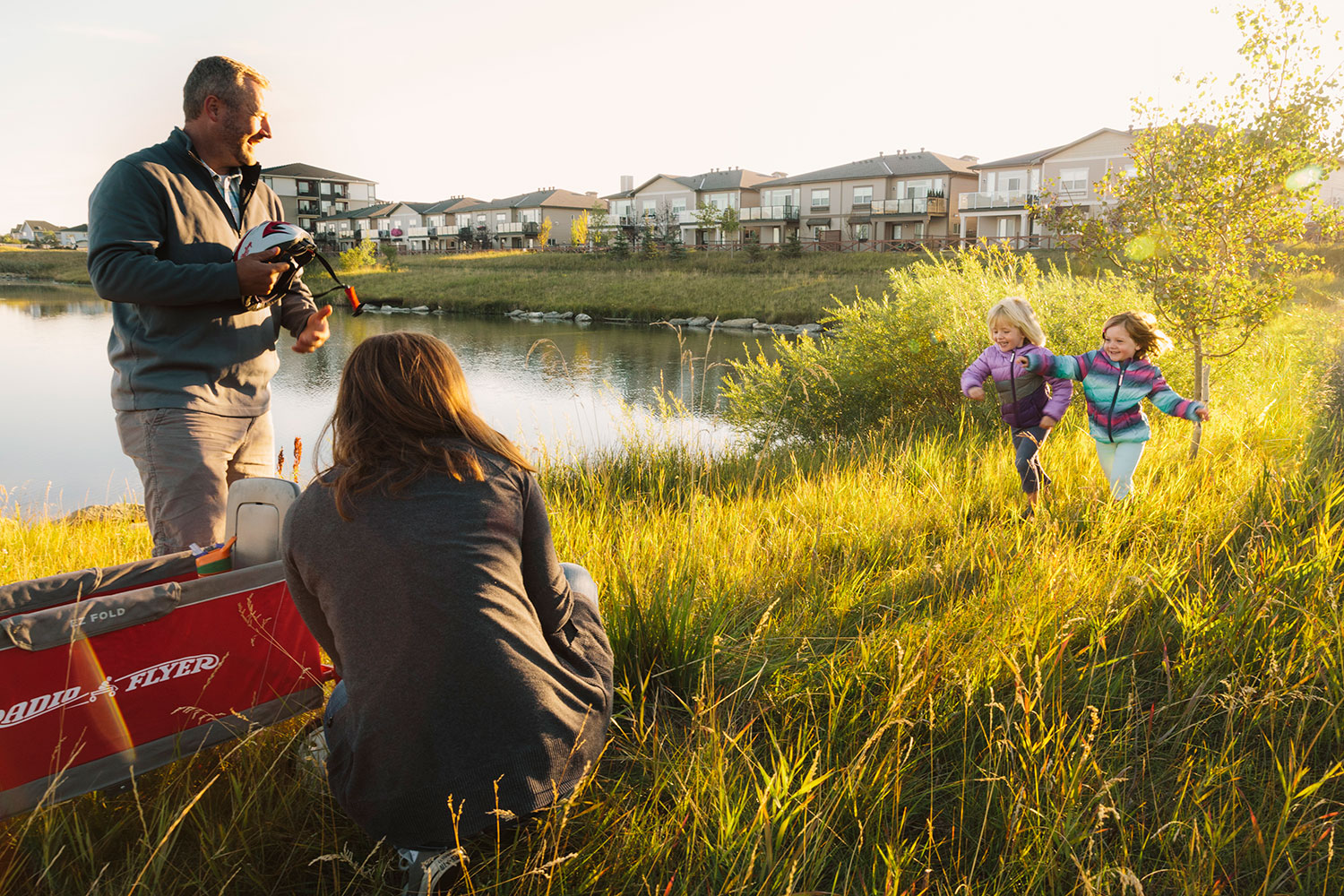 Courtesy Brookfield Residential
July 03, 2019 | Andrea Cox
SPONSORED: Brookfield Residential creates communities where residents can work, play and thrive
Brookfield Residential is renowned for creating communities that shine.
"We build communities for life – where residents can work, play and thrive," said Tannis Anstey, marketing manager for Calgary communities with Brookfield Residential. "At the core of what drives us is how we can contribute to someone's sense of belonging and quality of life."
Whether it's the lake community of Auburn Bay, the riverside community of Riverstone in Cranston or one of Brookfield's newest communities, Chinook Gate in Airdrie, residents feel a strong sense of connection. They mingle at neighbourhood barbecues, wave to each other in the street and happily send their children off to play with neighbourhood friends.
Many of these communities are currently gearing up for some Stampede fun. In Riverstone, private residents' club Cranston Hall is a gathering place and activity centre, where residents can socialize, celebrate, take part in sports and other activities, and build strong connections with family and neighbours. Community members will be decked out in their Stampede best as they celebrate the start of the festivities with a Stampede breakfast on July 6.
Riverstone attracts those looking for an active, vibrant and outdoor-oriented lifestyle. With the Bow River as its backdrop, nature abounds in this southeast community. Spotting a doe with its fawn or watching an eagle soar through the sky are common, but treasured, occurrences.
Together with its hand-picked and highly esteemed builder group – which includes Avalon Master Builder, Baywest Homes, Calbridge Homes, Cedarglen Homes and Trico Homes – Brookfield offers a large variety of homes, from estate homes to apartment-style condos.
"At the core of what drives us is how we can contribute to someone's sense of belonging and quality of life." - Tannis Anstey, Brookfield Residential
With its new community of Chinook Gate, Brookfield's first foray into Airdrie, connectedness is also at the core of the design, starting with the community's master plan.
"Chinook Gate is a boutique community where buyers won't have to compromise anything," said Anstey.
A 113-acre development that will eventually be home to 800 families, Chinook Gate offers plenty of green space. The community is nestled into the 55-acre Chinook Winds Park, so residents can easily immerse themselves in nature.
Meanwhile, Airdrie's downtown is a stone's throw away and Calgary is only 15 minutes down the highway.
The builder group includes Excel Homes, McKee Homes, Brookfield Residential and Avalon Master Builder. Home options include front-attached garage homes, as well as laned and duplex designs. Avalon Master Builder has recently launched its innovative live/work Zen townhomes in the community, which start in the mid-200,000s.
"It's really the best of all worlds, at prices that are attainable," said Anstey. "Upsize, downsize, your size – it's a community that is a perfect fit."
Tagged: Airdrie | Auburn Bay | Avalon Master Builder | baywest homes | Bow River | Brookfield Residential | calbridge homes | Calgary | Calgary Real Estate | Calgary Real Estate News | Cedarglen Homes | Chinook Gate | Cranston | Excel Homes | McKee Homes | New Communities | Riverstone | Sponsored | Sponsored | Trico Homes
---
---
Connect With Us