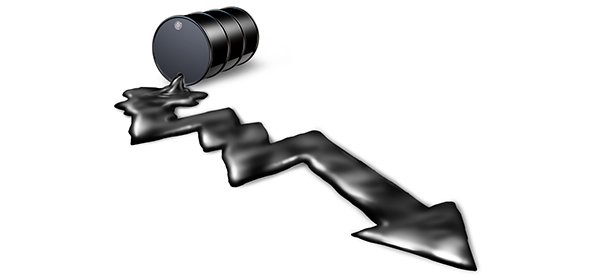 Falling oil prices and decrease of petroleum costs concept as a barrel pouring out black liquid shaped as a downward chart arrow as a metaphor for energy stock market decline and loss due to the economy and the new green energy industry.
Jan. 12, 2016 | Joel Schlesinger
'Just the pre-show'
Global glut for oil means Alberta economy is expected to struggle in 2016 – and Calgary's housing market along with it
Alberta's energy sector has only felt the tip of the blade, say experts, who anticipate the worse is still to come.
"Unfortunately, the story is not positive – and it's not over for Calgary by any stretch of the imagination," said CIBC deputy chief economist Benjamin Tal.
"I think that 2015 was just the pre-show, and we're going to see most of the damage, at least, in the first of half of 2016."
Tal added, "I think we're going to see a lot more damage in the next three months," suggesting a 10 to 15 per cent further drop in housing prices is not "unthinkable."
Calgary's once-smouldering residential housing market might be one the biggest casualties of low oil prices. Earlier this week, Canada Mortgage and Housing Corp. (CMHC) reported housing starts in 2015 declined year-over-year by 23.9 per cent to 13,033 units; 4,138 single-detached (down 36.3 per cent from 2014) and 8,895 multi-family (down 16.4 per cent).
With slowdowns expected to continue, CMHC is forecasting a 16 per cent drop in new housing starts in 2016.
CREB®, meanwhile, expects sales in the resale residential housing market to slide by 2.2 per cent to 18,416 units after dropping by 26 per cent in 2015.
Although industry insiders and observers had initially been optimistic about 2015 in late 2014 when oil began its descent, there's much less optimism this year, said Conference Board of Canada senior economist Jane McIntyre.
"Prices are looking like they will stay below where they've been over the last few years," she said. "And when we do see some upward movement in prices, it's a slow movement."
The general consensus among industry observers is the price for a barrel of West Texas Intermediate (the North American benchmark price for oil) will remain weak — around $30 to $40 US — for at least the first six months of the year.
"We're looking right now at prices to still remain below $60 a barrel for the end of this year, so there's a little bit of movement up, but it's not a huge jump," said McIntyre
Equally important are cutbacks on capital spending by industry. Already, several major projects have been put on hold or cancelled. Among the more notable cutbacks have been at Husky Energy's Sunrise project and Canadian Natural Resources' Kirby North expansion — both worth billions of dollars.
"Shell also announced the cancellation of its $3.5-billion, 80,000-barrel-per-day Carmon Creek oilsands project that was expected to get under way in 2016," said McIntyre, who expects the list will grow.
Even if oil prices rise by the end of the year, it's unlikely it will spur a restart on investment, said Tal.
"The correlation between investment and oil prices is not as strong as it used to be because oil is much more volatile," he said.
Moreover, the woes are only now spreading into the broader economy as many people laid off in 2015 will see their severance packages and EI benefits run out.
Tal expects this will lead to higher mortgage defaults and selling – and lower prices, as a result.
"We're like in the fourth inning, not the eighth inning, of the ball game right now," he said. "Alberta and Calgary, in particular, will really have to try to weather the storm."
Tagged: Calgary Real Estate News | Canada Mortgage and Housing Corporation | CMHC | Conference Board of Canada | Energy | forecast | Housing Market | Housing Prices | Housing Starts | Oil Prices | Residential
---
---
Connect With Us