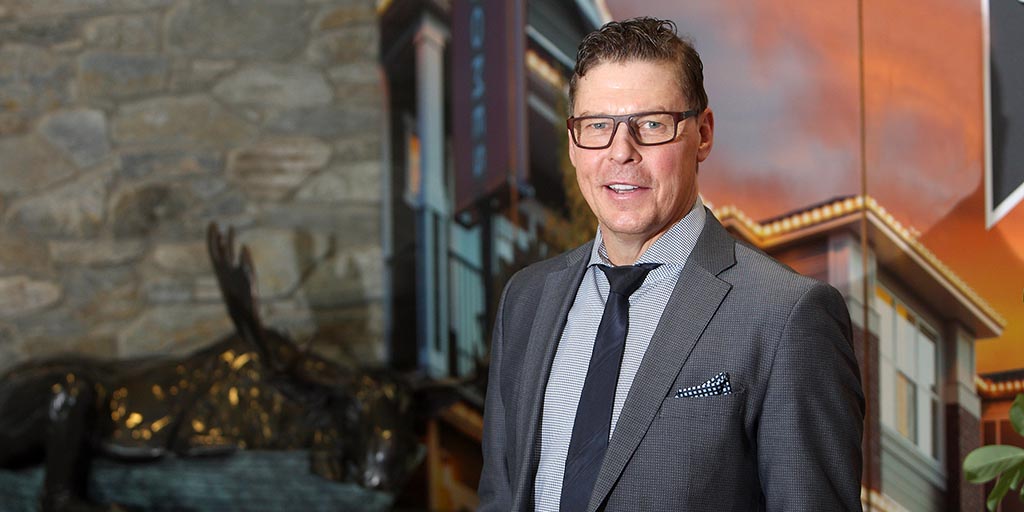 CHBA-UDI Calgary chair Allan Klassen expects the city's new housing industry will continue to face difficult conditions in the first half of 2017, followed by a slow return to normalcy. Photo by Wil Andruschak/for CREB®Now
Jan. 10, 2017 | Barb Livingstone
Signs of recovery
Housing officials expect new builds to post slight rebound in late 2017
"Turbulent." That's how the head of Calgary's homebuilders and developers group describes the new housing market in 2016.
And 2017?
"Recovery," said Allan Klassen, chair of the recently merged Canadian Home Builders' Association—Urban Development Institute Calgary (CHBA-UDI Calgary).
But recovery won't be immediate, he added. In fact, Klassen is predicting a painful first six months of 2017 for the city's "resilient" new homes industry, followed by a slow return to normalcy.
Richard Cho, principal market analyst for Calgary at Canada Mortgage Housing Corp. (CMHC) Richard Cho agrees. He expects housing starts in 2017, like 2016, to remain below historical averages.
While the year will continue to offer buyers' conditions in terms of inventory and pricing, "there is the potential to move to a balanced market by the end of the year."
CMHC's fall outlook predicts 8,300 to 9,300 total new housing units (similar to 2016 projections, but well behind 13,000 plus in 2015) to be built in 2017. That will include 3,400 to 3,600 single-family and 5,100 to 5,500 multi-family homes.
"There have been a lot of Calgarians laid off and severance packages are starting to run out."
Klassen is also senior vice-president of housing at Brookfield Residential Alberta, expects about 8,000 new housing units (split fairly evenly between single family and multi-family construction) will come online in Calgary this year.
He also predicts homebuilders will face increased competition the resale market, which has seen high inventory levels, particularly in the apartment sector.
"There have been a lot of Calgarians laid off and severance packages are starting to run out," said Klassen, noting some of those people will have to make further lifestyle changes, including selling existing homes.
Klassen said, "without a doubt" there will be price increases in 2017 in the new home market, and a resulting effect on housing affordability. While the economy may improve, the industry will get hit by increased levies, the new carbon tax, changes to the building code aimed at reducing greenhouse gas emissions, stricter mortgage rules and the continued cost to the industry of the higher American dollar (40 per cent of building products come from the U.S.).
He said while there have been savings, particularly in terms of labour costs, the additional expenses can't be borne indefinitely by developers and builders, and consumers will bear the brunt of the costly changes.
Klassen said the news has not all been negative. He noted people are still buying homes, but, because of affordability, that home may be a townhome or condo, versus a single-family residence.
And Klassen points to new communities that opened in 2016 in the city's north sector — such as Livingston and Cornerstone — with another eight or nine in the planning or development stages that could come to market over the next 18 to 24 months.
He expects development growth in Calgary's north, with its diversity of product choices, to continue be a major housing story over the next couple of years.
Tagged: allan Klassen | Brookfield Residential | Calgary Real Estate | Calgary Real Estate News | Canada Mortgage and Housing Corporation | chba-udi | CMHC | cornerstone | home developers | homebuilders | Homebuyers | Housing Market | livingston | mortgage rules | new homes | Richard Cho | YYCRE
---
---
Connect With Us