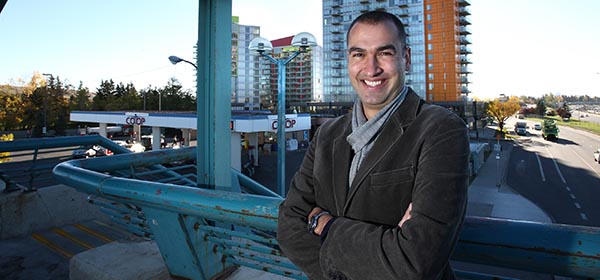 Francisco Alaniz Uribe, co-manager of the Urban Lab Research Group in the Univeristy of Calgary's faculty of Environmental Design, says transit-orientated communities are one way Calgary can look to reduce its carbon footprint. Photo by Wil Andruschak/For CREB®Now.
Oct. 16, 2015 | Alex Frazer Harrison
The $17-trillion question
How Calgary is contributing to low-carbon living
It's a number so big, it's hard to comprehend: $17 trillion US.
According to the New Climate Economy report released by the Global Commission on the Economy and Climate, that's how much cities worldwide could realize in direct energy savings by 2050 by investing in low-carbon technologies. This includes public transportation, efficiency in building design and waste management.
Is such a target obtainable?
In 2014, the City of Calgary spent $140 million on energy, just for its own facilities, "to keep our pools warm, our street lights on and our LRTs moving," said Arsheel Hirji, leader of sustainable infrastructure with the City.
"Cost and consumption has been on the rise every year for the last five years, so the City has been working hard to try and identify ways to curb the growth in consumption as the population grows."
Part of that effort has come by way of a corporate energy strategy that Hirji says looks at "diversifying our [energy] supply and going for alternatives with lower impact."
Already using wind power to run LRT and LED bulbs in traffic lights, the City is introducing on-site power generation at many of its facilities, such as a 1,740-square-metre solar power plant recently unveiled on the roof of Southland Leisure Centre. The City is also retrofitting some 90,000 street lights with energy-efficient LEDs.


In addition, the City has partnered with the University of Calgary on the Advancing Canadian Wastewater Assets (ACWA) program at the Pine Creek Wastewater Treatment Centre. ACWA, which is the first fully integrated research facility of its kind, will test treatment technologies in real-world environments and allow the City to apply them locally.

"If we produce technology that's more effective at reducing contaminants in the water and can retrofit plants, that can delay [the need] to build new plants," said Lee Jackson, scientific director at ACWA and a professor in the Biological Sciences department at the university.

The City is also working with local groups such as UDI – Calgary and Canadian Home Builders' Association – Calgary Region to encourage responsible development, such as such as transit-oriented inner-city communities, that leaves smaller environmental footprints.

"Concentrating on urban and neighbourhood corridors where the busier streets are and served by transit, you can increase density and maybe someone moving into one of these new condos won't need a car and be served by transit," said Francisco Alaniz Uribe, co-manager of the Urban Lab Research Group in the Univeristy of Calgary's faculty of Environmental Design.

"Where we're lagging behind is approving secondary suites and more low-density infills where maybe there are two units where there used to be one."

So is $17 trillion in savings over the next 35 years a realistic prediction?

"With the right investment strategy, anybody can make money if they're smart enough and have enough gumption and foresight and the guts to take a chance," said Hirji. "Depending how committed we are to the process and convincing decision-makers to make that an investment today ... $17 trillion doesn't surprise me."



Tagged: Calgary Real Estate News | carbon footprint | City of Calgary | CTrain | Environment | Green Living | solar | University of Calgary
---
---
Connect With Us