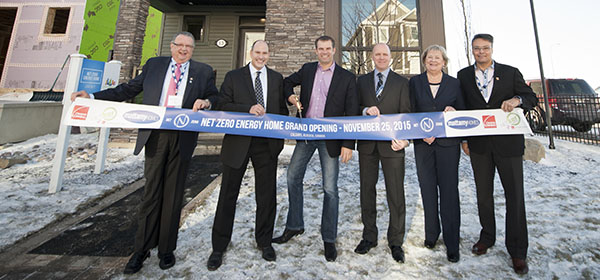 Mattamy unveiled its first net-zero home in Cityscape late last year. Pictured, from left, is Andy Goyda of Owens Corning Canada with Mattamy Homes representatives Don Barrineau, Brad Carr and Warren Saunders, as well as Donna Moore of the Canadian Home Builders' Association - Calgary Region and Salvatore Ciarlo of Owens Corning Canada.
Dec. 06, 2015 | Cody Stuart
Zero sum
Mattamy Homes opens first Calgary net-zero home
Even though it's nearly winter, Calgary just got a little greener.
Mattamy Homes, North America's largest privately owned homebuilder, has opened its first net- zero home in the city.
The first of five such homes set to be added to the northeast community of Cityscape are part of a national project that will double the number of net-zero homes – energy-efficient residences that generate as much energy as they consume on an annual basis – in Canada.
"This flagship project will help pave the way for Mattamy, as well as other production homebuilders, to make net-zero homes available in more communities," said Mattamy Homes Canada president Brad Carr.
The 1,658-square-foot home features advanced insulation (the Owens Corning CodeBord Air Barrier System), Plygem triple-pane windows, Mitsubishi cold climate air source heat pump, Rheem high-efficiency domestic hot water heater, Eyedro real-time energy monitoring system and 40 SolarMax photovoltaic panels take care of generating the electricity needed in the home.
"The net-zero project aims to prove that existing technologies can be utilized to make these ultra-efficient homes available at a community-scale," said Andy Goyda, Canadian builder lead and marketing development manager for Owens Corning Canada.
"The key to net zero, and every builder has found this out, is it's more cost-effective to conserve rather than generate energy. So you do everything you can with the envelope, within reason, to make it energy efficient – so super tight and super insulated – and then you take a look at the mechanicals through the house and then everything else falls into place."
Despite all the technology involved, the focus remains on building something that consumers will enjoy, said Mattamy homes sales and marketing vice-president Warren Saunders
"At the end of the day, it's about building a quality home that's comfortable to live in," said Saunders.
Mattamy Homes' participation in the project will also allow it to secure a new Government of Canada certified level of recognition from Natural Resources Canada as it contributes to the improved energy performance and commoditization of net-zero energy homes.
Mattamy will also be enrolling all five homes in the Canadian Home Builders Association's pilot net-zero energy home labelling program.
Pricing details for Mattamy's net-zero homes are expected to be released later this month.
Tagged: Calgary Real Estate News | Cityscape | energy efficient | Green Housing | Green Living | Green Living | homebuilders | homes | Mattamy Homes | Net-zero | Residential | solar | Technology | YYCRE
---
---
Connect With Us