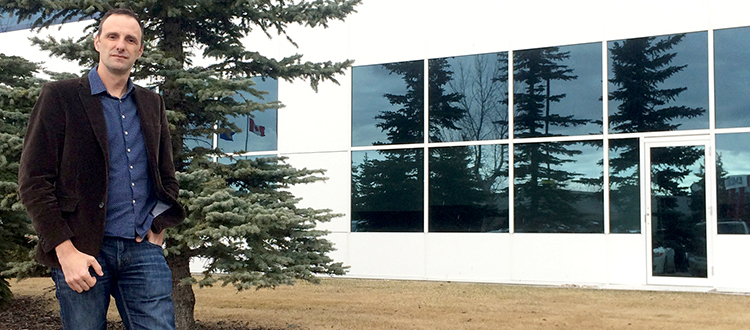 Paul Engler of the Highland Park Community Association believes a proposed redevelopment of the former Highland Golf Course could bode well for the community. Photo by Cody Stuart/Managing Editor
March 18, 2016 | Cody Stuart
'A livelier neighbourhood'
Highland Park reimagining could invigorate northwest community
The former Highland Golf Course in northwest Calgary could be host to a new kind of activity in the form of a major redevelopment.
Developer Maple Projects Inc. recently shared plans for its "reimagining" of the 21-hectare site – which would include up to 2,100 housing units as well as a commercial development along Centre Street N. – at an open house which drew, among others, members of the local community association, who believe the development could provide a boost to the area.
"Absolutely, it can be a huge benefit for the community,"
"Absolutely, it can be a huge benefit for the community," said Paul Engler, chair of the development committee for the Highland Park Community Association. "We are looking very much forward to it. We are working with the developer to come up with something that's awesome for them, for our future neighbours and for our existing neighbours."
After the golf course ceased operations in 2012, the City-owned land was sold to Maple Projects Inc. in May 2013. The developer's initial plans were to build multi-family homes and some commercial elements that would revitalize the property, provide accessible greenspace and offer housing options for Highland Park.
In November 2013, the developer launched a public engagement plan for Calgarians to provide input. It eventually heard from more than 1,200 people who revealed five key themes for the project: housing, traffic, commercial development, storm water management and green space.
"To be a little bit greedy, we would like more green space because we are underserved by green space right now," said Engler. "I think it is going to make the neighbourhood livelier because, right now, Highland Park is something that people will drive through. There are no stores really. There are no restaurants. It's just part of the communal corridor .... We would love to see new businesses to move into the neighbourhood."
Maple Projects Inc. owner Ajay Nehru said the plan calls for features that take the community's concerns into account. "We have preserved the vision the community wanted us to build," said Nehru, noting, of the two design options, the public favoured Concept A, which offers a "linear park concept," while the City favoured a more traditional park option in Concept B.
Other major features of the plan for the community call for three new entrances and exits to the community to reduce traffic through the community, a storm water management facility, a connection linking Confederation Park to Nose Creek and mixed-use buildings that allow for housing options that accommodate seniors with commercial/residential elements on east side of Centre Street.
By concentrating commercial development along Centre Street, Nehru said the development also allows the City of Calgary to better incorporate the planned Green LRT line.
To further maximize the amount of greenspace in the community, which Nehru said will increase from less than five per cent to 27 per cent of available land, the development will also incorporate fewer but taller buildings, and move more parking underground.
"This latest version of the plan addresses all of the community and technical feedback received to date," said Jeanie Gartly, project manager for the Highland Park redevelopment.
"It reflects the highest planning standards from the City of Calgary, and represents a development that will provide the specific benefits many residents have requested.
"We recognize that no single development plan will please all area residents, but we believe this plan offers the best approach for benefiting the community at large."
Quick to point out that project is still in the early stages, Nehru said the biggest challenge in developing such a large section of land in an existing community comes from the fact that the end product is still five to 10 years away.
"If this was a one-acre or 50,000-square-foot site, you'd have to build to the existing market," he said.
"We're able to say, 'well, we're going to try to create a new community or revitalize an existing community.' And that's always a challenge."
Responsible for two major condominium projects in Mount Royal (Ten and Uno), Nehru said projects such as Highland Park – which he compared to the East Village development in downtown Calgary – will provide an alternative to Calgary's commuter communities.
"The reality is that when these folks get married and have children, these units are too small and they have to move out," he said.
"And their options are then to do a one-hour commute every day because they're used to a quality of life and having restaurants nearby and walking to work. And their options are to buy a half-duplex for $900,000 or buy a house out in the boonies. So my thinking was, 'let's give these folks an option of where they can move.'"
According to the City of Calgary, the target date for the project to go before the planning commission is April 21, with a public hearing at council on June 13.
For more information on the Highland Park project, visit
www.reimagining.ca
.
Tagged: Calgary Real Estate | Calgary Real Estate News | Centre Street | City of Calgary | Commercial | CTrain | golf course | highland park | LRT | mixed-use | Residential | traffic | Uncategorized | YYCRE
---
---
Connect With Us