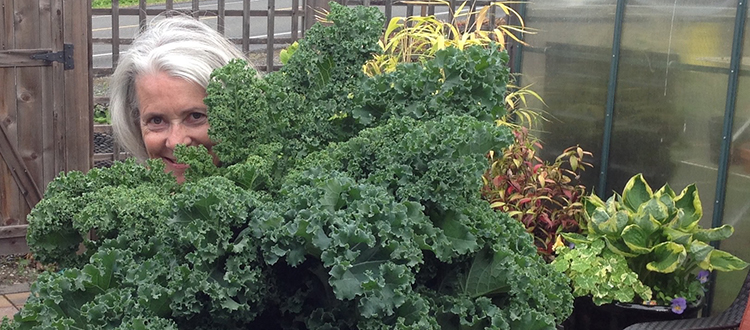 Gardening is two parts dreaming and three parts doing, says expert horticulturist Donna Balzer.
Feb. 26, 2016 | CREBNow
Five questions with the 'No Guff Gardener'
Sneak peak at this year's Home + Garden Show
Nobody arguably knows more about how to succeed as a gardener in Calgary than Donna Balzer. The noted horticulturist and speaker is author of No Guff Vegetable Gardening, a regular CREB®Now columnist and trusted messiah for countless Calgarians trying to discover their green thumbs.
On Feb. 26 and 28, Balzer will take the stage at this year's Home + Garden Show to talk about how we can change our world, one cabbage at a time.
CREB®Now
recent sat down with Balzer to get a sneak peek.
CREB®Now:
Why should I start thinking about my garden now when there's still snow on the ground?
Balzer:
Gardening is two parts dreaming and three parts doing. The best ideas might be waiting for you right now at a talk, on Pinterest or in a gardening book. If you are serious about starting a garden, you will want to start looking and reading now because by the time the weather is perfect for doing it is too late. It takes a week or two, for instance, to receive seeds you have ordered. When they arrive, they need to be sorted by start date. It is already too late to start Begonias from seed this year. If that is your dream, you will need to buy bulbs instead of seeds and start in March. I like to grow a range of plants. I usually start tomatoes, for instance, in mid-March. By ordering them in winter, I have the seeds I need on hand when I want to start them.
CREB®Now:
What tips do you have for the first-time gardener?
Balzer:
Grow what you love and love what you grow. Even if your space is limited, there is always room for something green. Once you know where your interests lie – maybe Bonsai or micro-greens – you can start to learn as much as possible about that topic. If you like quick results and short-term input, start growing micro-greens.
I am already eating green pea greens I started two weeks ago under lights. They really dress up a salad and add some zero-mile food to purchased greens. Until I started growing peas indoors under lights in winter, I had no idea every single part of the pea tastes like a pea from a pod.
CREB®Now:
What are some of the common mistakes you see in the garden?
Balzer:
The biggest mistake is treating your soil like dirt. Trampling it, subjecting it to heavy equipment or adding reckless amounts of chemical fertilizers are some of the ways we ruin our soil. Tiny soil organisms need food, water and air to breathe, just like the rest of us. If they are not cared for, they will die and your soil will be hard and dry. A gardener simply can't grow in troubled soil. If you have soil in your life, treat it with respect and manage it carefully. Ignore advice to add epsom salts. Instead, start learning more about the chemistry and structure of a good soil. The best gardeners have the best soil.
CREB®Now:
What are some of the biggest challenges our climate creates for Calgary gardeners?
Balzer:
We can't control the weather. We can only work around it or protect small plants when the sky shifts. Beyond that, we are at the mercy of everything from sudden frosty nights or hailstorms. I once listed and sold a home in Airdrie after golf-ball sized hail flattened my carefully nurtured, fully blooming native orchids. My husband didn't understand my angst, but I needed more assurance I would not be exposed to the sudden storms from the mountains. We moved to more protected lot in southwest Calgary. I can't say for sure if I was any better off, but it felt better. And the hail seemed less destructive. In winter, Calgary gardeners pray for a good snow cover because this means our trees stay frozen and are more likely to survive chinooks and sudden changes in temperature.
CREB®Now:
There's a lot of gardening info out there – too much, in fact. Where would you recommend we start?
Balzer:
Find a passion. What do you like to do? Is it African violets? If so, that is easy because a single leaf can be grown into a whole plant in less than a year. If you know your interest is food or micro-greens, just get started and start growing. For me, the biggest reward comes from growing food. I do that under lights in a greenhouse as well as outside in the garden in summer, so there is always something to look after and to eat. And the taste? Amazing of course.
Tagged: backyard | Donna Balzer | fertilizer | Garden | Gardening | Gardening | Green Living | soil | spring | weather
---
---
Connect With Us