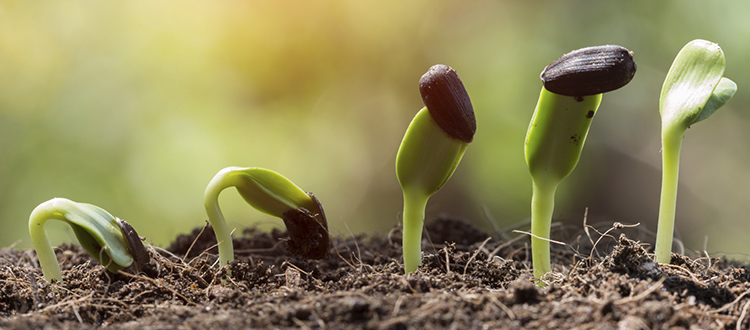 Depending on how much space you have available for seedlings, you will want to choose to start them sooner or later.
Feb. 26, 2016 | Rachel Naud
Soil-utions for your veggie garden
Want to bloom your own bounty? Here are four things to do to get your garden ready
Not much can beat a ripe, juicy tomato picked fresh from the vine, or a crisp cucumber that packs a nutritious crunch. Homegrown veggies are delicious, nutritious and cost-effective.
Yet as Calgarians also know, there's a small window in which to grow their bounty.
That's why those with a green thumb like to plan out their seasonal gardens – from determining the garden's design to, of course, choosing the variety of crops – to make the most out of the planting and growing season.
If this is your first crack at planting and you're not sure how to get started, don't be intimidated, said Chelsie Anderson, owner and operator of Chelsie Squared Gardening. "Gardening is meant to be a fun and rejuvenating practice," she said.
"Whether or not your crops are a roaring success, you will absolutely benefit from the practice of gardening. Get out and enjoy it without letting your nerves get the best of you."
Whether you're a pro with pods or a newbie just beginning to dig in the dirt, Anderson said there are four things everyone should do to their vegetable gardens today to ensure a delicious crop come summer:
1. Add worm castings
Worm castings are the byproduct of vermicompost, dubbed "black gardener's gold," or "worm poop."
"Every garden needs a ¼-inch layer of castings sprinkled on top of their existing soil," said Anderson. "The best part is that this living product will work itself in; no need to dig or till it in."
These castings will add beneficial bacteria and fungus to your soil and literally bringing it to life. The fungus works as a highway for nutrients, delivering nutrients from the soil into the roots of your plants.
2. Spread a "Complete Organic Fertilizer" (COF) on top of the castings
This is important for two reasons: first it adds well-balanced minerals to your garden, which have been mined out by previous crops you've grown.
"Returning nutrients to the soil will encourage your plants to grow better, produce more fruit and will pass this nutrition onto the consumer," said Anderson.
The second reason to add a COF is because it eliminates the need for chemical fertilizers.
"Chemicals will sterilize your soil, making it inhospitable for planting, but ideal for weeds, whose job it is to rejuvenate depleted soils," said Anderson.
"So, to avoid the need for herbicides and chemical fertilizers. Use a COF that will enhance your soil, making it the perfect environment for healthy vegetables."
Make sure the fertilizer you add is designed for your region as soils vary greatly. Anderson suggests checking out
CREB®Now
columnist Donna Balzer's website
www.gardenguru.net
for her latest fertilizer recipe, specific to Calgary. Or catch Balzer this weekend at the 2016 Home + Garden Show.
3. Start your seedlings and purchase seeds
If you are an ambitious and seasoned gardener, you are probably keen to get your edibles started indoors under grow lights or in your backyard greenhouse. Depending on how much space you have available for seedlings, you will choose to start them sooner or later.
"If you are limited to your south-facing window sill, then wait until late March or early April as you'll be amazed at how quickly seeds will sprout and grow into good-sized plants that need bigger and bigger pots to accommodate them," said Anderson. "Some things I love starting early are tomatoes, kale and corn." Go through last year's seeds and order new seeds depending on what you think you'll love to harvest.
4. Wash and organize
If one of your crops had a disease in a previous year, it can be spread by using the same pots this year. To avoid this disaster, wash your pots with soapy water in preparation for the upcoming gardening season.
"Organize that garden shed and throw out broken pots, old tags and seed packages," said Anderson. "You will be happy you did once spring arrives."
Tagged: backyard | complete organic fertilizer | Gardening | Gardening | Green Living | soil | spring | tips | YYCRE
---
---
Connect With Us