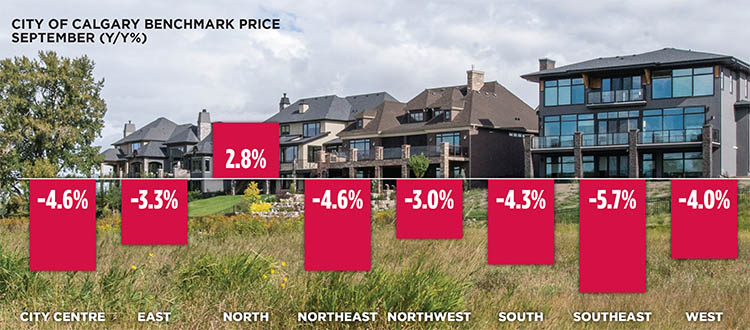 Oct. 06, 2016 | Jamie Zachary
Crowd control
Southeast district facing increased competition from new home industry
Calgary's resale residential housing market continues to reveal its many layers, with experts singling out the southeast district as an area of the city struggling in the face of intense competition from the homebuilding industry.
This comes on the heels of CREB®'s recently released housing summary for September that indicated prices in other instances are exhibiting increased stability.
CREB® chief economist Ann-Marie Lurie noted home prices in the southeast have struggled more acutely than other districts in Calgary despite indicators that would initially suggest otherwise.
The district's benchmark MLS® price in September was down 5.7 per cent from the same time last year to $428,300. Only the northeast and city centre came close, with prices declining by an identical 4.6 per cent.
Over the past four months, prices in the southeast have declined by an average of 5.4 per cent. The 5.7 per cent drop in September was the steepest in southeast this year. The city centre is the only other district to post larger declines in 2016 thus far (-6.3 per cent in January and -5.9 per cent in February).
Lurie noted inventory levels in the southeast, however, were more balanced than the price drop would indicate. The southeast was carrying 3.1 months of supply in September, which was the lowest in the city.
Months of supply represents the amount of time it would take to sell all active listings.
"We've been surprised by how many buyers are changing quadrants of the city."
"Months of inventory was not as high as would be expected with regard to the price declines," said Lurie. "This points toward price declines in the resale market being influenced by other factors, which is competition from the new home market. There are several new communities located in this district, which is impacting overall supply and placing additional downward pressure on home prices."
Lurie identified similar patterns in the northwest, but to a lesser extent.
Homebuilding officials say they're not surprised at ongoing interest in many of the southeast's new communities. They have, however, noted increased interest from homebuyers living outside of the area.
"We've been surprised by how many buyers are changing quadrants of the city," said Sam Hudson, marketing director with Morrison Homes, which is currently building within the southeast communities of New Brighton, Mahogany, Auburn Bay and Legacy.
"In the past, people have tended to stay within their quadrant. But we've seen buyers migrate from the north to the south because of these great communities in the southeast.
Hudson also pointed to buyers' appetite for features such as lakes as a reason why more are looking to the district.
"We see quite a bit of activity in the southeast ... given the nature of the natural amenities there," he said. "People are really interested in building the home they've always wanted the way they've always wanted around those amenities."
While new construction mostly impacted the resale detached housing sector last month, it also influenced others such as attached and apartment.
"This is not isolated to the detached market," said Lurie. "The additional product under construction in new home multi-family sectors is having an impact in most of the districts in the city. This is not isolated to just the southeast."
"Look at how much new development opportunities exist in the southeast and then look at the rest of the city."
Buyers' interest in new homes located in the southeast has always outpaced other areas of the city, said Brad Logel, area manager for Walden Place, a condo/townhome development by Cardel Lifestyles, a division of Cardel Homes. Walden Place is a four-hectare development in the southeast that will eventually house six condo buildings and seven blocks of townhomes
"Where the city has approved large portions of what can be bought new has been the southeast," said Logel.
"Look at how much new development opportunities exist in the southeast and then look at the rest of the city. There just isn't as much elsewhere. You could argue the northeast may have more coming forward, but it's always been a bit less."
Logel also noted many builders like Cardel have become more aggressive with their pricing – the result of which has led to nearly 60 sales at Walden Place alone so far this year.
"It's there (southeast) that many builders have gotten down to brass tax with their pricing and developed products to be affordable," he said.
Overall, the city's benchmark price of $440,400 in September was unchanged for the fifth consecutive month. Year over year, it was down 4.1 per cent.
Citywide sales were up two per cent to 1,488, while new listings declined 3.5 per cent.
CREB® highlighted the detached sector as a bright spot for the industry. The benchmark price totaled $503,400 in September, which was 3.3 per cent below last year, but the second consecutive month at this price level.
The detached sector represents more than 60 per cent of all sales activity in Calgary on an annual basis.
"The decline in demand has caused many to anticipate steeper price declines for detached homes," said Lurie. "That hasn't happened in large part because detached supply levels haven't climbed as sharply as many expected.
There was a limited amount of supply in the overall market when this cycle began, and while levels did rise and remain somewhat elevated, they were well below previous highs."
The city's attached sector, meanwhile, posted a 19 per cent sales increase to 338 transactions. With listings only increasing by 1.5 per cent, months of supply declined by nearly eight per cent to four.
The attached benchmark price of $331,600 was consistent with the previous month but down by 4.8 per cent from the same time last year.
The apartment sector continued its year-long struggle, with sales declining by 23 per cent to 200 transactions. New listings also fell, but only by three per cent to 637, pushing months of supply over eight.
As a result, the apartment benchmark price of $274,700 was 0.1 per cent below last month and 6.8 per cent below last year's price.
Tagged: benchmark price | Calgary Real Estate | Calgary Real Estate News | Cardel Lifestyles | CREB® Chief Economist Ann-Marie Lurie | districts | Homebuyers | Housing Market | months of supply | Morrison Homes | new listings | sales | southeast | YYCRE
---
---
Connect With Us