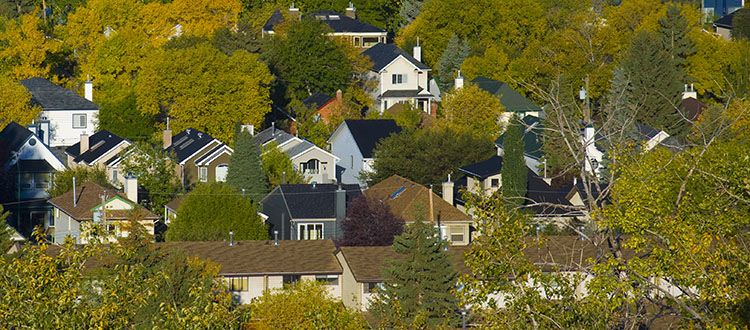 Pricing in Calgary's detached housing market has remained relatively stable in recent months due to more balanced conditions, says CREB®. Supplied photo
Sept. 07, 2016 | Jamie Zachary
Reading between the lines
Districts, housing types tell different stories about Calgary's housing market in August
Fewer new listings within Calgary's resale residential housing market continued to moderate price declines last month, according to new statistics.
Yet experts note what's arguably more interesting is how the interplay between new listing levels and prices within the city's districts, and even housing types, are providing consumers with some much-needed intel on their next purchasing decision.
New listings overall remained steady from last year, increasing by a modest 0.5 per cent in August to 2,759 units, reported CREB® in its most recent monthly housing summary. That helped offset a 4.6 per cent year-over-year
drop in sales.
CREB® reported a 4.2 per cent decrease in benchmark price to $440,200.
"While there were some districts that recorded some year-to-date new listing gains, what is more notable is that all areas, with the exception of the southeast, recorded new listings below longer-term averages," said CREB® chief economist Ann-Marie Lurie, noting that helped temper price fluctuations in those areas.
"This is likely a result of the amount of new construction going on in the (S.E.) district impacting the new listings and inventory levels."
Lurie added that when considering sales relative to inventory levels, the higher-priced areas of the City Centre and West district continued to demonstrate excess supply relative to historical levels within their districts in August.
Calgary different housing segments also told much different stories in August. Overall sales activity was down by 4.6 per cent to 1,567 transactions. Yet most of that decline occurred in the attached and apartment categories, which were down 12.8 and five per cent, respectively.
Detached sales were off by just 1.4 per cent from last year, noted CREB®.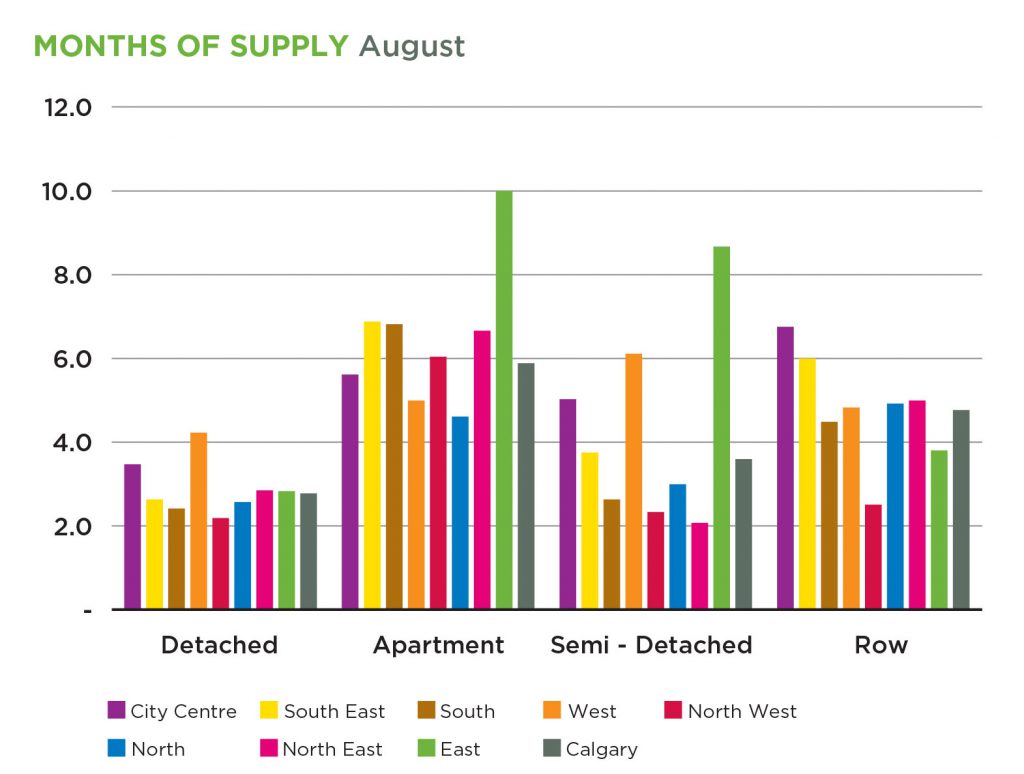 "While overall sales have eased for detached homes, so too has the amount of new listings on the market, preventing inventories from reaching previous highs and limiting the downward pressure on pricing," said Lurie.
"This is not the case in both the attached and apartment sectors which have recorded inventory levels near August highs."
CREB® reported the detached benchmark price in August was $503,200, which was 3.3 per cent below last year, but similar to levels recorded last month.
Condominium apartment prices, meanwhile, fell by seven per cent from last year, to $274,900. CREB® noted apartment prices in August were at levels comparable to 2013.
Attached prices fell by 4.7 per cent from the same time last year to $331,000.
Lurie noted price stability in the detached sector last month was expected given that inventory continues to be better balanced. On the flip side, price volatility in the apartment and attached categories can be attributed to inventory increases.
"It is more about the relationship between inventory and sales," she said. "This ratio is what is balancing out the detached category, ultimately limiting the downward price pressures.
"We are clearly seeing a significant difference in the performance between our detached and our attached and apartment segments of the market."
"Meanwhile, in the higher-density sectors, the imbalance has been more persistent. The longer product remains in an oversupply scenario, the more significant the impact on pricing."
Apartment inventory levels, in particular, were well above historical norms in August. At the same time, sales were at their weakest level since 2003, causing months of supply to continue trending above six months, noted CREB®.
Months of supply is the amount of time it would take to sell all active inventory. It is used by economists such as Lurie as an indicator of balanced conditions. Anything over three months for a period of three months is considered imbalanced – in this case, favouring buyers.
CREB® president Cliff Stevenson said the different scenarios playing out between Calgary's various housing segments mean consumers need to pay close attention to the data in their particular area, segment and price point.
"We are clearly seeing a significant difference in the performance between our detached and our attached and apartment segments of the market, making it very difficult to use city-wide housing data for decision making purposes in today's market," he said.
Tagged: Apartment | attached | benchmark price | Calgary Monthly Housing Summary | Calgary Real Estate | Calgary Real Estate News | Calgary Real Estate News | CREB® | CREB® Chief Economist Ann-Marie Lurie | CREB® president Cliff Stevenson | detached | districts | new listings | sales | YYCRE
---
---
Connect With Us