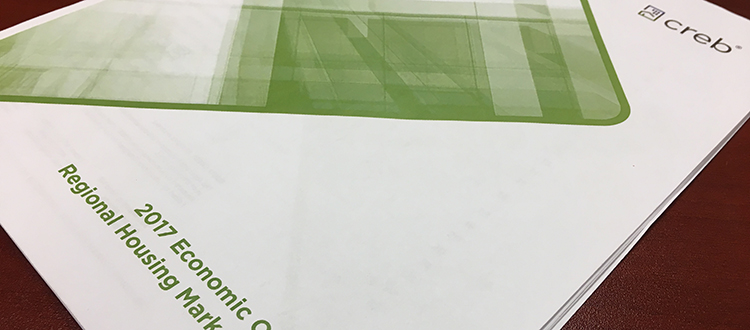 Jan. 10, 2017 | CREBNow
5 things about CREB® 2017 forecast
What you should know about the year ahead for Calgary's housing market
CREB® has released its annual economic outlook and regional housing forecast. But what does it all mean? CREB®Now takes readers through the numbers.
18,335
After posting successive sales declines in 2014 (25,552), 2015 (18,839) and 2016 (17,809), CREB® is forecasting MLS® activity in Calgary to rebound slightly in 2017. Citywide sales are expected to total 18,335 units, a three per cent gain over 2016, but 12 per cent below long-term averages. By category, detached sales are predicted to hit 11,550 in 2016, while attached and apartment sales will reach 4,002 and 2,783, respectively.
0.3
Small as it may seem, CREB® projected 0.3 per cent price growth for 2017 follows a much more significant decline in 2016 (3.84 per cent). CREB® credits overall growth to Calgary's detached sector, where prices are expected to grow by 0.8 per cent. Prices in the city's attached sector are predicted to increase by 0.3 per cent. Following a decline of 5.99 per cent in 2016, price declines in Calgary's apartment sector are expected to moderate to just two per cent for the year.
$50-$55
With the relative health of Calgary's economy dependant on the price of oil, much of what's in store for the city's real estate market hinges on where a barrel of crude is selling 2017 and beyond. Having started 2016 at $29.01 US, prices spent the rest of the year hovering between $40 and $50. Looking into 2017, CREB® expects prices to show more stability, fluctuating between the $50-to-$55 mark.
7.8
Calgary's unemployment rate is predicted to decline in 2017 to 7.8 per cent after topping 10 per cent in the later stages of 2016. While this will not compensate for all the losses in the past year, softer unemployment rates should help prevent any further contractions in housing demand, said CREB®.
1,600
Job losses and higher unemployment levels mitigated the number of newcomers to the city last year. Following a five-year period that saw annual net migration numbers in excess of 20,000, net migration posted a net loss of 6,527 people in 2016, according to the City of Calgary. In 2017, net migration is expected to post a modest increase of 1,600.
Tagged: Apartment | attached | benchmark price | Calgary Real Estate | Calgary Real Estate News | detached | employment | Energy | Housing Market | net migration | new listings | Oil Prices | sales | YYCRE
---
---
Connect With Us