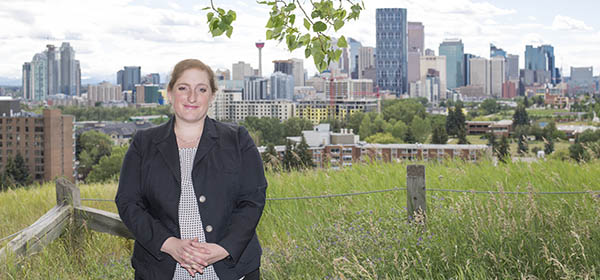 Often-overlooked statistics such as months of supply and sales-to-new-listings can be key indicators of what's really going on in the housing market, says CREB® chief economist Ann-Marie Lurie. CREB®Now file photo.
Dec. 23, 2015 | CREBNow
A look back at 2015 with CREB®'s chief economist
The year according to CREB®'s Ann-Marie Lurie
With the calendar set to turn on what's been a turbulent year in the city's real estate industry, many will wondering what to expect in 2016 and beyond. To help provide a little clarity on just how we got here, as well as a hint as to where we're headed,
CREB®Now
enlisted CREB® chief economist Ann-Marie Lurie to provide some end-of-year insight.
CREB®Now:
?How would you sum up 2015 in Calgary real estate?
Lurie:
It has been a year of weaker demand – definitely challenging economic times resulting in weaker demand. As a result there has been some more inventory than we are used to in the market and there has been some downward regression on pricing. It's completely consistent with what the economic situation has been.
CREB®Now:
?Is it too easy to just say the drop in oil prices slowed demand in the city?
Lurie:
Yes. It is actually the result of the oil prices. So oil prices didn't just drop. They remained low for most of the year. In the beginning of the year, it resulted in some confidence issues. Then when prices stayed low, we started to see layoffs. That is where we started to see the contraction in employment and reduced net migration. It's really those factors that influence the demand in the city.
CREB®Now:
?Is there one area or segment of the market where the impact was especially evident in 2015?
Lurie:
There has been more of a price decline in the apartment segment of the market than what we've seen in both the detached and attached sectors. That's partly because of the supply issue. While the demand has been lower in some aspects, the supply, in most segments, was able to respond. But the apartment sector saw added pressure because of additional rental and new home. When more of those new buildings are complete, that will influence the resale market even more.
CREB®Now:
?How much will the new mortgage rules impact the Calgary market?
Lurie:
New mortgage rules don't help the demand scenario. Yet what's really driving what's happening in our market right now is the economic situation. If the economy was doing better, it wouldn't be as much of an issue.
CREB®Now:
?Is 2016 an especially difficult year to predict?
Lurie:
No. Last year, I found it was more difficult because there was a lot of uncertainty. There were a lot of expectations at the time that what was happening in energy was shorter lived. I think now that some of the expectations have shifted that this low-price environment is going to persist for longer than originally anticipated.
CREB®Now:
?How do things now compare to past periods of slower activity?
Lurie:
The comparison that happens most is what happened in 2008-09 because it is the first time we've seen a significant pull back to that magnitude. Things now are different in that our supply is still higher over that time frame. But on economic basis, it is likely to feel a lot worse. We won't have the same level of pullback as far as GDP and things like that, but it is targeted to the energy sector and there will be spill-offs. You can look out the door and you see a high unemployment (rate). Will we have the same contraction in housing? Not necessarily. The last cycle, no one saw it coming to a certain extent. There was a big ramp up ahead of it, so supply levels were at the highest we've ever seen. We are still not anywhere near those supply levels. But the concern this time is that, if you are having challenges in the energy sector over a prolonged period of time, then you are going to be entering a period where you will not have any growth.
CREB®Now:
?Is there any advice you would give to a buyer contemplating entering into the market?
Lurie:
It really depends on your own personal situation on what you can or cannot do and where you are going to live. It is so much more than just the market conditions. Can you afford that home that you are looking at?
CREB®Now:
?Outside of oil prices, what do you think will be the biggest influence in Calgary next year?
Lurie:
What's happening in the energy market is going to dominate. What I am really looking for to see is if it will be limited to just the energy sector because it tends to have trickle-down effects. If the energy sector goes down, how much is this going to start affecting retail and how much is it going to start affecting the other sectors? To a certain extent, retail hasn't had the same level of drop, so it really comes down to if people stop coming here. Migration flows: that is another key thing we are looking for it's still positive right now. We will see what happens if it goes negative.
CREB®Now:
?Are there reasons for optimism heading into 2016?
Lurie:
If we start to see a movement on market access for oil, that could be a good thing as that's always been an area of risk regardless of what the oil prices have been. That's been an area of risk for Alberta because we are land locked. So if we actually start to see some progress on natural gas or other areas, that could be a good thing.
Tagged: Calgary Real Estate News | CREB® Chief Economist Ann-Marie Lurie | forecast | Home Prices | Homebuyers | inventory | listings | Oil Prices | Residential | sales | YYCRE
---
---
Connect With Us