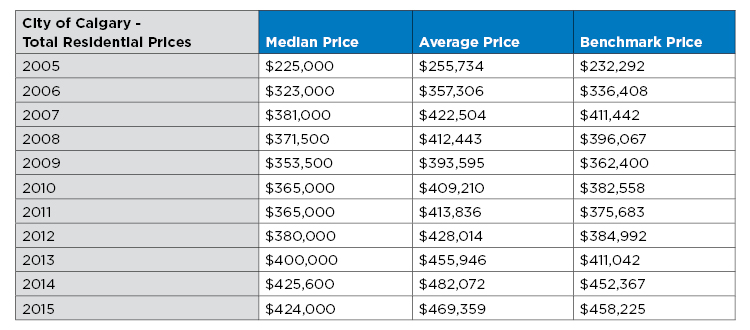 Calgary housing prices, 2005 – 2015. Source CREB®
March 18, 2016 | Mario Toneguzzi
The many faces of prices
A guide to distinguishing average, median and benchmark prices
Sellers and potential buyers in today's residential real estate market can be understandably excused if they are confused about what's happening with housing prices.
After all, for both, price changes in the market are supremely important. Plus, CREB® gathers price information that, to the untrained eye, can tell different stories.
For example, in February, CREB® reported the benchmark price in the city for all MLS® properties that were sold was $445,000, or down 3.45 per cent from February 2015. However, the average MLS® sale price increased by 2.72 per cent to $472,529 while the median price was unchanged at $420,000.
From top to bottom, that's a difference of close to $30,000.
"It's looking at values based on criteria such as square footage, total bedrooms and bathrooms, location, property type."
So what should one look at if they are either selling a home in this tough market or hoping to buy one?
A good start would be by looking at what each price category entails, said CREB® chief economist Ann-Marie Lurie. For example, the median price looks at every sale that has occurred in the market, ranking them from lowest to highest. The median price is the midpoint of all the sales.
Lurie said the average sale price is adding up the total dollar sum of the purchases divided by the number of total sales. The benchmark price, meanwhile, looks at all of the sales that have occurred and determines what people are willing to pay based on attributes of the home, coming up with a price for a typical home in each community and aggregating each of those communities and property types for a citywide total.
"It's looking at values based on criteria such as square footage, total bedrooms and bathrooms, location, property type," said Lurie. "So when you compare the price difference from this year to last year, you are comparing it to a similar-style property, better reflecting price changes in the market."
The challenge with focusing on the median or average price is you are not certain if price changes are caused by a shift in the distribution of the market.
"So if you have a series of sales that have occurred at the extremely high end of the market, that could pull up your average price particularly when you're dealing with a smaller sample size," she said. "So one month you could have an increase in average price and the next it can be declining. This can make it confusing when trying to understand how prices are trending."
Lurie prefers to look at the benchmark price.
"Because it gives you a better sense," she said. "Outside of just what that total price is, it's more about how it's trending. Because it is an apple-to-apple comparison, it gives you a better indication that things are trending up or down versus if they're trending up because a higher-priced home was sold. It's a better reflection really of pricing trends."
Lurie noted that while benchmark and average sale prices generally follow similar trends over time, there is less variability in the benchmark trend. Where the benchmark becomes more useful, she said, is in smaller sample sizes such as community levels' activity.
Tagged: Alberta Real Estate | Calgary Community | Calgary Real Estate | Calgary Real Estate News | Calgary Real Estate News | Community | CREB® | Economy | Housing Market | Housing Prices | Mario Toneguzzi | Mortgage | YYCRE
---
---
Connect With Us