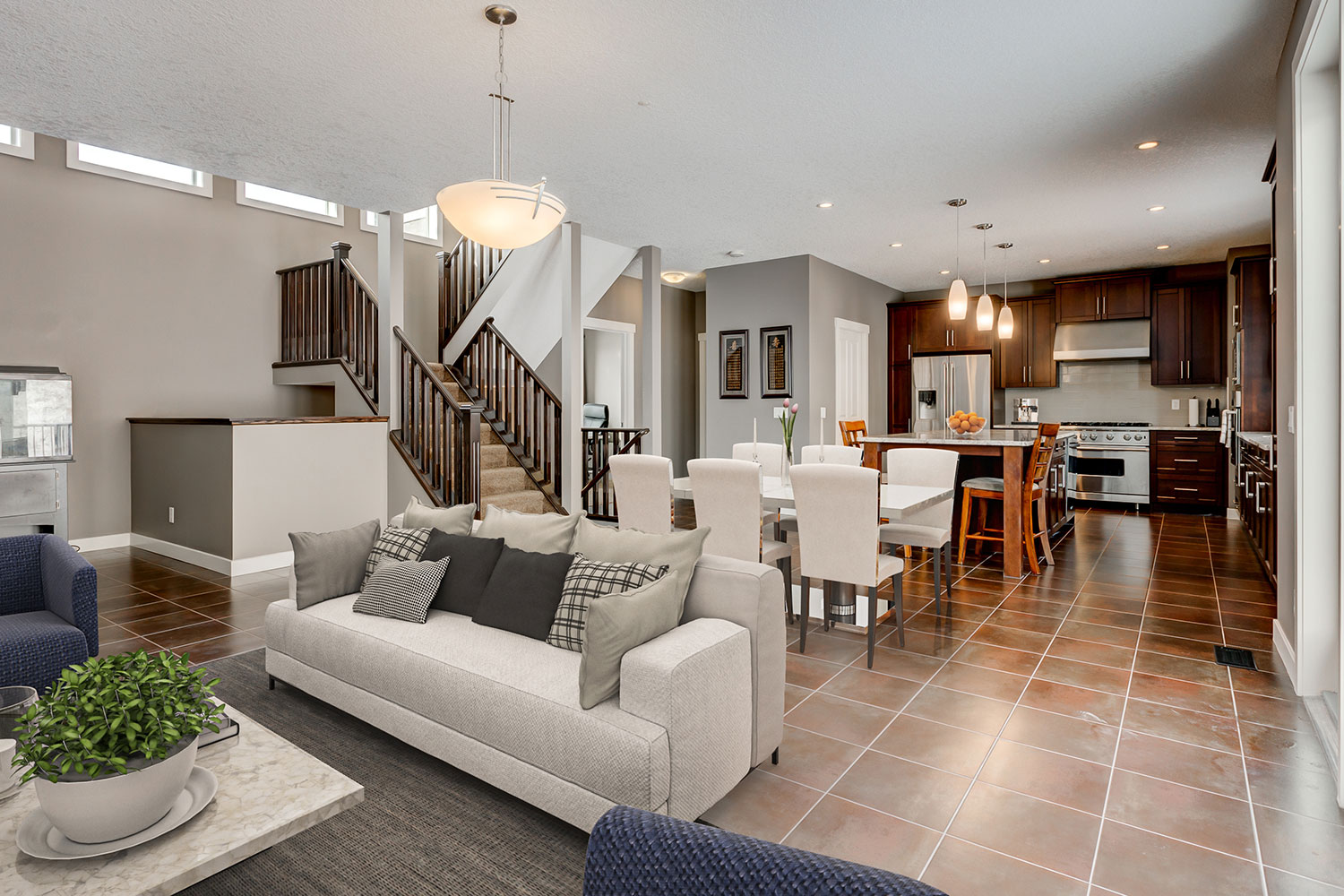 An example of a home that has been virtually staged. Courtesy of Urban Measure
July 27, 2020 | Gerald Vander Pyl
Virtual staging provides right mix of price and results for some home sellers
Real estate experts have long touted the importance of properly staging a property to look its best when selling, and now a high-tech option has joined the ranks of traditional home stagers.
Melissa Fowler, booking manager with Urban Measure, says computer software like Photoshop can be used to digitally stage photos of a home to improve its appeal for buyers browsing online.
Fowler says there are several situations where virtual staging is an ideal choice, including when a home is vacant.
"It's an easy and affordable way to bring a property to life," she said. "It looks amazing online and gives the seller an idea of how it looks finished."
Virtual staging can also be done to alter homes that do not "show well." In these cases, the real-life furniture and decor is digitally removed from the photos and a new, stylish interior is created.
Fowler says a third scenario is when a home's interior is a bit sparse, so they digitally add in "a chair here, a coffee table there, side tables, area rugs, add some nice pillows, blankets, wall art, candles – anything the space needs to really transform it and bring each photo to the next level."
She says for each type of virtual staging, the customer can choose the decor style from a list that includes modern, country-style, industrial and many others.
Fowler says the biggest advantage of virtual staging for many people is the cost, which is usually done on a per-photo basis.
"It can be extremely expensive to stage a home in person and keep it staged for the duration of the listing," she said. "So virtual staging goes a long way."
However, digital staging isn't for everyone, and its traditional counterpart still has many benefits. Yvonne Laanstra, owner of Staging Calgary, says one advantage of traditional staging is the flexibility to do as much or as little staging as needed.
Laanstra says her company can completely fill a vacant home with furniture and accessories or add a few items to a furnished home that is nearly ready to show. They can also offer a consultation for the homeowner and give them a list of things that need to be done.
"A home stager comes through the house, assesses everything that needs to be done to set the house up as good as possible before (listing) photographs and showings, and then advises the owner how to set that up and what to do," she said.
Laanstra says a consultation is all that most of her clients ever need, which reduces the cost to them.
Once a property is physically staged, countless photos can be taken of the home from a variety of angles at no added cost. Also, when potential buyers view a home, they see one that looks just like the listing photos, rather than one that is completely empty or full of furnishings they've never seen before.
"What you see in the photos is what you get when you walk in," said Laanstra.
Tagged: buyers | Calgary | Calgary Real Estate | Calgary Real Estate News | Calgary Real Estate News | Design | Feature | furniture | home staging | House & Home | Housing Market | listings | online | Photos | Photoshop | sellers | staging | Staging Calgary | Technology | Urban Measure | Virtual Staging
---
---
Connect With Us