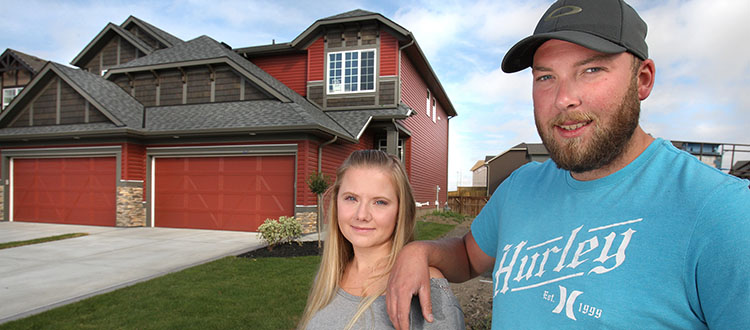 Jennifer Weisgerber and Ian Muller rented a townhome in Okotoks for five years before building a three-bedroom home in Auburn Bay last January. Photo by Wil Andruschak/For CREB®Now
Sept. 19, 2016 | Alex Frazer Harrison
From the ground up
Housing experts urge buyers to consider all the options before building, buying
For Jennifer Weisgerber and Ian Muller, both 25, buying – and building – their first home has been the most important decision of their lives.
Muller, who installs fire sprinklers, and Weisgerber, who works for a company that sells parts for road construction, rented a townhome in Okotoks for five years. Last January, they signed with Morrison Homes to build a 1,700-square-foot three-bedroom home in the southeast Calgary community of Auburn Bay.
"The best part was being able to carry the down payment through the build," said Muller.
In the end, even factoring in upgrades, the mortgage payments worked out to be less than they were paying for rent.
Weisgerber said the biggest lesson she learned from building her first home was all the details they had to track.
"You don't think about all the little things," she said. "Your cabinets and your floors have to match."
The couple chose a larger floor plan on a smaller lot – one that would have a second home built next door. Weisgerber said the trade-off allowed for a plan with a larger master with ensuite.
"Ask what they're looking for in a home, what's important for them for their family or their lifestyle."
For Muller, having a garage is his pride and joy. And both are looking forward to developing the basement, which is earmarked for a theatre room, Ping-Pong room and dry bar.
Baywest Homes president Jeff Smyth said some introspection is in order for first-time builders.
"Ask what they're looking for in a home, what's important for them for their family or their lifestyle," he said.
"What's the thing that's driving them forward to live in a new home?"
Smyth said it's easy to get sidetracked on questions about granite countertops, but buyers should also be asking builders, "What about the things I can't see behind the walls?"
The first step is to visit show homes, said Morrison marketing director Sam Hudson.
"Talk about what you're looking for and what you need," he said. "The (builders) have worked with scores of first-time buyers and they'll be able to walk you through the process."
Hudson said many first-timers are "pleasantly surprised they are able to afford building a home." In Morrison's case, buyers, first-time and otherwise, are taken through a Selection Studio to pick those personalized touches. And while there's a step-by-step process, "it's not meant to be a rigid process.
"Communication is key. Customers are bound to have questions, so there's always a point of contact along the way."
Weisgerber's biggest piece of advice to first-time buyers is to "make sure you leave enough room for upgrades in the budget. The little things add up. We didn't account for blinds at all (for example)."
Added Muller: "Sometimes it's like, central vacuum, $1,100. So let's scratch that and get six little (upgrades) instead."
Buying a previously owned home is another option for first-time buyers, and CREB® president Cliff Stevenson said such customers are among his favourite clients.
"There's something about that whole education process – walking someone through the process who doesn't have preconceived notions about how things are," he said.
Stevenson added there's no substitute for first-timers seeking the experience of a REALTOR®.
"There's a lot of knowledge required in the process that can be quite complicated, but almost all of the time the commissions REALTORS® charge are paid by the seller," said Stevenson.
"So, for the first-time homebuyer, it usually doesn't cost to work with a REALTOR. They can walk you through the process of writing an offer, putting conditions and terms in the offer, how to protect the buyer and steering them toward trusted professionals."
Tagged: Auburn Bay | baywest homes | Calgary Real Estate | Calgary Real Estate News | CREB® president Cliff Stevenson | Feature | first-time homebuyers | homebuilders | Morrison Homes | New home | YYCRE
---
---
Connect With Us