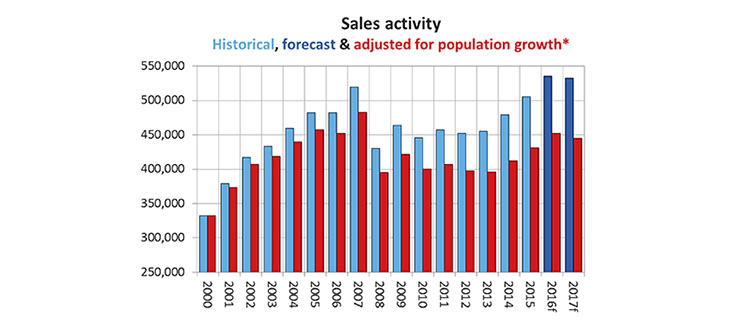 CREA expects national housing sales will decrease in 2017 once adjusted for population growth. Illustration courtesy CREA.
Sept. 14, 2016 | CREBNow
Alta. housing sales to finish strong, face challenges: report
CREA expects sales to struggle to maintain traction in 20016-17
MLS® sales in Alberta are expected to increase for the balance of the year due to better-than-expected activity during the second quarter and health levels heading into the third quarter, according to the Canadian Real Estate Association (CREA) in its revised 2016 forecast.
The national REALTOR® agency added, however, that the current economic climate suggests Alberta sales may struggle to maintain traction over the remainder of 2016 and into 2017.
Alberta sales activity is expected to finish the year down 8.8 per cent to 51,500 transactions - the largest decline in the country as the province's economy struggles with a sluggish energy industry.
Nationally, sales activity is forecast to rise by six per cent to 535,900 units in 2016, which is little changed from CREA's previously predicted sales increase of 6.1 per cent to 536,400 units this year. This represents a new record for annual sales.
However, after adjusting for population growth, sales are still expected to remain below the peak reached in 2007.
Among the most populous provinces, British Columbia is still forecast to post the largest annual increase in activity this year (+14.6 per cent) notwithstanding that much of its strength is in the rear-view mirror at this point, said CREA.
Average prices also appear to be stabilizing in Alberta and Saskatchewan, noted CREA. In Alberta, the average price is expected to rise by 0.6 per cent by the end of 2016 to $395,400.
The national average price is now forecast to rise by 10.1 per cent to $487,800 in 2016.
In 2017, CREA expects sales activity in Alberta to increase by 4.5 per cent to 53,800 units. CREA noted consumer confidence should start to strengthen and slowly draw homebuyers off the sidelines in Alberta and Saskatchewan as oil prices and economic prospects gradually improve. The forecast rise in Alberta's sales in 2017 also reflects slow sales activity in the first quarter of 2016, a repeat of which is not expected.
Nationally, sales are expected to number 532,900 units, representing a 0.6 per cent decline from projected activity this year.
CREA attributes the national decrease to weaker activity levels in B.C. and Ontario, where sales are anticipated to remain strong but fall short of this year's record levels due to deteriorating affordability and a lack of supply for single family homes.
The average price in Alberta, meanwhile, is expected to increase by 1.1 per cent to $399,800 in 2017. That contrasts with a 0.2 per cent increase nationally to $486,600.
Tagged: Alberta | average price | Calgary Real Estate | Calgary Real Estate News | Canadian Real Estate Association | CREA | Economy | forecast | Housing Market | sales | YYCRE
---
---
Connect With Us