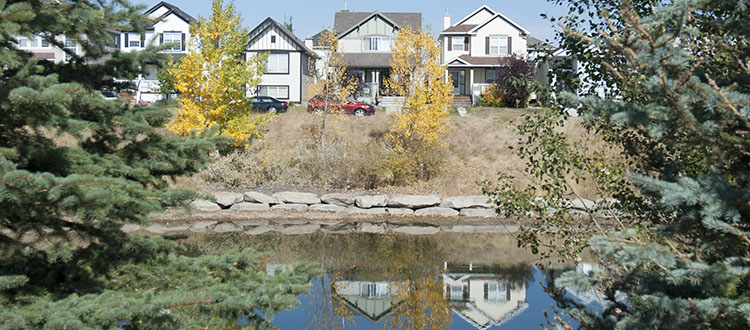 Aug. 26, 2016 | Mario Toneguzzi
Surprise, surprise
Experts provide feedback on Calgary's real estate market so far
It has been an interesting year for the Calgary real estate market considering the city's economy is still struggling due to ongoing uncertainty in the energy sector.
According to CREB®, year-to-date, until the end of July, MLS® sales of 10,952 were down 10.1 per cent compared with the same period a year ago. New listings of 21,191 were off by 2.23 per cent, but active listings of 5,847 were up by 9.64 per cent.
The average MLS sales price of $479,597 increased by 1.2 per cent. However, the benchmark price was down 3.68 per cent to $443,386.
Some housing and business experts were asked what has been the most surprising thing this year about the Calgary real estate market. Here are their responses:
Robert Hogue, senior economist with RBC
"I'd say that what surprised me the most was how limited price declines have been considering the severity of the economic shock that hit the Calgary housing market. I thought that the provincial recession – with the associated rise in unemployment, downward pressure on incomes and loss of confidence – would not only knock housing demand down, but also boost the number of homes put up for sale substantially. Yet, resales haven't spiraled down out of control. In fact, they have staged a modest recovery (albeit from a low base) – and new listings have not surged. This meant that demand-supply conditions haven't fallen apart and prices continued to drift lower as opposed to plummet. Although I think that the Calgary market is still not out of the woods because the economy continues to be sluggish, I am encouraged to see how well behaved prices have been to date in such tough circumstances."
Nick Ford, economist with ATB Financial
"The biggest surprise about Calgary's real estate market continues to be the relatively low level of completed-but-unabsorbed houses on the market, at least compared to Edmonton. These are newly completed houses that do not have a binding contract to rent or own. As of June, there were approximately 560 unabsorbed houses in Calgary. Although that number is 26 per cent higher than 12 months earlier, it's far below the tally Calgary saw during the last financial crisis (756). For comparison, Edmonton has seen nearly a 50 per cent increase in the amount of completed-but-unabsorbed units from last year (1,280). A rising number of unabsorbed houses can have a negative effect on prices, but Calgary's lower level of unabsorbed inventory partly explains why house prices in Calgary have stayed relatively stable over this course of this economic downturn."
Jane McIntyre, senior economist with the Conference Board of Canada
"So far this year, much of what we expected to happen in Calgary's resale market has happened. In line with the slowdown in the economy and weaker job prospects, resale housing sales have dropped significantly, down nearly 10 per cent to date this year over the same period last year. At the same time however, listings have also fallen, which has helped to keep the resale market in balanced territory. This has created perhaps the biggest surprise this year – median prices have risen by 0.1 per cent to date compared with the same period in 2015, while average prices are up 1.3 per cent."
Todd Hirsch, chief economist with ATB Financial
"I've been surprised by the number of people seeing opportunity rather than doom and gloom in the market. Certainly, sales are down and prices have softened, but I keep hearing people talking about the right time to get back into the market and buying land or property. They are looking well beyond the current slump, suggesting there is solid optimism for Calgary's economy beyond 2016."
Cliff Stevenson, president with CREB®
"I think the most surprising thing about Calgary's resale market this year has been how resilient our pricing has been, and the fact that we haven't seen a massive increase in our inventory. Heading into this year, I would suspect most consumers were bracing for a more significant slide in our home prices, and more inventory to choose from. The reason for the lack of a sizeable increase in our inventory is tough to pinpoint, but it's definitely the reason we haven't seen a more significant impact to our pricing."
Adam Legge, president and chief executive of the Calgary Chamber
"Based on those results, I am surprised that they have performed that strongly. With the unemployment rate almost doubling over the past 18 months, home sales have held on quite strongly – even showing some modest price growth. This shows that the current market is in much stronger positions compared to downturns of the past."
Gregory Klump, chief economist with the Canadian Real Estate Association
"To my mind, the most surprising thing about the Calgary resale housing market this year is that single-family home sales above $500,000 have remained buoyant, even as listings are taking longer to sell. Calgarians who are shopping for a single-family home have more listings from which to choose but they are not being paralyzed by indecision."
Tagged: Adam Legge | ATB Financial | Calgary Chamber | Calgary Real Estate | Calgary Real Estate News | Canadian Real Estate Association | Conference Board of Canada | CREB® | CREB® president Cliff Stevenson | Economy | gregory klump | Housing Market | Housing Market | Jane McIntyre | nick ford | RBC | robert hogue | Todd Hirsch | YYCRE
---
---
Connect With Us