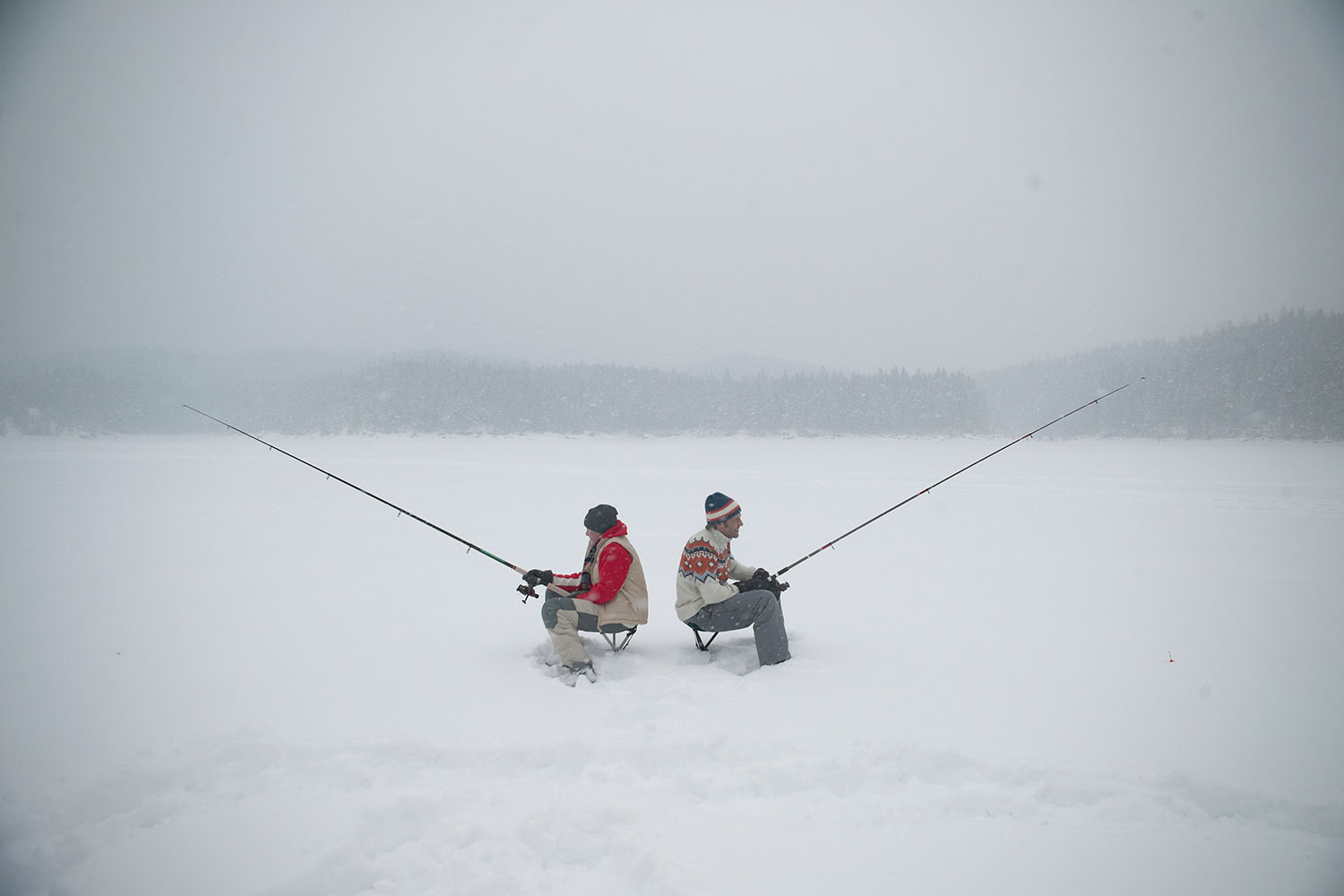 Ice fishing is one of many fun winter activities enjoyed by the residents of Calgary's popular lake communities. Getty Images
Jan. 10, 2018 | Kathleen Renne
Winter on the water
Calgary's lake communities are great for more than just summer fun
While lakes are thought of as a source of summer-time recreation, they also offer plenty of recreational opportunities during the winter months. Just ask Auburn Bay resident Sonja Hayes-Powers. She, along with her husband and two children, moved to Auburn Bay two years ago.
"We moved here specifically to be in a lake community, because it gives you lots of things to do with your kids, both in winter and summer," said Hayes-Powers. "For example, we'll be going to the lake tonight with some friends to go sledding."
After sledding, community residents can visit one of the fire pits dotting the lake. In fact, during the winter months, the Auburn Bay Residents Association organizes Campfire Fridays, where people gather around the fire pits and drink hot chocolate. "It gets a community feeling going," said Hayes-Powers.
Contrary to what some may think, Hayes-Powers says the lake is not only for family-time recreation. "I use the lake when my kids are in school . . . I put some music on my headphones and do a good lap on the rink around the lake," she said.
While Hayes-Powers admits Auburn Lake remains busier during the summer months, she says it's also "nicely busy" during the winter, estimating her family uses it at least once a week during those months.
In fact, she says proximity to Auburn Lake allows her family to enjoy recreational activities year round within the community – they rarely have reason to leave. "Unless we go to Olympic Plaza, or if the weather is too warm to skate on the lake, we don't have to seek out recreational opportunities elsewhere," she said, a welcome change from her previous home in Copperfield, where the family frequently took trips to Bowness or Carburn Park to go skating.
"We moved here specifically to be in a lake community, because it gives you lots of things to do with your kids, both in winter and summer." - Sonja Hayes-Powers, Auburn Bay resident
In neighbouring lake community Mahogany, Mahogany Homeowners Association general manager Sally Lockhart counts four ice rinks, a learn-to-skate program and ice fishing among the many winter amenities the lake offers for community residents.
At 63 acres, Mahogany Lake is the city's largest. And once the surrounding community is fully built out, Lockhart says it will be home to 30,000 people.
Currently, she says, 25 per cent of Mahogany's population is under 18. "It's a very family oriented and very young community. The lake gets a lot of use, even in the winter. There are kids out there skating all the time," she said, noting it costs the community between $15,000 and $20,000 annually to maintain the ice.
Lockhart says there are more winter recreation possibilities on the horizon, including a potential speed-skating track, ice slides and cross-country ski paths. "The potential is huge to have the outdoors in your backyard year round," she said. "It's just a matter of putting the right partners in place to build on those opportunities."
Among the partnerships Lockhart is seeking are stronger relationships between the City and individual homeowners' associations to better service residents and make recreational dreams into realities.
Greg Macdonald of Sage Appraisals is a long-time lake-community resident, having lived in McKenzie Lake since 1999.
"We had young children, and we were thinking of taking them to the beach on summer holidays, but it turns out there are all these winter activities as well," he said. "Lakes are four-season recreational facilities for families of the communities."
Macdonald lists tobogganing, pleasure skating, hockey and ice fishing among the winter activities at McKenzie Lake.
"I go to the lake very frequently to play hockey," he said, noting that many lakes have their own Zambonis, which makes for high-quality ice.
An avid fisher, Macdonald regularly takes his ice-fishing gear on to McKenzie Lake during the winter. "It's pretty easy to do," he said, adding residents only have to go 30 or 40 feet from the shore to fish.
Non-residents, on the other hand, must travel much farther to get their ice-fishing fix. "If I didn't live in a lake community in Calgary, I would have to drive out of town to ice fish," said Macdonald.
Macdonald says he pays $250 yearly in lake fees and receives "excellent value" for his money.
Tagged: Auburn Bay | Auburn Bay Residents Association | Auburn Lake | Bowness | Carburn Park | Copperfield | Feature | Greg Macdonald | lake | Mahogany | Mahogany Homeowners Association | McKenzie Lake | Olympic Plaza | Sage Appraisals | Sally Lockhart | Sonja Hayes-Powers
---
---
Connect With Us