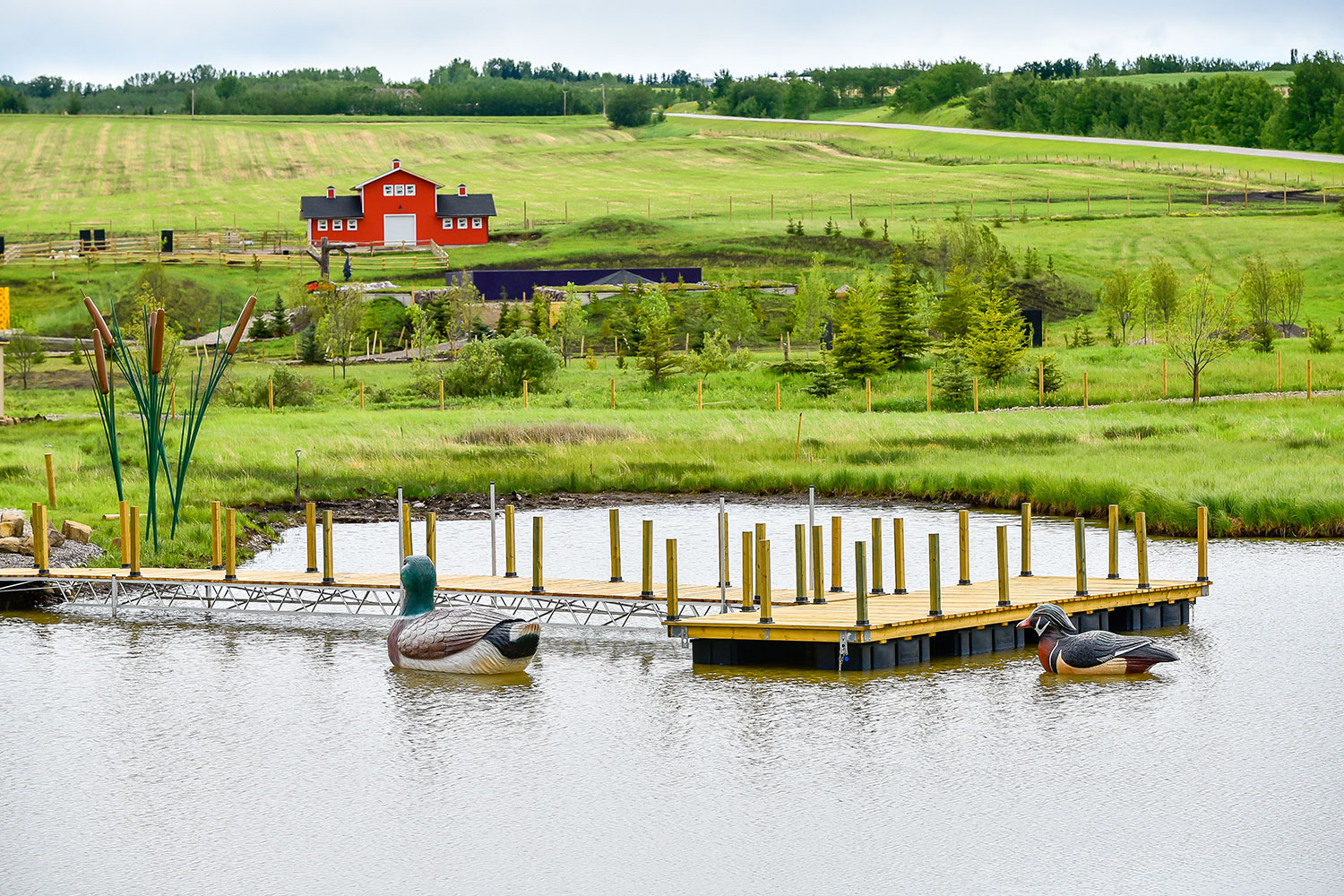 With its farmers market, restaurant and lounge, and active learning park, Granary Road was designed to be a destination with something for the whole family, says director of business development Jane Walter-Lockwood. Jose Quiroz / For CREB®Now
June 15, 2017 | Gerald Vander Pyl
Family fun
Granary Road will offer more than the traditional farmers-market experience
A new farmers market set to open just south of Calgary city limits is reimagining the traditional market as a family entertainment venue.
Granary Road will have a variety of shops in its public market, but also an active learning park that is a mash-up of a children's playground and an interpretive centre.
"Parents are always looking for something to do with their children and while we have some amazing attractions in Calgary, there aren't enough," said Jane Walter-Lockwood, director of business development for Granary Road.
"We wanted to create a place where friends and families can come and spend time together in a fun, educational and active way."
Set to open later this month, Granary Road will include a year-round indoor farmers market, onsite bakery, bistro and lounge, and the active learning park, with 11 exhibits that Walter-Lockwood says revolve around insects, small animals or agriculture – all with an educational focus.
"Each exhibit has education walls and a learning kiosk where children and adults alike can learn some cool facts and examine some pretty amazing live components too," she said.
"We have over-the-top active experiences like a giant ant farm and an echolocation maze."
MD of Foothills Mayor Larry Spilak says the 4-3 vote to approve the development of Granary Road was a close one, and some local residents were against the project based on its location.
We wanted to create a place where friends and families can come and spend time together in a fun, educational and active way.
"(But) I just thought it was something that fit in very well in the MD of Foothills," said Spilak. "And I think once it's completed and everybody has an opportunity to see the job they have done, I think the opposition to it may change."
He says the active learning park was a particularly appealing aspect of the project.
"They made it an experience where people can go to actually get a better understanding of where their food comes from, and also learn about a lot of the wildlife that exists in our area," he said. "If you weren't raised on a farm, you probably didn't have the opportunity to learn this."
Walter-Lockwood says the market will have more than 30 carefully selected vendors.
"We spent seven-and-a-half months hand-picking our vendors," she said. "We watched their customer service, tested their products and ultimately chose best-in-class vendors.
"If we couldn't find someone in the market space, we searched retail locations until we found the perfect fit for Granary Road."
She says Canadian Rocky Mountain Resorts will be running the Loft Bakery, Kitchen and Lounge with a menu focusing on ingredients that are locally sourced.
Granary Road is located south of Highway 22x and just a few minutes from Evergreen, Bridlewood, Somerset, Silverado, Midnapore, Sundance and other south Calgary communities.
Walter-Lockwood says the public market will be open year round Thursday through Sunday from 9:30 a.m. to 5:30 p.m., and the active learning park will be open seasonally, from 9:00 a.m. to 5:00 p.m. seven days a week until the end of October.
Tagged: bridlewood | Evergreen | Feature | Granary Road | Jane Walter-Lockwood | Larry Spilak | MD of Foothills | Midnapore | silverado | Somerset | Sundance | Surrounding Areas
---
---
Connect With Us