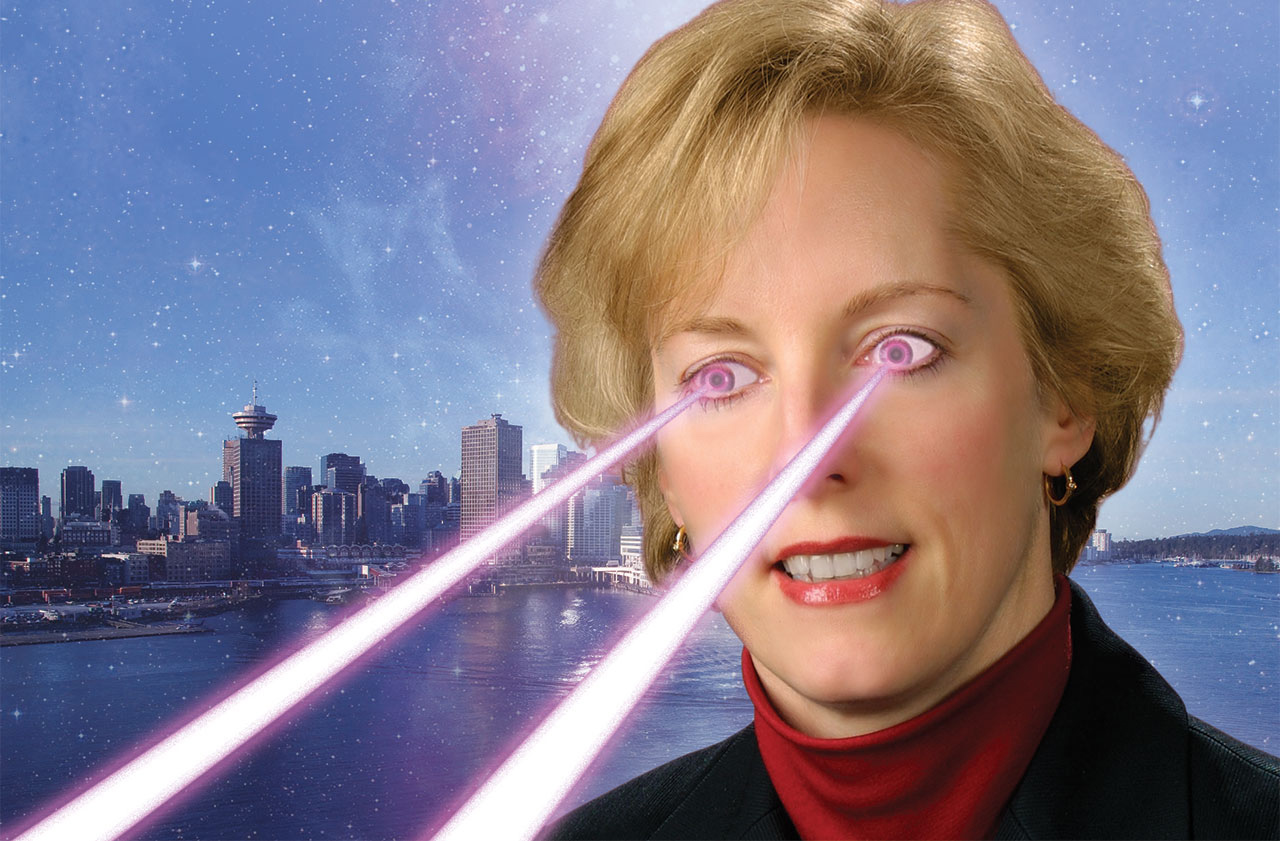 Patricia Houlihan's eye-catching ads across the Vancouver area quickly went viral. Courtesy Mike Catherall, Immersion Creative
Dec. 12, 2018 | Geoff Geddes
Two creative REALTORS® who thought outside the (lock)box
In the ultra-competitive world of real estate, thinking outside the box can give you the inside track to success. Canadian REALTORS® Patricia Houlihan and Dylan Mahaney may be from opposite ends of the country, but they share a flair for innovative marketing that sets them apart.
Laser-focused on success
Fed up with the "ridiculous" ads of her colleagues, who all claimed to be the No. 1 Realtor, Patricia Houlihan of Coldwell Banker Prestige Realty in Vancouver took a different approach.
Working with a marketing agency, she developed a series of four bus stop ads promoting her "superpowers": negotiation, seeing what others miss, selling homes faster than a speeding bullet and shooting lasers out of her eyes.
If it sounds a bit over-the-top, that was the intention.
"I wanted to stand out," said Houlihan. "The superpowers were based largely on my 30-year career as a lawyer. The ads ran all over Vancouver and Burnaby, and they went viral."
Within 24 hours of the ads running, CBC was on the line, and the campaign was featured in
Adweek
magazine. The goal was more about name recognition than generating leads, and it seems to have served its purpose.
"I received emails from Taiwan and Australia saying it was the best ad they ever saw. The teachers at my kids' school said it made them laugh every day," said Houlihan. "The whole thing taught me that you can do something unique and it doesn't have to hurt your business – it can actually help."
Don't forget to floss
A Realtor moves through the rooms of a home performing "The Floss," a dance from the popular video game Fortnite where he swings his arms from side to side and moves his hips in the opposite direction. Would you buy a house from this man?
New Brunswick real estate agent Dylan Mahaney sought a creative way to sell his new listing and found it by busting a move in a unique video.
"We just wanted to get the house sold and make the clients happy, and we did both." - Dylan Mahaney, former New Brunswick real estate agent
"I wanted something that would get noticed," said Mahaney. "Realtors are busy and new listings come on the market every day. The intention was not to be silly, but to capture the attention of my colleagues, so this house would be top of mind when they spoke to clients."
Not surprisingly, the video went viral, and though the house was sold by another agent, Mahaney couldn't have been happier.
"We just wanted to get the house sold and make the clients happy, and we did both," he said.
Though Mahaney has since left real estate to pursue standup comedy, the video's success was satisfying on a personal level.
"Often, the negative voices in our heads are the loudest ones," he said. "Instead of being embarrassed, I trusted my instincts and focused on getting the job done. In that sense, it was a valuable life lesson that will always be with me."
Tagged: Calgary | Calgary Real Estate | Calgary Real Estate News | Canada Real Estate | Feature | REALTORS | REALTORS
---
---
Connect With Us