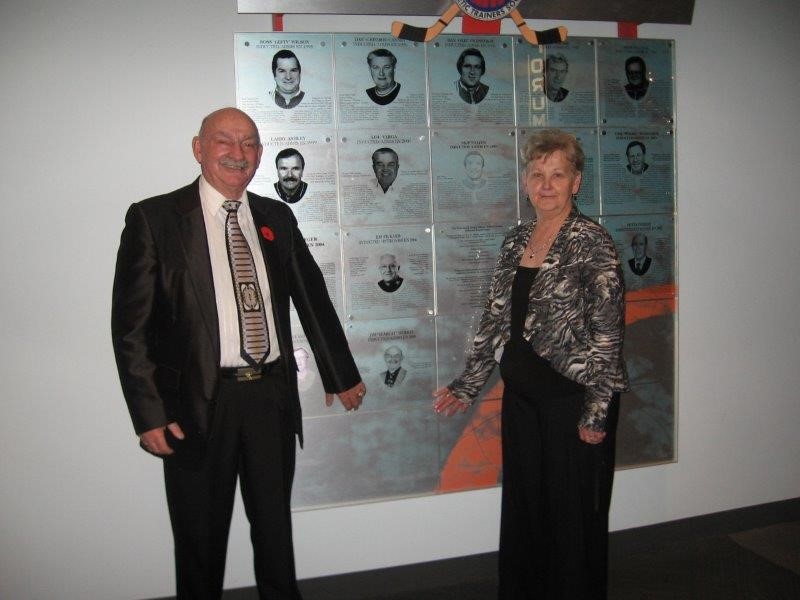 Courtesy of the Murray family
Sept. 25, 2020 | George Johnson
My First Home: Jim "Bearcat" Murray, longtime Calgary Flames athletic trainer
Now 88 years young, the ol' potlicker himself, Jim "Bearcat" Murray, long ago passed into the realm of legend hereabouts.
Nearly a quarter-century since retiring from the Calgary Flames as the only NHL athletic trainer with his own fan club (boasting Boston and Montreal chapters), Murray – recognizable by his bald head, generous moustache and ready grin – continues to be an icon.
Murray and his wife, Shirley, moved to Calgary in 1963 so he could start his first training job with the WHL's Calgary Centennials. They needed a place to stay, but it turned out a home purchase wasn't in the cards just yet.
"We looked out here for something – in Okotoks, where I'd grown up – first. Nothing. I couldn't afford to buy a house at the time. We'd only been back two, three days, and I was visiting a friend I'd worked with in Estevan, here in town," said Murray, the unofficial mayor of Okotoks.
"His neighbour turned out to be a mailman ... and in the course of conversation I explained to him how were hunting for a place. He tells me, 'Well, we're moving out of our place, I've been transferred to Edmonton.'
"That very day, we rented that house.
"In Altadore, for $100 a month. Up on the hill, beautiful area. We could see the Stampede grounds from our front room, met people who became great friends, were pretty darn happy."
Murray would go on to tend to the aches and pains of the World Hockey Association's Calgary Cowboys and WHL's Calgary Wranglers before joining the Calgary Flames organization for 16 seasons.
"We lived in that place, I think, 33 years. Wound up costing $12,000, if memory serves me correctly."
A decade into their stay at the Altadore house, the Murrays finally decided to take the plunge and buy, after the couple they'd been renting from were forced to sell due to a family matter.
"I put, I think, $1,000 down and then paid the same $100 a month as a mortgage payment. Nothing changed, it was so simple. What a deal," said Murray.
"We lived in that place, I think, 33 years. Wound up costing $12,000, if memory serves me correctly.
"It's still there. Our son, Danny, was born there, and he tells us the people who bought it from us still live in it. An older couple bought it from us for their daughter."
The Murrays finally made their long-sought-after move to Okotoks in September 1995, when the Flames travelled to Saint John, N.B., for training camp while the Saddledome was undergoing renovations.
"We were kind of sad to leave that first house. It'd been great for us," said Murray. "Busy, busy. Three junior hockey players boarded with us, my two brothers and Shirley's friend's three kids – two boys and a girl – all at the same time! One bathroom."
Despite fond memories of the Altadore home, Murray had long had his eye on a house in Okotoks and it turned out the timing was finally right.
"I bought our current place on a Sunday. I was out in Okotoks visiting dad and dropped in because I'd always looked at this place. Loved everything about it. So, this particular day, I take a look and there's a damn sign: For Sale. I said, 'You gotta be kidding?' I phoned the guy on the sign, he came over, and within a half-hour we'd bought it.
"So, moved back home to Okotoks – what we'd always wanted. Been here ever since, and we've enjoyed this place, too."
Tagged: Altadore | Bearcat | Calgary | Calgary Centennials | Calgary Cowboys | Calgary Flames | Calgary Real Estate | Calgary Real Estate News | Calgary Real Estate News | Calgary Stampede | Calgary Wranglers | Estevan | Feature | Jim "Bearcat" Murray | Mortgage | My First Home | NHL | Okotoks | Popular This Year | Saddledome | Stanley Cup | Trainer | Western Hockey League | World Hockey Association
---
---
Connect With Us