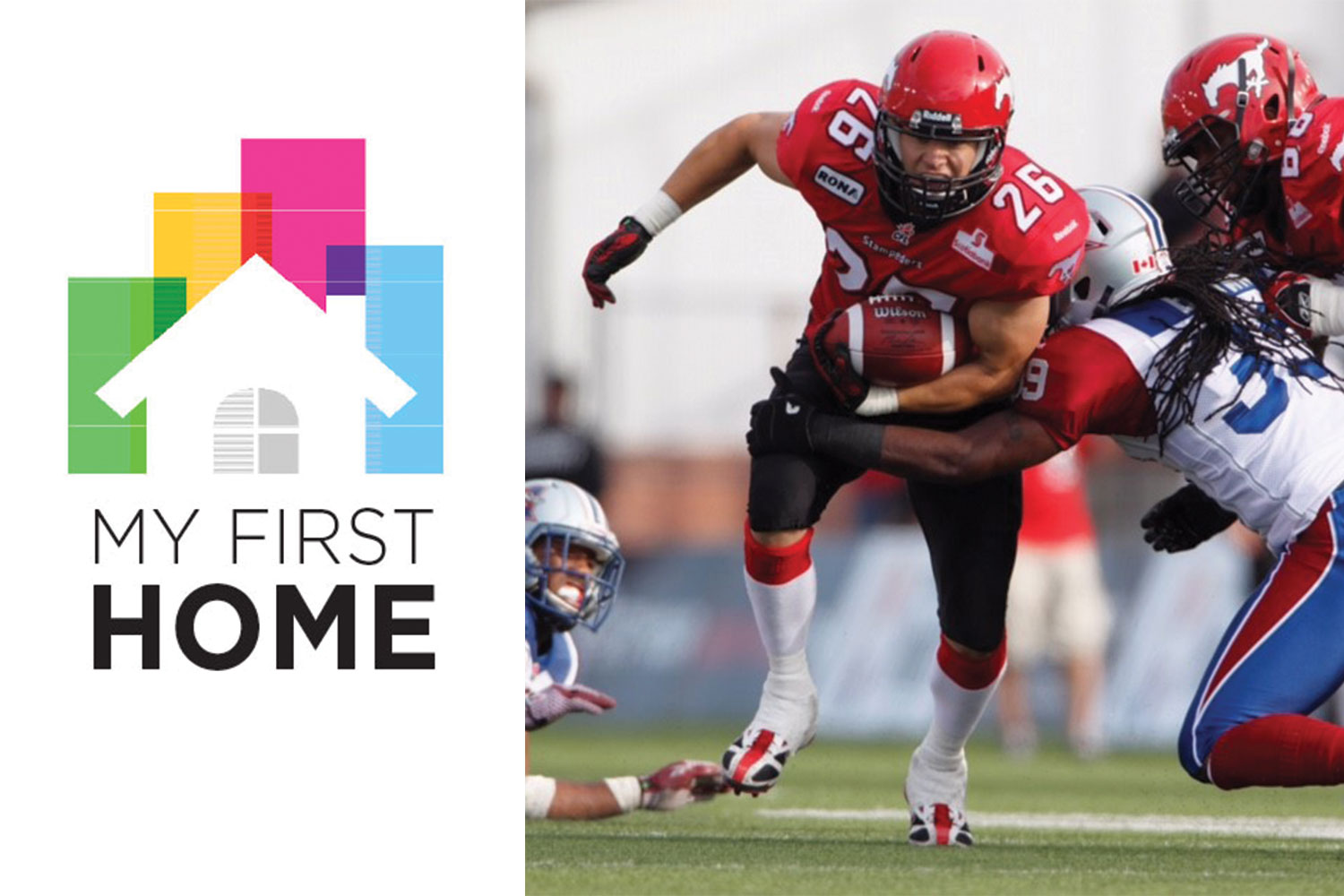 Courtesy of Rob Cote
Dec. 22, 2020 | George Johnson
My First Home: Rob Cote, Calgary Stampeders great and two-time Grey Cup champion
At the opening of training camp in June 2012, even though he was already five years into his tenure with the Calgary Stampeders, Rob Cote felt anything but secure.
"So, a very stressful time to be doing anything else but concentrating on football,'' said the Cochrane-born fullback. "Especially to be making a huge financial decision like buying a house.
"I mean, I'd kind of like to know I'd made the team, so I've at least got one year of money in my pocket, right?"
Before retiring in 2018, Cote logged 179 regular-season games, appeared in a dozen playoff games and four Grey Cups (winning two of them in 2008 and 2014), and was twice awarded the Presidents' Ring for excellence on and off the field. He also served as a team captain for six years, while becoming a pillar of the Calgary Stampeders' community endeavours.
"I bought the house in Silver Springs with my then-girlfriend, now-wife (Natalie),'' he said. "We were getting ahead of ourselves a little, I suppose. But we were young and in love and I felt like I was in a situation to set down some roots."
At the time, Silver Springs was an ideal location for the pair.
"We weren't in the financial situation to buy something fully done at the time, but to be honest, that really didn't interest me anyway."
"My wife and I are both Rocky View kids, used to nature being in our immediate vicinity, and Silver Springs is surrounded by a lot of green space. Nose Hill and Fish Creek are the two big ones in the city, but Beaumont Park kind of sneaks in there because it's not too central and runs along the river," he said.
"We had a Border Collie at the time that needed to run for 60 to infinity minutes per day. So, we had a huge, huge off-leash park in the city – a big plus for us."
The couple completed several renovations themselves over the following eight years. No room, reckons Cote, went untouched to some degree.
"I was really set on buying the right project," he said. "We weren't in the financial situation to buy something fully done at the time, but to be honest, that really didn't interest me anyway."
The house, he says, was very well maintained on the couple's move-in date, but "definitely out of date stylistically." Among the upgrades was a bar area in the completely revamped basement, unveiled just in time for the 2014 Grey Cup victory party.
"I made a huge polished-concrete countertop for the thing. Put a keg and tap in the bar. Corey Mace, Deron Mayo, Rene Paredes came over ... I'm not sure if (Rob) Maver was there, too," he said.
"But those guys helped me move that countertop in and they'll never let me live it down. That thing weighed an absolute ton – just obnoxiously heavy. Six of the strongest humans I know, and we had an absolute bear of a time."
The Cotes lived in the house until late 2020, when Rob, Natalie and the kids, Miller and Wynn, set out on a European adventure, relocating to Denmark so Natalie could pursue her studies in the Copenhagen Business School MBA program. Tentatively, the plan is to return home in September of 2021.
"If and when we move back to Calgary, Silver Springs would be at the top of our list,'' said Cote. "We absolutely love the area."
Tagged: Beaumont Park | buyer | Calgary | Calgary Real Estate | Calgary Real Estate News | Calgary Real Estate News | calgary stampeders | CFL | Copenhagen | Denmark | Feature | Fish Creek | Football | Grey Cup | My First Home | My First Home | Nose Hill | Renovation | Rob Cote | Rocky View | Silver Springs | Stamps
---
---
Connect With Us