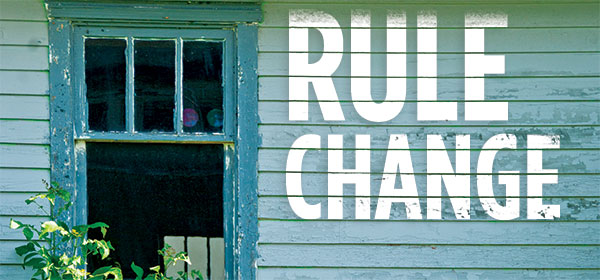 June 28, 2012 | Cody Stuart
Rule Change
Government tightens lending guidelines
With concerns regarding overheated housing markets and household debt levels rising nationwide, the federal government has enacted new rules governing mortgage lending and borrowing.
The biggest change, and the one most likely to have an impact on Canadian homebuyers, is the reduction of the maximum amortization periodfrom 30 years to 25. "Our government stands behind the efforts of hard-working Canadian families to save by investing in their homesand their future," said Federal FinanceMinister Jim Flaherty. "The adjustments we are making today will help them realize their goals, build on the previous measures we have introduced to keep the housing market strong, and help to ensure households do not become overextended."
Along with changes to the maximum amortization period, the new rules will alter the amount Canadians can borrow when refinancing their homes, dropping the limit from 85 per cent of the value of the home to 80 per cent. Other changes will fix the maximum gross debt service (GDS) ratio at 39 per cent and the maximum total debt service (TDS) ratio at 44 per cent – which should help ensure loans remain proportional to household income.
The GDS ratio is the share of the borrower's gross household income that is needed to pay for home-related expenses, such as mortgage payments, property taxes and heating expenses. The TDS ratio is the share of the borrower's gross income that is needed to pay for home-related expenses and all other debt obligations, such as credit cards and car loans.
A recently released report from RBC Economics on housing affordability listed Calgary as one of the nation's most reasonable markets, requiring buyers to take on far less debt than "overheated" markets like Toronto. According to the report, the TDS for a standard two-storey in Calgary was 36.7 in May, while the same measure in Toronto and Vancouver stood at 62.6 and 93, respectively.
Finally, the government will limit the availability of government-backed insured mortgages to homes with a purchase price of less than $1 million.
"Wealthy people can borrow whatever they want from banks and they can work that out with banks and that's not my concern," said Flaherty. "My concern is the broader range of Canadian people who might get over extended."
The announcement marks the fourth time in four years that the government has constricted Canada's mortgage rules since first cutting the maximum amortization period to 35 years from 40 in 2008. Further changes were announced in February 2010, and came into effect April of that year.
Over the life of a 30-year, $375,605 mortgage (the average price of a Canadian home) at five per cent, a borrower would save roughly $76,000 by moving to a 25-year amortization, although their monthly mortgage costs would rise from $2004.57 to $2,184.54.
Harper Government Takes Further Action to Strengthen Canada's Housing Market - Department of Finance
Understand How the New Mortgage Rules Affect You - BMO
Canada's New Mortgage Rules Will Trim GDP Growth: TD Economist - Globe and Mail
Canada Mortgage Changes 'May be too Late': Moody's - Financial Post
Tagged: Canada | GDP | Home Buyer | Mortgage | News | Real Estate | Uncategorized
---
---
Connect With Us