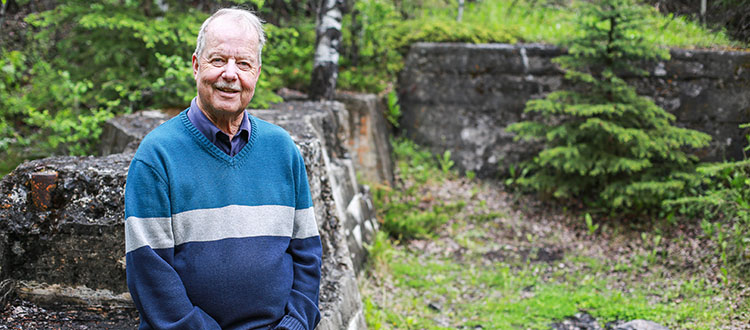 Clair J Cote Jr. currently lives in Canmore, where he retired after working in the Calgary real estate industry for decades. Photo by Michelle Hofer/for CREB®Now
Sept. 14, 2016 | Cailynn Klingbeil
55 years of Calgary Real Estate: 1974 CREB® president Clair J. Cote Jr.
Clair J. Cote Jr. follows in father's historic footsteps by leading CREB® through 1974
When Clair J. Cote Jr. became CREB®'s president in 1974, Calgary was partway through a decade marked by unprecedented growth, both in business and real estate development.
The year prior, the Arab oil embargo set off the first global energy crisis, leading to efforts in Alberta to lessen the dependence on foreign oil. Calgary, where oil companies were headquartered, prospered.
For Cote, the 1970s stand out as a time in which his brokerage, which started in 1964, grew.
P.J. Toole and Cote Real Estate "had branch offices all over Alberta," he recalled. "We were spread out all over the place."
Cote's job was to supervise the offices around Alberta — work that required plenty of travel.
Even at that time, the real estate industry in Calgary was changing, he noted. "It used to be such a personal sort of thing, Then, there were a lot of big companies started."
"It wasn't easy, that's for sure. We went through a pretty good depression then."
In The First Fifty Years: A Chronicle of Half a Century in the life of the Calgary Real Estate Board, author Jack Peach writes the population growth between 1969 and 1979 was 42.6 per cent, meaning about 1,500 people entered Calgary every month.
The growth slowed in the 1980s when Alberta was hit hard by the federal government's National Energy Program.
"It wasn't easy, that's for sure," Cote remembered. "We went through a pretty good depression then."


Around that time, Cote also remember meeting with his business partners to decide on whether to close some of the firm's offices, including a recently opened Calgary office on 17th Avenue. "I said, 'I can't agree with that. That's a good office. It's going to be productive,'" said Cote.

He convinced the others to let him go out and run that office for a year. "I said, 'give me a year out there. If it's not making money, we'll close it.' I spent the next 10 years out there, and it was very successful.

"We managed to survive through it," Cote said of the tough times during the 1980s. "We did close some offices during that time, around Alberta, but we did survive."

P.J. Toole and Cote Real Estate was sold in 1992.

Cote started working in the real estate industry in 1954, following in the footsteps of his father Clair Cote Sr., who was the first president of CREB®. Cote's memories of the industry, however, extend even further back: he recalls visiting his father's downtown Calgary office as a youngster in the 1940s.

"At that time, under law, you were not allowed to work on a Sunday, but he would go down to the office and do some planning for the following week," recalled Cote. "I used to love going down to his office."

Cote's father's office was in a downtown Calgary building, on the fourth floor. Cote remembers playing with his siblings there. "We would have a race to see who could get to the main floor first. We used to race down the stairs and through the tunnel. I'll never forget that."

Later on, Cote remembered doing some work for his father, starting with looking after listing books.

While Cote Sr. served as CREB®'s first president, it's unknown if that was in 1927 or 1928, as contradictory information exists as to which year. CREB® was registered under the Statutes of Alberta in 1929.

"Being in real estate as long as I was, you run into some really good people."

The board, however, became inactive and was unknown to many in the industry. In the 1940s, when Kennett Lyle began pursuing the formation of a real estate board, he spoke to Cote Sr. and learned there was an existing board.

In 1943, a general meeting of local real estate practitioners was called, and CREB® was reborn. Cote Sr. became president, holding the role until 1945.

About 10 years later, in 1954, Cote Jr. sold his first house. He still remembers the name of the man he sold it to. The man ran a restaurant in a local hotel, and Cote remembered when he ate there, he would remind Cote, and the rest of the restaurant, that his house was Cote's first sale.

"Being in real estate as long as I was, you run into some really good people," said Cote.

Years later, Cote moved to Canmore, where he continued to work in real estate before retiring.

The Cote name remains synonymous with real estate in Calgary: two of Cote's sons still work in the industry in Calgary.

Tagged: 55 years of calgary real estate | Calgary Real Estate | Calgary Real Estate News | clair cote | CREB presidents | CREB® | Economy | history | past presidents | Real Estate | Uncategorized | YYCRE
---
---
Connect With Us