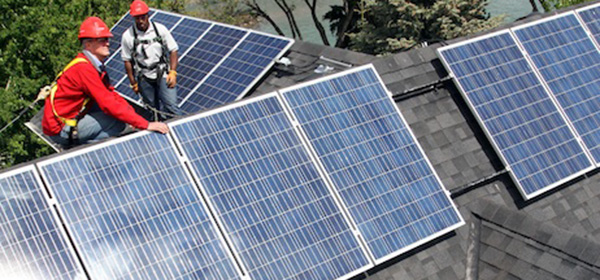 Nov. 15, 2012 | CREBNow
Harnessing the Sun
Some Calgarians have been known to grumble about the length of the winter versus summer seasons in the city. What most can agree on is that no matter what time of year, there's no shortage of sunshine.
Ongoing for a year now, ENMAX Energy's Generate Choice program offers affordable solar and wind power for the home thanks to funding from the Climate Change and Emissions Management Corporation. "It's a program that makes (alternative energy) easy from start to finish," said Mike Becker, ENMAX project manager. "You give us a call, we ask you a few questions or you sign up online we ask you a few questions. If your site looks like it could accommodate such technology we'll provide a pre-site evaluation."
This past summer, conservationist Brian Keating and his wife Dee, became the 100th household in Calgary to install the ENMAX Generate Choice solar panels on their home in Inglewood. Keating said solar power is something the couple's been discussing for years.
"We have always felt that Alberta's sun was a wasted home energy source," he said via email. "Seeing the snow rapidly disappear on the southern exposure on our steep roof in the winter for example, even in sub-zero conditions, our roof was just crying out for solar installation."
For its solar power, the Generate Choice program utilizes a solar photovoltaic (PV) system. In Alberta, a PV system will produce between 1,000 and 1,400 kilowatts per hour. Factors that can affect how much sunlight your solar system receives include roof direction, roof slope and direct sunlight versus shaded.
Utilizing solar energy reduces the amount of electricity a homeowner would otherwise buy from the grid meaning a generation of extra energy earns them credit from their electricity provider.
"Energy conservation has been on my mind for decades and what a pleasure to be able to invest in something as concrete as home electrical production from the sun," said Keating. "Before my installation, it was a useless black shingle roof. Now, every time I drive or bike into my driveway, I admire my panels."
Becker explained ENMAX takes care of parts, labour and warranty for a 15-year period and provide installation, permits, material and a monitoring system. The monitoring system can be tracked via your computer to see what the solar modules are doing.
"I have been away for the past two months here in Africa, and I have been delighted with my ability to check in on how my new installation is doing," said Keating. "How has this made a difference for me? The immense satisfaction of seeing that I am on track for producing about half our electricity needs for the year fills us both with tremendous satisfaction. Here we are, on the other side of the world, and my home is putting power into the grid without me doing a thing. That's a significant slice of satisfaction."
For more information on the Generate Choice program check out
Generatechoice.ca
.
Tagged: Calgary Real Estate | Calgary Real Estate News | Green Housing | Green Living
---
---
Connect With Us