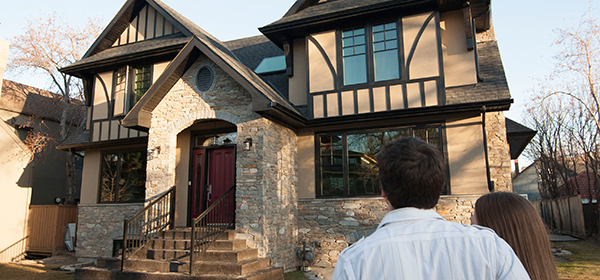 May 08, 2013 | Cody Stuart
Love at First Site
For many Canadians, purchasing a home has been a lesson in love at first sight.
An overwhelming majority of Canadian homebuyers knew their home was right for them the moment they stepped inside according to a report from BMO.
That's what the experience was like for Amy Gregson and Brian Ball. "We knew it was right for us basically as soon as we walked in because of the layout of the main floor," said Gregson. The couple purchased their first home in New Brighton in January. The decision to buy was made easy by their vision of the perfect home matching up with what the market had to offer to the point it left an indelible mark on them.
"It was probably the closest we could ever get to the picture in my head, and we couldn't stop thinking about that house after we had left it that day," said Gregson.
While the BMO report showed most Canadians were rather deliberate in their purchases, with the average homeowner spending an average of five months house hunting and visiting 10 homes before making the decision to buy, Gregson moved more quickly.
Gregson and Ball signed the papers just a week after they began looking, Gregson said the speed of their decision was made possible by deciding exactly what they wanted ahead of time.
"Before we had even started looking I had an image in my head of what kind of house we wanted. We also knew what area of the city we wanted to live in and (that we wanted) a fairly new house, which limited the choices as well."
The BMO report found 44 per cent of current homeowners said they bought their home because they felt it was a good investment. Reflecting on that trend, Gregson said her decision to buy was spurred by wanting to put money towards a home of her own rather than renting.
In the report 37 per cent of buyers stated they were motivated to buy because they felt the time was right to get into the market. Another 23 per cent bought because they wanted to move to a new neighbourhood and 18 per cent bought because their family was expanding.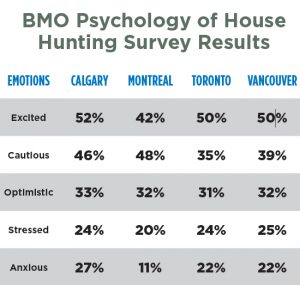 The biggest worry on the minds of homebuyers in the survey was finding something wrong with the home after the purchase (71 per cent), followed by a post-purchase drop in prices (55 per cent).
"It's important to take a practical approach when house hunting and have a clear idea of where you stand financially to ensure you make a responsible home buying decision," said Laura Parsons, mortgage expert, BMO Bank of Montreal. "Doing research ahead of time and setting realistic expectations can help you avoid making an uninformed or rushed purchase."
The report also revealed Canadians experience a wide array of emotions when buying a home, with "excitement" the top sentiment amongst buyers at 48 per cent, followed by cautiousness (41 per cent) and optimism (31 per cent). One-quarter (25 per cent) of buyers said the process is stressful and 21 per cent said it made them feel anxious.
BMO Psychology of House Hunting Report
Tagged: Calgary Real Estate | Calgary Real Estate News | Home Buyer
---
---
Connect With Us