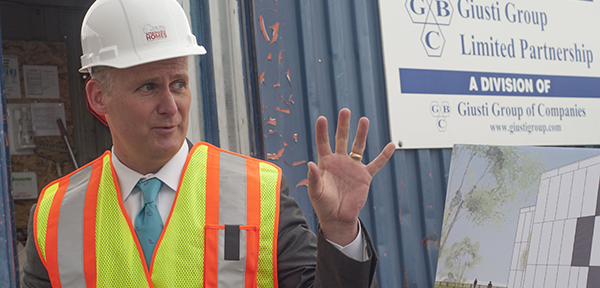 March 13, 2015 | CREBNow
In Quotes: Attainable Homes Varsity
Ground was broken today on a new 26-unit Attainable Homes development.
Working with Lexington Development Management and Nyhoff Architecture, the building, on the corner of Shaganappi Trail and Varsity Drive will provide a combination of attainable homes and market-priced units.
Attainable Homes Calgary Corp. (AHCC) is a non-profit, social enterprise - wholly owned by the City of Calgary - delivering entry-level homes for Calgarians caught in the city's affordability gap.
Here's some of what was said at the groundbreaking:
David Laycock, chairman AHCC
"These homes are built in a way ... that we don't have to provide a subsidy for these homebuyers. Instead what we do is sell it below what the market value is, but that difference enables people to be able to go ahead and count that difference as their downpayment."

"We're serving families who in a market like today, they're paying between $1200 and $1600 a month to rent in a two bedroom apartment. They can come to a beautiful new project like this and be able to - with the assistance we provide by not charging them the full market rate now - move into a project like this and own their own home."
Ward Sutherland, Coun. for Ward 1
On the attainable homes/market priced combination:

"If we did 100 per cent subsidiary, we couldn't continue to build these units, so it's kind of a balance of the market so we can do more and more of these projects."

On the location:

"It's very rare that we actually get to have these types of land even available. So the community's been very supportive, they voted on it, they support the project, and so do I. It makes sense. It's a new facility so its going to upgrade this area that's quite old, so it's a benefit to everybody."
Gord Smith, general manager for the Varisty Community Association
"We're excited because it's got everything to do with what we believe in about diversifying our community and having a mixed group of different economic, different cultural, different social levels to make a strong community. So we're 110 per cent behind it."
Tagged: affordable | Attainable homes | Calgary | Calgary Community | Calgary Real Estate News | housing | Varsity
---
---
Connect With Us