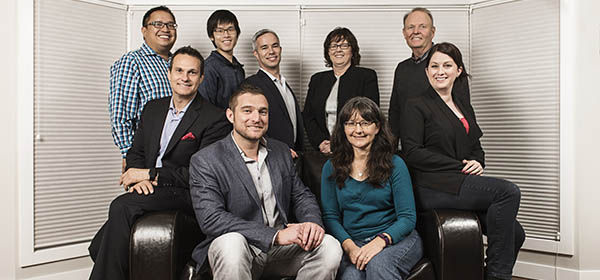 Front, from left: Rolland Lequier, secretary; Dave Bonk, chair; Sue Trefry, project manager, volunteer director; Michelle Caplan, director fund development. Back, from left: John Casuga, family liaison, Kevin Quan, IT director; Jeff Luzack, treasurer; Cindy Eberth, communications director; Bart Bates, vice chair. Photo courtesy Jose Soriano photography
Nov. 29, 2015 | Cara Casey
Hearts and Hammers
Local real estate professional leads change for mobility-challenged Calgarians
For Dave Bonk, 2012 was a year that made him rethink his life's purpose. After building a successful real estate business specializing in rental properties and fixer-uppers, he realized he needed an outlet to help give back to the community.
"One of the things that my company does is buy dilapidated properties and renovate them," said Bonk. "We were buying properties in foreclosure and I was seeing the condition that people were living in. It was unimaginable."
After throwing a few ideas around with his business associates, contractors and other acquaintances, Hearts and Hammers was born.
Today, the organization, now comprised of a board of nine, focuses its time and funds on providing renovations for homeowners in economic need with mobility challenges. Projects range from fixing up a front yard pathway to a full inside-and-out renovation, including chair-lift installation and the creation of barrier-free living.
"These are people who, through no fault of their own, were totally vulnerable," said Bonk.
"Without help, they were going to become homeless or be forced to be separated from their family because their home is inaccessible and they couldn't live there anymore."
With the help of a strong volunteer base, the organization has been able to help several families with their respective mobility renovations.
One of these volunteers is occupational therapist Diana Tsang. In her spare time outside of working at a private long-term care facility, Tsang meets with Hearts and Hammers' clients prior to the start of renovations. She evaluates their needs and compiles a report for the renovation team on what would make life easier for
the client.
Tsang also helps them access other equipment, resources or grants that they might not have known about.
"The information (either) isn't available or to get the available equipment and services requires real leg work. These are individuals I help," said Tsang.
"I love to see such a deserving family that has issues with accessibility have their lives changed."
One of the organizations' current clients is a woman who has had several hip surgeries. An artist with a studio in her basement, she has had difficulty accessing it due to her mobility challenges. Hearts and Hammers is currently looking into some solutions for the stairs as well as replacing all of the basement flooring with a simple, smooth surface.
This renovation is one of the smaller ones Hearts and Hammers is doing this year. The organization is also in the process of looking into nominations for new projects to start in the New Year.
Marketing and communications director Cindy Eberth said the organization is always looking for volunteers who can devote their time and expertise to the cause.
"We are looking for new members to be on the board, to be part of a monthly meeting and the day-to-day running of the organization," she said. "We're also looking for a volunteer co-ordinator, a grant writer and help with events and fundraising. As projects come up, we always need trades, materials and general labour volunteers."
With the news they were granted charitable status by the Canada Revenue Agency this summer, Hearts and Hammers is also now offering donors tax receipts for their financial contributions.
For now, Bonk hopes to continue to push to elevate this cause and increase its awareness – not just in Calgary, but in other cities around Canada.
Although this side project has turned into an almost full-time commitment, Bonk wouldn't change a thing.
"It's an emotional path to see the emails and hear the stories," he said. "These people need our help."
For more information visit
www.heartsandhammers.ca
.
Tagged: accessible housing | Calgary Real Estate News | mobility | real estate professional | REALTOR | Renovations
---
---
Connect With Us