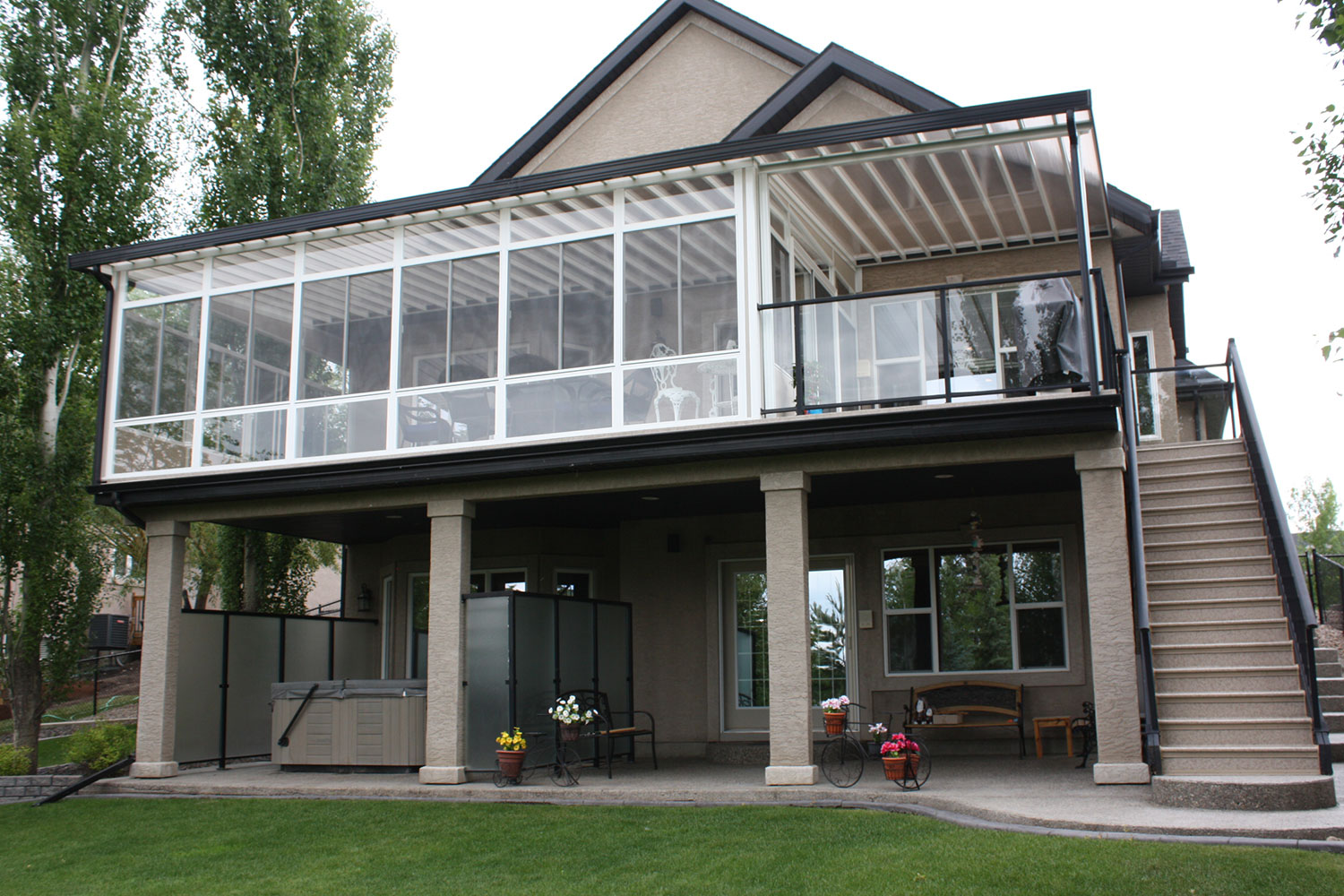 Courtesy of Desert Sun Patios
May 19, 2020 | Geoff Geddes
Catching rays: sunrooms are becoming a hot commodity in Calgary
As temperatures rise, so too does interest in enjoying the sun from the comfort of one's home, and a sunroom is one option that is easy to warm up to.
"Nowadays, no one is considering a cruise or a trip to Italy, so they're really focused on improving the space around them," said Bob Whiteside, general manager of Desert Sun Patios in southeast Calgary.
"Some houses have a deck, but it's often too hot or too cold to enjoy it, so homeowners are seeking other ways to get the most from their rear yard area."
Many people start with a patio cover, which is a makeshift roof that spans the barbecue and sitting area. These covers are maintenance free and can be created from simple aluminum framing made to look like rough-sawn cedar to enhance its aesthetics.
"They will handle snow, wind and rain with zero maintenance, and they never need painting, so just hose them off and enjoy yourself." - Bob Whiteside, Desert Sun Patios
From there, buyers can add screen walls that protect them from wind, dirt and even "
murder hornets
." This is a convenient option, as users can leave food and furniture outside year-round, and even set the newspaper down without fears of it blowing away.
The next level up is a single-glazed wall system that contains the heat, which can be supplied via a fireplace or wall mounted heater. In summer, windows can be opened to provide proper air flow.


However, for the real sunroom enthusiast, an all-season setup is available, with dual-glazed glass that minimizes heat in the summer and retains it in winter. These structures can be built with hardwood or cork flooring and serve as a key extension to an existing home.

"All of these configurations serve a purpose," said White. "Most of our customers are older and don't want another room in a hot house, but rather a comfortable place to read, talk, plan and just feel good. After two months of being locked down in the basement watching television, enjoying the outdoors is more important than ever."

Installation times and costs will vary, ranging from 1-3 days and about $2,000 for a 10' x 10' patio cover, to 7-10 days and around $15,000 for an all-season sunroom of the same size.

"The best thing about these structures is that once they are built, you have nothing to worry about," said White. "They will handle snow, wind and rain with zero maintenance, and they never need painting, so just hose them off and enjoy yourself."

Tagged: Calgary | Calgary Real Estate | Calgary Real Estate News | Calgary Real Estate News | Coronavirus | COVID-19 | COVID-19 | Desert Sun Patios | Feature | House & Home | patio | reno | Renovation | Renovations | solar | Solarium | Summer | Sun | Sunroom
---
---
Connect With Us