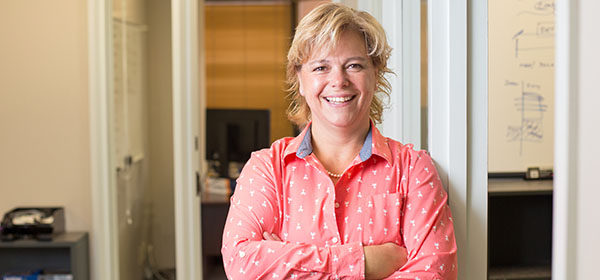 Aging in Place Calgary Carla Berezowski says poor lighting in the home is just one obstacle to people living with limited mobility. Photo by Adrian Shellard/For CREB®Now
Oct. 26, 2015 | Tyler Difley
Accessible housing a 'very hidden problem'
When home becomes an obstacle course
Home is where many Calgarians seek refuge, rest and relaxation. Yet for people with limited mobility, home can become a stressful obstacle course where everyday tasks are nearly impossible.
"People don't know that their neighbour three houses over is trapped in their home, and with an aging population, I think we're going to see it all the more," said Jeff Dyer, executive director of Accessible Housing Calgary.
"The need (for accessible housing) is really great. It's a very hidden problem."
According to Statistics Canada, our country is now home to more people over the age of 65 than there are under the age of 15. These older Canadians increasingly want to remain in their homes as they age rather than move into a retirement home or long-term care facility.
As a result, interest in aging-in-place renovations has skyrocketed. Some are obvious, such as grab bars and non-slip surfaces. Others are subtle.
"Typically, there are a lot of lighting deficiencies," said Carla Berezowski, owner of Aging in Place Calgary. "An aging person's eyes need 50 per cent more light by the time they're 65."
Accessibility renovations are also often necessary in several other areas of the home to accommodate people with limited mobility, both young and old, added Dyer.
First are entrances and exits, where steps can be removed, ramps can be installed and doorways can be widened.
Second are areas with plumbing, such as the kitchen and bathroom, which can by a nightmare to navigate for people who use a wheelchair, said Dyer.
Third are sleeping spaces, which often involves creating a bedroom on the first floor.
"If those three key modifications get done, a home can be very accessible," said Dyer.
Buyers shopping for a new home on the resale market that would be well suited for future accessibility modifications need to keep a few things to keep in mind, said Mark Stewart, a knowledge transfer consultant for the Canadian Mortgage and Housing Corp.
"If a person has limited mobility, they're well advised to search for a one-storey home," he said. "So they have the kitchen, a full bathroom with a shower ... all on the main floor so they don't have to consider purchasing a lift or an elevator."
Berezowski also recommends avoiding older homes, such as those built in the 1950s and '60s, given they typically have narrow hallways, staircases and entrances that are precarious for people with disabilities. In contrast, newer homes generally have an open-concept layout that lends itself to accessibility renovations.
Like any other home renovations, accessibility modifications can be expensive, but costs vary depending on the features being installed and the structural design of the home.
According to Dyer, entrance renovations tend to cost about $9,000, bathroom renovations average around $11,000 or $12,000 and kitchen modifications usually cost about $15,000.
The cost of bedroom renovations on the main floor vary "because you're modifying walls, door spaces and you're typically having to do something else as well to make that non-room space a room."
Given the cost of these renovations, low-income Canadians with limited mobility often face a difficult situation. In Calgary, the problem is exacerbated by a lack of affordable accessible housing options, noted Dyer.
"Less than three per cent of all affordable housing is accessible and a standard population would need anywhere from about 10 to 14 per cent of their housing to be accessible," he said. "For the renovations we do, we're always helping out homeowners who are at or below the poverty line."
Currently, the Alberta Building Code does not contain any accessibility requirements for new homes.
"There are some suggestions and recommendations around accessible features, but (there is) no obligation for a builder to develop in any way that's accessible," said Dyer. "So we're doing quite a bit of advocacy work and trying to help people think differently about the way they build."
Tagged: accessibility | accessible housing | Aging in Place Calgary | Calgary Real Estate News | CMHC | disabilities | Home Design | Home Renovations | mobility
---
---
Connect With Us