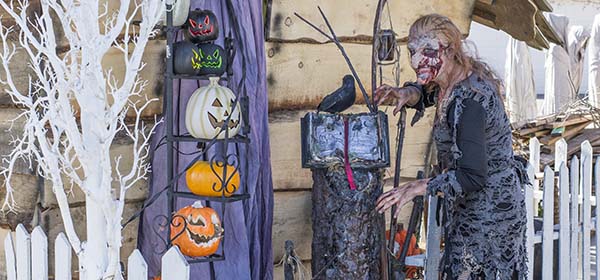 Oct. 24, 2015 | Cody Stuart
Scream home
Scaring others a family tradition for Calgary household
For most of the year, Calgarians go to great lengths to boost their homes' curb appeal. After all, removing unwanted trash and old rubbish to make a home welcoming is part of what makes a neighbourhood great.
Yet around this time of the year, these same people will do their best to make their homes as unwelcoming as possible – when those old garbage bags, stained sheets and broken furniture become valued commodities.
Welcome to Halloween in Calgary.
"We are [the Halloween house people]," says Myrna Campbell, whose Rocky Ridge home has become famous for its yearly transformation.
For nearly three decades, the Campbells have been taking All Hallows' Day to the next level.
From humble beginnings, "Haunted Calgary" now attracts as many as 7,000 people annually, allowing ghouls and goblins of all ages to test their mettle against the Campbells' creations, which Myrna promises will be better than ever this year.
"Initially we just did it for Halloween, so we'd start a few days before. And now we have to start at the beginning of September," she said.
"I've been trying to keep track of volunteer hours and we're over the 500-hour mark right now. This weekend is our big volunteer push, so it'll be probably another couple hundred hours.
"Of course, the expectations of the people who come – they come because every year they know it's bigger and better."
Now employing actors, animatronics and elaborate sets, the yearly tradition has also become a way to support local charities. Proceeds raised from the $10 admission will be donated to the Oops-a-Dazy Animal Rescue and Sanctuary Society. Those attending are also encouraged to bring a donation for the Calgary Interfaith Food Bank.
Myrna says her family continues to pour their hearts and souls into the event because of the reactions from those that attend.
"People enjoy [being scared]. That's why we do it – the enjoyment we get from watching people laugh, cry and run," she said. "I'd say we had about 200 people that turned around with the first 50 feet last year. We take that as a successful year."
The tradition dates back to Mryna's childhood when her mother would decorate their home.
"How it started for us I had kids in the neighbourhood that were bored and looking for something to do," she said.
"We got them started by having them rake up leaves and using white garbage bags as ghosts."
As for the importance of keeping the Campbell family tradition alive, Myrna's daughter Christine says the ability to let kids and parents interact with others in the community is more than reason enough to put in all the work.
"Halloween is certainly changing," said Christine, who acts as Haunted Calgary's "Hallow Queen" and creative director. "The indoor trick or treating and things at the malls are really starting to take off and I think that's a bit unfortunate because for me Halloween was all about trick or treating and that's how you get engaged in your community and feel like a kid.
"Interactions like this help to fill that gap and give kids a safe place to come trick or treating where they're still getting that Halloween experience."
This year's version of Haunted Calgary takes place at 222 Rocky Ridge Bay N.W Oct. 30 to Nov. 1 from 6 to 10 p.m.
The Campbells will also host a "low-scare" version (no actors) from 2 to 4 p.m.
For more information, visit
www.hauntedcalgary.com
.
Tagged: Calgary | Calgary Real Estate News | Community | Halloween | Homeowners | neighbourhood
---
---
Connect With Us