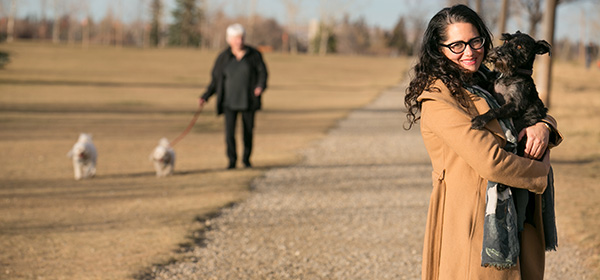 CALGARY, AB.; Nov 7, 2015 – Amy Malke and her schnauzer. at River Park. Story about whether off-leash dog parks can help build communities . (Michelle Hofer/Michelle Hofer Photography) For CREB – Jamie Zachary.
Nov. 30, 2015 | Caitlin Crawshaw
Home is where the dog park is
From Chaparral to Sage Hill, off-leash areas are becoming more common in Calgary neighbourhoods
A few years ago, Amy Malke bought her first place: a condo downtown, just two blocks from River Park. Although she didn't have a dog at the time, she'd often wander through the off-leash area and dream of having a pup of her own.
That dream was realized much sooner than she'd expected. Six months after moving in, she adopted her beloved Schnauzer, Maximus, from a colleague whose child was allergic. After that, she frequented the park daily — and not just for Max's enjoyment.
"One of my friends calls [the dog park] his third space. There's work, there's home and there's a third space — a place you go to every day or even a few times a week, that's not work or home," she said. "Some people have a coffee shop. Others have church. But for dog people, it's the dog park."
Visiting the park daily connected Malke with many of her neighbours.
"Dog parks really build community, if only among dog owners," she said.
In fact, having moved to Sundance in recent years, Malke misses her River Park community and returns as often as she can, sometimes with her step-sons in tow.
Calgary currently has about 180 designated dog areas, including both standalone parks and off-leash areas in larger parks. Yet that number is growing.
"As the city grows, there's certainly been an increased desire for more dog parks," said Doug Marter, manager of planning and development for Calgary Parks. "We're also seeing a lot of demographic changes. You have a lot of empty-nesters and people moving into the core of the city in condos, but they have dogs."
Unlike many other Canadian cities, Calgary relies on community groups to determine where new off-leash parks should be built. Typically, a homeowner's association presents a proposal for a park in their area and the City assesses its feasibility.
Approval depends on a number of factors, including proximity to major roadways (to avoid dogs from being run over) and school yards (parks must be at least 20 metres away for children's safety). Of course the community — not just those who've put forward a proposal — also have to support the park's creation.
"Dogs can be a divisive issue in an urban environment," said Marter, noting that while a growing number of Calgarians want dog parks in their neighbourhoods, many do not. "It does generate a lot of conversation when they're being considered."
Marianne Wade, a longtime municipal planner and development manager, is a passionate advocate for dog parks.
"I really think they build community," said Wade, who also sits on the City of Calgary Planning Commission.
In addition to the benefits for dogs and their owners, she says off-leash areas provide an opportunity for children and adults without animals at home to interact with pets, and for everyone in neighbourhood to connect with one another.
But it's best if parks aren't "isolated pieces of municipal reserve," added to communities as an afterthought once people have moved in, says Wade.
"It's part of the park system and needs to be planned ahead of time and planned appropriately."
Wade says early planning allows cities like Calgary to link off-leash parks to other green spaces and improve overall access for users. Early planning also allows cities to more easily incorporate public art into the parks or solicit sponsorship for poo-bag dispensers or other infrastructure.
And, of course, early planning makes a project more acceptable to a community. "When you put something in at the end, people tend to oppose it rather than grow with it," said Wade.
In Malke's new neighbourhood, the closest off-leash park requires a six-minute drive in the car. These days, she tends to walk Maximus on city streets and occasionally lets him off in a nearby school yard when no one's around. She hopes this won't be the case for too much longer.
"We've begun looking ahead at our next home and we're looking for something that's more dog friendly," she said.
Tagged: Calgary Real Estate News | City of Calgary | City of Calgary Parks | Community | dog parks | neighbourhood | off-leash | urban planning
---
---
Connect With Us